Winter Storm Watch In Effect ... [Click here for more information]

Clarksville, TN – The weekly Clarksville Parks and Recreation Department Recreation Report provides Clarksvillians with a glimpse at the activities and events that are available from the Parks and Recreation Department for them to enjoy together as a family.
This weeks highlights include:
Musicians Wanted
Registration for the 50+ Olympics is Underway
Jazz & Hip Hop
34th Annual Queen City Road Race
Deposits Due May 4th
*NEW* Yoga in the Park
Self-Defense Class
Musicians Wanted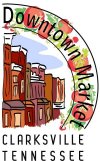 The Clarksville Downtown Market is now seeking local musicians for the 2012 market season. The season runs from May 19th thru October 21st and is open every Saturday from 8:00am to 1:00pm on Public Square. This is not a paid performance.
Must be able to play acoustic or with minimal equipment, bluegrass or country preferred. If interested, call 931.645.7476 or e-mail, Matthew.nixon@cityofclarksville.com.
Registration for the 50+ Olympics is Underway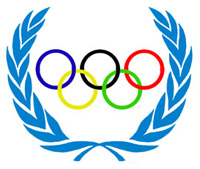 Senior adults ages 50 and up can register now thru April 30th to qualify for the Early Bird rate of only $18.00! Registration ends May 4th. Register at the Parks and Recreation office or at any of our three Community Centers. This year's events will take place May 8th-12th at various locations around Clarksville.
Seniors will face off for bragging rights, as well as medals in over 20 challenging events. Opening session will be held at the Pinnacle Bowling Alley, beginning at 11:00am, Friday, May 4th.
Jazz & Hip Hop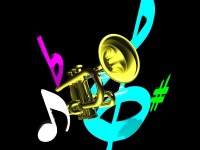 Crow Community Center will introduce a new class for youth ages 5-16, beginning May 9th. Participants will learn the basic steps and moves of hip hop and jazz by experienced professionals. Classes are held on Wednesday evenings at various times depending on age. Cost is $5.00 per class.
A community center ID card is required. Visit recpro.cityofclarksville.com for more information and to register today!
34th Annual Queen City Road Race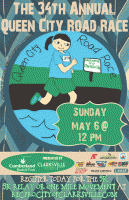 This year's event will take place Sunday, May 6th, 2012. The Queen City Road Race is not just a running competition; it is a promotion for fitness and health in the Clarksville community. The 5K race route takes runners through the streets of Historic Downtown Clarksville beginning and ending at Austin Peay State University's Governors Stadium.
Like last year, the race will include a noncompetitive, one-mile event. Participants can complete the mile at any speed or rate they choose. It doesn't matter if you run, walk or skip the mile; just as long as you are up and moving!
Register at the main officer on online at recpro.cityofclarksville.com. Register now through the day of the race; cost is $25.00.
Deposits Due May 4th
Just a reminder, the final deposits ($100.00) for both the women's and church youth leagues are due by the close of business May 4th and must be made at the Parks and Recreation Main office.
*NEW* Yoga in the Park
The Parks & Recreation Department has teamed up with the YMCA to provide a free 6-week yoga session, beside the calming Cumberland River at McGregor Park. Session begins May 16th. Classes are held on Wednesdays and Fridays from 6:00am to 7:00am. Register online at recpro.cityofclarksville.com.
Self-Defense Class
The Burt-Cobb Community Center will host a self defense class for women who are looking to learn more about protecting and defending themselves Tuesday, May 22nd from 5:00pm to 7:00pm. The class is free, but registration and a Community Center ID card is required to attend. ID cards cost only $5.00 for an entire year! Purchase yours today at any of our centers or our main office.
About Parks and Recreation
Sections
Events
Topics
APSU, Austin Peay State University, Bluegrass Music, Burt-Cobb Community Center, Clarksville 50+ Olympics, Clarksville Downtown Market, Clarksville Parks & Recreation Department, Clarksville TN, country music, Crow Community Center, Cumberland River, Downtown Clarksville, Governors Stadium, Hip Hop Dance, Jazz Dance, McGregor Park, Olympics, Queen City Road Race, Registration, Self Defense Class, YMCA of Clarksville, Yoga