Fort Campbell's 4th Brigade Combat Team "Currahees" visits Clarksville's West Creek Elementary School
Written by Sgt. Kimberly Menzies
4th Brigade Combat Team, 101st Airborne Division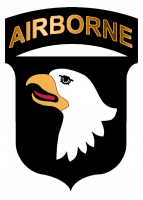 Fort Campbell, KY – At West Creek Elementary School, the many children eating and talking in the school's cafeteria created a quiet buzz of energy. The cafeteria doors swung open to reveal a group of men and women who had come to visit.
The quiet buzz excitedly transformed into vigorous waves and friendly hellos as the children welcomed their special guests. These visitors were Currahees.
"When we arrived at the school, some of the kids were eating in the cafeteria and as soon as they saw us they started waving and saying "Hi"," said Spc. Kyle M. Hunter, the chaplain's assistant from Headquarters and Headquarters Battery, 4th Battalion, 320th Field Artillery Regiment, 4th Brigade Combat Team, 101st Airborne Division, and native of Deland, FL, who visited a first-grade class.
Soldiers from 4th Bn., 320th Field Artillery Regt., 4th Bde., 101st Abn. Div., care for children of their local community by spending a few hours with the elementary school children during one of several planned visits at West Creek Elementary School, April 24th, 2012 at Clarksville, Tennessee.
The welcoming reception of the soldiers by the elementary children and their teachers was not only joyful but also heartwarming.
"All the kids were very excited and animated," said 1st Lt. Monica M. Baker, a resource officer from HHB, 4th Bn., 320th Field Artillery Regt., 4th Bde., 101st Abn. Div., and native of Tampa, FL, who visited a kindergarten class. "They were friendly and smiling."
The soldiers not only answered curious questions posed by the children but also spent time helping the kids with their school work.
"The other 11 soldiers and myself, visited West Creek Elementary to eat lunch, to read to and to help give reading quizzes," said 2nd Lt. Dwain G. McCall, the human resource officer for 4th Bn., 320th Field Artillery Regt., 4th Bde, 101st Abn. Div., and the native of Bellevue, WA, who visited a third-grade class. "Some of the soldiers even did [physical education] with the kids from the classrooms they were visiting."
"The kids were very comfortable with us, friendly and very curious," said Baker. "They asked me a lot of questions about what my uniform said and meant."
Though the soldiers recognized the importance of helping the children with their class work, they shared an understanding of the significance of their presence at West Creek Elementary.
"I think one of the reason that it is important for us to visit, is to help narrow the gap between soldiers and the people in the communities around us," said Hunter. "We are regular people too. It is important for the kids to understand and know that we are not just the guys fighting a war that they might have seen in the news on the television at home."
"It is nice for the kids to understand and see that we are regular men and women, parents, aunts and uncles," said Baker.
"There are really so many ways to articulate why we feel it is important for us to be involved with the kids here at the school," said Hunter. "It shows how much we appreciate and care about the future of our surrounding communities, but also because many of the kids in surrounding communities are from military families, we are also helping care for children of our fellow service members families."