Ice Storm Warning In Effect ... [Click here for more information]
Austin Peay State University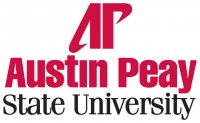 Clarksville, TN – On Tuesdays throughout the spring, a group of eager youngsters and their parents have crowded into the Children's Library of the Clarksville-Montgomery County Public Library for an afternoon of free creative arts activities.
They were taking advantage of the new Children's Arts Interaction Program, hosted by Austin Peay State University music and art faculty members and students. The program, which is open to all preschool and early elementary aged children, comes to an end this Tuesday, May 1st, at 4:30pm.
"I think it's gone really well. We've filled the room all three times," Dr. Eric Branscome, APSU assistant professor and coordinator of music education, said.
The program was developed earlier this year to help prepare APSU students as art and music educators and to provide local children with enrichment opportunities at a time when preschools and child care centers are doing away with music and arts programs.
"The program is basically targeting younger children, preschool-aged children, early elementary school-age children," Branscome said in February. "It will have music, singing time, music activities. A lot of our student organizations will be going over to perform for the kids. And at the end of the time, the (APSU) art education students will lead a craft or related art activity for the kids."
The activities are all focused around literacy concepts developed by the library staff.
Local children in this age-range are invited to attend the May 1st program.
For more information on Children's Arts Interaction, contact Branscome at branscomee@apsu.edu or Jennifer Snyder, APSU assistant professor of art education, at snyderj@apsu.edu.
Sections
Education
Topics
APSU, APSU Students, Austin Peay State University, Children's Arts InterAction Program, Children's Library, Clarksville TN, Clarksville-Montgomery County Public Library