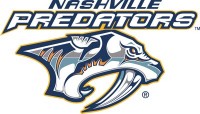 Nashville, TN – From the opening faceoff, the Nashville Predators set the tone that tonight's game was going to be different than the first two; the coaches opted to open with the Nick Spaling – Colin Wilson – Brandon Yip energy line and those guys made a conscious effort to throw the body around on that first shift.
The crowd responded with similar energy from the get-go and Nashville exited the first period with a 2-0 lead; Pekka Rinne made sure the score held up as the Predators cut its series deficit with the Phoenix Coyotes to one game, 2-1.
The Preds have an opportunity to even the series on home ice Friday night in Game 4.
Wall Battles — Both Nashville goals in the first period came off of board battles won by the Preds. The first after Patric Hornqvist won a battle high in the defensive zone to chip the puck past the Phoenix defender and then continued hard after the loose puck to force Coyotes goaltender Mike Smith to play the play the puck into a turnover for David Legwand's goal.
The second came after Martin Erat won the puck back on the halfboards in the offensive zone and fed a two-on-one down low between Mike Fisher and Sergei Kostitsyn. Those are two examples of the type of "detail plays" the coaching staff stressed the last two days as "returning to Predators hockey."
Defensive Communication — Nashville's communication in the defensive zone has been markedly better tonight than earlier in the series. It has helped the Preds pick up the trailing man and the backdoor cuts better tonight than they did in Games 1 and 2.
As a result, the Preds have been in better position tonight to win the races for loose pucks in the defensive zone and are limiting sustained zone time for the Phoenix offense. Despite Phoenix's 32 shots, the Coyotes had very few odd-man rushes and almost no even-strength multi-shot sequences.
Reversal Of Fortune — The Coyotes made a living in the First Round and first two games of Round 2 by blocking shots in the defensive zone and frustrating opposing offenses. Tonight the Preds "out blocked the Coyotes by a 15-9 margin and out "out hit" the Coyotes by a 26-21 count, paced by Jordin Tootoo's game-high 5 hits — in fact, the entire Paul Gaustad – Matt Halischuk  – Jordan Tootoo line was effective tonight, giving the Preds solid, physical shifts in all three periods.
Post Game Quotes
Nashville Predators Coach Barry Trotz
On the Erat-Fisher-Kostitsyn line setting the tone for the team early…
Yeah, they were really good. Our top players were, I thought, our best players tonight from goal on out and I thought that was great. I thought we had a real good commitment level from everybody. Guys that [haven't been] in the lineup were good. I thought Wilson, Tootoo, and Halischuk were all very good. I'm probably missing someone. We stepped up and played Predator hockey, finally, in this series. That's just one game.

On being proud of the team for responding well after the recent suspensions…
I think in the big picture, when you make decisions for what I felt were the right reasons, the group will respond. I listened to a commentator on CBC between periods of the [New York vs. Washington] game and he thought I was totally wrong. He would let them go out all night and still play them, and that's not how we do it here, so I disagree.

The guys respond because everyone wanted to be a part of it. The group was committed to the effort. I will never apologize for doing what I felt was right. In life, I think a lot of people have done the right thing and had to pay a price for it. That's when you do it right, and you don't have to apologize.

On the potential lineup for game 4…
Obviously, it's just a few minutes after the game and I can't give you many answers, but it's very hard to change it if everybody is committed like they were. It was a statement.

I think it's a privilege to play in the Stanley Cup playoffs, to play for the Cup, and those guys took advantage of the privilege of playing. I think that's the sacred part of the playoffs. It will be very hard to change a whole lot from that group.

On the strong play of Pekka Rinne…
Pekka was tracking the puck really well, he made a big save and got the toe up on that one [save]. He did a great job. He was smothering things; he was finding pucks that were bouncing around. He was sharp tonight.

On potentially gaining back some momentum from Phoenix…
Put it this way – I feel a lot better after tonight's game with a win [to make the series] 2-1. It wouldn't feel really good if it were 3-0. I think we have the momentum until about midnight tonight, then it starts all over again, and that's how you have to look at it because it can change in a heartbeat.

It could have changed on that 5-on-3. They score two goals and we could be playing for a couple hours maybe.
Forward David Legwand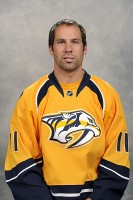 On tonight's effort compared to the first two games…
We didn't give them many chances. The last seven minutes I think they pushed a little bit and the 5-on-3. Our killers did a good job. Peks obviously was huge; he made some big saves.
Getting the first goal is a little better for us and let the crowd fed off it and do those types of things.
Defenseman Shea Weber
On the team's best players stepping up…
I think everyone in here knew that all 20 guys need to be better and that includes us; we need to be better. We did a good job as a team tonight, but we still got to keep getting better. We respect this team and know that they're going to come out just as hard next game.
On reclaiming the team's identity…
That was a lot better. That's the way that we need to play. We didn't give up as much. They're a good team. They're quick and we've got to play the same way.
Defenseman Ryan Suter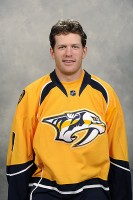 On the team's effort tonight…
We know that we didn't play well in Game Two. So for us it was kind of embarrassing – our effort. We knew we had to come out and play the way we're capable of playing.
You play good teams and you have to match their desperation and we did that tonight.
Goaltender Pekka Rinne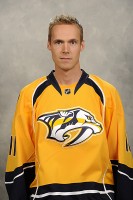 On facing a flurry of shots near the end of the game…
That's usually what happens when it's 5‐on‐3. A lot of space out there for them, but we made some huge blocks too. Bouillon made a couple and Hal Gill made a couple. That was key. I think at the time there was four or five minutes left, and a goal would have really helped them.
On having a bounce-back game…
It feels good obviously. It's always tough after the first few games and you give up a lot of goals and lose two games in a row. You put a lot of pressure on yourself and it feels good to win this one, and play a solid game. It makes the series totally different now.
Three Stars
1) NSH G Pekka Rinne – 32-save shutout;was great with the catching glove limiting rebound attempts; at his best on the PKs late in the third period
2) NSH F Martin Erat – 1 assist, +1; was the best skater all night for either team; strong on the puck, strong in 1-on-1 battles, creative passing, strong driving to the net; if not for some unlucky sequences around the crease could well have finished with three or four points tonight
3) NSH F Paul Gaustad – 68% (15-of-22) on draws; 4 hits, 3 blocked shots; 3:30 shorthanded ice time; excellent in 1-on-1 battles, key to PK (especially the third period 5-on-4 and 5-on-3 PKs)
Box Score
Phoenix Coyotes 0 – 2 Nashville Predators
Wednesday, May 2nd, 2012
| | | | | |
| --- | --- | --- | --- | --- |
| FINAL | 1 | 2 | 3 | T |
| Phoenix Coyotes | 0 | 0 | 0 | 0 |
| Nashville Predators | 2 | 0 | 0 | 2 |
Scoring Summary
Penalty Summary
1st Period
05:04
PHX
Marc-Antoine Pouliot : Holding the stick – 2 min
11:04
NSH
Mike Fisher : Interference – 2 min
15:39
NSH
David Legwand : Hooking – 2 min
17:29
PHX
Derek Morris : Hooking – 2 min
2nd Period
05:58
PHX
Adrian Aucoin : Interference – 2 min
15:18
PHX
Derek Morris : Cross checking – 2 min
3rd Period
09:38
PHX
Derek Morris : Cross checking – 2 min
12:59
NSH
Sergei Kostitsyn : Hooking – 2 min
14:18
NSH
Martin Erat : Tripping – 2 min
Shots on Goal
| | | | | |
| --- | --- | --- | --- | --- |
| | 1st | 2nd | 3rd | T |
| Phoenix | 10 | 12 | 10 | 32 |
| Nashville | 8 | 8 | 10 | 26 |
Saves
Skater Stats
| | | | | | | | | | | | |
| --- | --- | --- | --- | --- | --- | --- | --- | --- | --- | --- | --- |
| Phoenix | Pos | G | A | P | +/- | PIM | Shots | EV TOI | PP TOI | SH TOI | TOI |
| 3 K. Yandle | D | 0 | 0 | 0 | 0 | 0 | 0 | 15:27 | 04:37 | 00:41 | 20:45 |
| 8 G. Brule | C | 0 | 0 | 0 | 0 | 0 | 0 | 10:27 | 00:04 | 00:00 | 10:31 |
| 11 M. Hanzal | C | 0 | 0 | 0 | -1 | 0 | 1 | 13:35 | 04:45 | 00:29 | 18:49 |
| 13 R. Whitney | L | 0 | 0 | 0 | -1 | 0 | 2 | 14:55 | 04:52 | 00:00 | 19:47 |
| 14 T. Pyatt | L | 0 | 0 | 0 | 0 | 0 | 2 | 11:36 | 00:04 | 00:00 | 11:40 |
| 15 B. Gordon | C | 0 | 0 | 0 | 0 | 0 | 3 | 08:16 | 00:00 | 05:31 | 13:47 |
| 16 R. Klesla | D | 0 | 0 | 0 | -1 | 0 | 3 | 13:40 | 00:59 | 03:35 | 18:14 |
| 17 R. Vrbata | R | 0 | 0 | 0 | -1 | 0 | 5 | 13:08 | 04:45 | 01:50 | 19:43 |
| 19 S. Doan | R | 0 | 0 | 0 | -1 | 0 | 5 | 13:15 | 03:17 | 03:33 | 20:05 |
| 22 D. Langkow | C | 0 | 0 | 0 | 0 | 0 | 0 | 09:45 | 00:04 | 03:37 | 13:26 |
| 23 O. Ekman-Larsson | D | 0 | 0 | 0 | -1 | 0 | 0 | 16:34 | 05:26 | 05:34 | 27:34 |
| 24 K. Chipchura | C | 0 | 0 | 0 | 0 | 0 | 0 | 05:08 | 00:00 | 00:00 | 05:08 |
| 32 M. Rozsival | D | 0 | 0 | 0 | -1 | 0 | 1 | 13:06 | 00:00 | 05:16 | 18:22 |
| 33 A. Aucoin | D | 0 | 0 | 0 | -1 | 2 | 1 | 14:26 | 00:28 | 02:34 | 17:28 |
| 43 M. Pouliot | C | 0 | 0 | 0 | 0 | 2 | 3 | 07:33 | 00:00 | 00:00 | 07:33 |
| 50 A. Vermette | C | 0 | 0 | 0 | -1 | 0 | 2 | 11:35 | 03:10 | 02:08 | 16:53 |
| 53 D. Morris | D | 0 | 0 | 0 | 0 | 6 | 3 | 13:41 | 01:01 | 02:00 | 16:42 |
| 89 M. Boedker | R | 0 | 0 | 0 | -1 | 0 | 1 | 10:57 | 02:13 | 02:32 | 15:42 |
| Nashville | Pos | G | A | P | +/- | PIM | Shots | EV TOI | PP TOI | SH TOI | TOI |
| 6 S. Weber | D | 0 | 0 | 0 | 1 | 0 | 3 | 18:26 | 06:07 | 03:17 | 27:50 |
| 8 K. Klein | D | 0 | 0 | 0 | 0 | 0 | 2 | 14:29 | 00:35 | 03:58 | 19:02 |
| 10 M. Erat | R | 0 | 1 | 1 | 1 | 2 | 0 | 09:51 | 05:19 | 00:54 | 16:04 |
| 11 D. Legwand | C | 1 | 0 | 1 | 1 | 2 | 4 | 13:41 | 03:58 | 00:41 | 18:20 |
| 12 M. Fisher | C | 1 | 0 | 1 | 1 | 2 | 3 | 10:19 | 05:19 | 02:23 | 18:01 |
| 13 N. Spaling | L | 0 | 0 | 0 | 0 | 0 | 1 | 11:40 | 00:16 | 02:58 | 14:54 |
| 18 B. Yip | R | 0 | 0 | 0 | 0 | 0 | 2 | 10:24 | 03:58 | 00:00 | 14:22 |
| 20 R. Suter | D | 0 | 0 | 0 | 1 | 0 | 3 | 17:08 | 07:57 | 03:11 | 28:16 |
| 22 J. Tootoo | R | 0 | 0 | 0 | 0 | 0 | 2 | 09:54 | 00:17 | 00:00 | 10:11 |
| 24 M. Halischuk | R | 0 | 0 | 0 | 0 | 0 | 0 | 07:45 | 00:17 | 01:08 | 09:10 |
| 27 P. Hornqvist | R | 0 | 0 | 0 | 1 | 0 | 3 | 11:10 | 05:19 | 00:00 | 16:29 |
| 28 P. Gaustad | C | 0 | 0 | 0 | 0 | 0 | 0 | 10:30 | 00:17 | 03:30 | 14:17 |
| 33 C. Wilson | C | 0 | 0 | 0 | 0 | 0 | 1 | 09:39 | 02:42 | 00:00 | 12:21 |
| 51 F. Bouillon | D | 0 | 0 | 0 | 0 | 0 | 0 | 13:33 | 00:17 | 00:00 | 13:50 |
| 57 G. Bourque | L | 0 | 1 | 1 | 1 | 0 | 0 | 13:26 | 00:52 | 00:13 | 14:31 |
| 59 R. Josi | D | 0 | 0 | 0 | 1 | 0 | 1 | 10:54 | 03:15 | 00:00 | 14:09 |
| 74 S. Kostitsyn | L | 0 | 1 | 1 | 1 | 2 | 1 | 10:34 | 02:25 | 01:50 | 14:49 |
| 75 H. Gill | D | 0 | 0 | 0 | 1 | 0 | 0 | 11:32 | 00:00 | 03:52 | 15:24 |
Other Facts
| | |
| --- | --- |
| Attendance | 17113 |
| Referees | Eric Furlatt, Stephen Walkom |
| Linesmen | Brian Murphy, Jonny Murray |
Sections
Sports
Topics
Barry Trotz, Brandon Yip, Bridgestone Arena, Colin Wilson, David Legwand, hal gill, Jordin Tootoo, Martin Erat, Matt Halischuk, Mike Smith, Nashville Predators, Nashville TN, National Hockey League, NHL, NHL Western Conference Semifinals, Nick Spaling, Patric Hornqvist, Paul Gaustad, Pekka Rinne, Phoenix Coyotes, Predators, Ryan Suter, Sergei Kostitsyn, Shea Weber, Stanley Cup Playoffs