Winter Storm Watch In Effect ... [Click here for more information]
Written by Jay Levin
Nashville Predators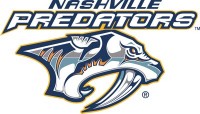 Nashville, TN – The Phoenix Coyotes scored off a Preds turnover in the middle of the first period and the Nashville Predators had an apparent goal waived off late in the third period as the Coyotes picked up a 1-0 win to grab a 3-1 series lead.
Nashville started slowly in the first period, but continued to play better as the game progressed, still the Predators now head to Phoenix needing to sweep the final three games in order to advance. Both goaltenders navigated an end-to-end wide open start to the game, making key saves to keep the game scoreless until the skaters settled in to a more defensive style.
Wide Open Start — The first six-and-half minutes of play was wide open run-and-gun hockey with both teams trading scoring chances. Not the style of game the Preds really want to play, but it did make for an entertaining start. And both teams were flying around the ice. Pekka Rinne got into the game early as he was forced to make three or four quality stops, including a one-on-goalie down low by Boedker just under five minutes into the game.
Spaling-Wilson-Yip – The Spaling line – with Wilson and Yip on the wings – was very effective for Nashville tonight and seemed to get stronger as the game continued. The trio finished the game with five of the team's 25 shots on goal — including a third of the 15 shots fired by the team's forwards. Beyond the shots on goal, the line held time of possession in the Phoenix zone for the majority of their shifts.
Hornqvist — Patric Hornqvist was front-and-center in several of the Preds top scoring chances tonight; he took 25 shifts in the game and seemed to have close to a dozen good chances, starting with a great chance on a scrum as time expired in the first period with Hornqvist and Bourque trying to whack away at a loose puck in the crease.
In the second period Hornqvist rang a shot off the post 5:31 on a rush in transition 5:31 into the period and then snapped a shot over the crossbar on Smith's giveaway a few seconds later.
A misfire on a backdoor redirect later in the second period, a strong neutral zone move late in the second period, a pair of one-on-one partial breakaways in the third period, along with what appeared to be the game-tying goal on the power-play with 7:12 remaining in regulation (the officials waived the play off because they intended to blow the whistle before the puck crossed the line).
Post Game Quotes
Nashville Head Coach Barry Trotz
On the number of chances generated by Nashville tonight…
I thought we generated lots of chances, just didn't find the back of the net in the end. Take away the first period, I thought in the second and third periods we played very well. We got some quality chances and couldn't find the back of the net.

On the decision to sit Alexander Radulov and Andrei Kostitsyn for a second consecutive game…
My rationale? I told you my rationale this morning. How would I defend it? I don't think I have to defend it. I mean, the guys got chances. We created chances. A guy like Colin Wilson, who was very good, has more points than Kostitsyn for the year – I don't think that's much of a trade-off. You can say the "What Ifs" – maybe they could have made a difference, but we'll never know that. The guys that played, played well, and created lots of chances; we just had to bury one of them.

On whether he was given an explanation on the disallowed goal…
Not really, to be quite honest. They went through our captain and said that Hornqvist pushed the goaltender into the net. If you look at it, I don't buy that. That's been a couple in this series already, and we had one in Detroit, too. It's not really going our way with those.

On whether he might change the lineup for Game Five…
There are some guys that I didn't think played particularly well today; they could have played a little bit better. There'll be some changes.

On what Phoenix does differently than Detroit…
Keeping the puck out of the net, more than anything, and capitalizing on their chances. This is how the series has been going – every time we get a little bit of momentum, it goes the other way. They scored their goal making not really a great backhand shot, but it goes off Roman Josi's stick and then goes in the net. We've had numerous chances and they're not going in the net. To me, that's just a little bit of the rub right now. In Game One, and tonight, we had numerous chances and weren't able to finish. They've needed just a goal or a play to win a hockey game.

On being down three games to one in the series…
Plain and simple, we've got to win a hockey game. That focus can't go any farther than that – winning a hockey game, and it's going to have to be in Phoenix. I know when you're down in a series 3-0, the numbers don't look good; at 3‐1 a number of teams have come back – the numbers are much better than 3-0. Our focus has to be on winning a hockey game and not look past that.
Forward Patrick Hornqvist
On his missed opportunity one‐on‐one with Smith…
I have to score. If I get that opportunity, I have to put one in the back of the net to get us to overtime. It was bad. I tried to get it up. I'm so close to him. He's so big. So I tried to get it over. So, yeah, I missed the net. And then when Leggy [David Legwand] gave it to me backdoor, I didn't really see it – it was bouncing and couldn't finish and one hit the post. Yeah, that happens. Now we have to get three games in a row.
On Phoenix's defensive strengths…
They play really strong. They boxed us out really good, but I think we play a really strong game the two last periods. If we can keep that right effort, I know we have a chance to win all three games.
Defenseman Ryan Suter
On if it's tough knowing you now face elimination…
We have to take one game at a time. If you look at it big picture, it's a lot of work. But if we take it one game at a time, it's doable.
On their style of play…
They're such a good – their style, their defensive style, just like us. Their goalie was phenomenal tonight. It was definitely the toughest game to get anything going.
On the team's response to Paul Gaustad's fight…
Whenever someone goes out and does something like that, you have to build off his energy. I thought we did that, but then it was kind of a lucky goal. But it doesn't matter. It was a goal.
On what he was told regarding the called-off goal…
I wasn't over there, but I think they said – like the other game – he was about to blow the whistle.
Goaltender Pekka Rinne
On knowing they face elimination…
Everybody knows what the situation is over here but I think you just have to focus on one game at a time. Stay positive. We won three games in a row before. It starts in Phoenix on Monday. If we want to keep playing we have to win, and that's the bottom line.
Captain Shea Weber
On if the team's shot selection…
Maybe, they're trying to make the perfect shot and we just have to get pucks on net and get there for second opportunities.
On if their style of play tonight will be enough to win the next three games…
No. I think we got to elevate that game again. You talk about it in the playoffs all the time; teams just keep getting better and better. That's your goal, to be the best by the end of the year. We just have to take it to another step.
On if they missed Radulov and Kostitsyn…
I think the guys that were in the lineup did a great job. We fought hard and we just need to do better next time.
Three Stars
1) PHX G Mike Smith – 25-save shutout
2) NSH G Pekka Rinne – 23 saves; only goal against was deflected off a stick and off the post
3) NSH F Patric Hornqvist – game-high 12 attempted shots, most from dangerous scoring areas
Box Score
Phoenix Coyotes 1 – 0 Nashville Predators
Friday, May 4th, 2012
| | | | | |
| --- | --- | --- | --- | --- |
| FINAL | 1 | 2 | 3 | T |
| Phoenix Coyotes | 1 | 0 | 0 | 1 |
| Nashville Predators | 0 | 0 | 0 | 0 |
Scoring Summary
1st Period
14:25
PHX
Shane Doan (3) Backhand – Assists: M. Boedker (4)
2nd Period
none
3rd Period
none
Penalty Summary
1st Period
01:30
NSH
Jordin Tootoo : Interference – 2 min
06:39
PHX
Rostislav Klesla : Boarding – 2 min
10:00
NSH
Paul Gaustad : Fighting (maj) – 5 min
10:00
PHX
Kyle Chipchura : Fighting (maj) – 5 min
15:55
NSH
Gabriel Bourque : Slashing – 2 min
17:11
PHX
Martin Hanzal : Interference – 2 min
2nd Period
none
3rd Period
11:34
PHX
Derek Morris : Delaying Game-Puck over glass – 2 min
Shots on Goal
| | | | | |
| --- | --- | --- | --- | --- |
| | 1st | 2nd | 3rd | T |
| Phoenix | 9 | 10 | 5 | 24 |
| Nashville | 5 | 10 | 10 | 25 |
Saves
Skater Stats
| | | | | | | | | | | | |
| --- | --- | --- | --- | --- | --- | --- | --- | --- | --- | --- | --- |
| Phoenix | Pos | G | A | P | +/- | PIM | Shots | EV TOI | PP TOI | SH TOI | TOI |
| 3 K. Yandle | D | 0 | 0 | 0 | 0 | 0 | 2 | 13:38 | 01:49 | 00:00 | 15:27 |
| 8 G. Brule | C | 0 | 0 | 0 | 0 | 0 | 0 | 08:01 | 00:00 | 00:00 | 08:01 |
| 11 M. Hanzal | C | 0 | 0 | 0 | 0 | 2 | 2 | 16:58 | 01:12 | 00:00 | 18:10 |
| 13 R. Whitney | L | 0 | 0 | 0 | 0 | 0 | 3 | 15:41 | 01:12 | 00:00 | 16:53 |
| 14 T. Pyatt | L | 0 | 0 | 0 | 0 | 0 | 1 | 11:32 | 02:04 | 00:00 | 13:36 |
| 15 B. Gordon | C | 0 | 0 | 0 | 0 | 0 | 0 | 12:51 | 00:09 | 03:26 | 16:26 |
| 16 R. Klesla | D | 0 | 0 | 0 | 1 | 2 | 0 | 18:27 | 00:09 | 02:01 | 20:37 |
| 17 R. Vrbata | R | 0 | 0 | 0 | 0 | 0 | 2 | 16:09 | 01:12 | 00:10 | 17:31 |
| 19 S. Doan | R | 1 | 0 | 1 | 1 | 0 | 2 | 17:18 | 01:55 | 01:22 | 20:35 |
| 22 D. Langkow | C | 0 | 0 | 0 | 0 | 0 | 1 | 08:39 | 00:00 | 01:50 | 10:29 |
| 23 O. Ekman-Larsson | D | 0 | 0 | 0 | 0 | 0 | 1 | 19:52 | 01:12 | 02:24 | 23:28 |
| 24 K. Chipchura | C | 0 | 0 | 0 | 0 | 5 | 0 | 09:10 | 00:00 | 00:00 | 09:10 |
| 32 M. Rozsival | D | 0 | 0 | 0 | 0 | 0 | 1 | 19:38 | 00:00 | 02:25 | 22:03 |
| 33 A. Aucoin | D | 0 | 0 | 0 | 1 | 0 | 0 | 16:20 | 00:09 | 02:16 | 18:45 |
| 43 M. Pouliot | C | 0 | 0 | 0 | 0 | 0 | 2 | 10:28 | 00:09 | 00:00 | 10:37 |
| 50 A. Vermette | C | 0 | 0 | 0 | 1 | 0 | 2 | 13:17 | 01:55 | 01:13 | 16:25 |
| 53 D. Morris | D | 0 | 0 | 0 | 0 | 2 | 2 | 15:10 | 01:35 | 01:26 | 18:11 |
| 89 M. Boedker | R | 0 | 1 | 1 | 1 | 0 | 3 | 13:27 | 01:38 | 02:31 | 17:36 |
| Nashville | Pos | G | A | P | +/- | PIM | Shots | EV TOI | PP TOI | SH TOI | TOI |
| 6 S. Weber | D | 0 | 0 | 0 | 0 | 0 | 1 | 21:27 | 04:26 | 01:50 | 27:43 |
| 8 K. Klein | D | 0 | 0 | 0 | 0 | 0 | 2 | 16:40 | 00:00 | 01:33 | 18:13 |
| 10 M. Erat | R | 0 | 0 | 0 | 0 | 0 | 1 | 15:25 | 03:19 | 00:53 | 19:37 |
| 11 D. Legwand | C | 0 | 0 | 0 | -1 | 0 | 2 | 16:02 | 01:48 | 00:23 | 18:13 |
| 12 M. Fisher | C | 0 | 0 | 0 | 0 | 0 | 3 | 17:32 | 03:08 | 00:59 | 21:39 |
| 13 N. Spaling | L | 0 | 0 | 0 | 0 | 0 | 1 | 14:11 | 00:20 | 01:03 | 15:34 |
| 18 B. Yip | R | 0 | 0 | 0 | 0 | 0 | 3 | 13:46 | 01:52 | 00:00 | 15:38 |
| 20 R. Suter | D | 0 | 0 | 0 | 0 | 0 | 4 | 22:12 | 04:03 | 01:43 | 27:58 |
| 22 J. Tootoo | R | 0 | 0 | 0 | 0 | 2 | 0 | 07:03 | 00:00 | 00:00 | 07:03 |
| 24 M. Halischuk | R | 0 | 0 | 0 | 0 | 0 | 0 | 06:37 | 00:00 | 00:39 | 07:16 |
| 27 P. Hornqvist | R | 0 | 0 | 0 | -1 | 0 | 3 | 14:19 | 03:19 | 00:00 | 17:38 |
| 28 P. Gaustad | C | 0 | 0 | 0 | 0 | 5 | 0 | 05:03 | 00:00 | 01:15 | 06:18 |
| 33 C. Wilson | C | 0 | 0 | 0 | 0 | 0 | 1 | 16:03 | 01:48 | 00:00 | 17:51 |
| 51 F. Bouillon | D | 0 | 0 | 0 | 0 | 0 | 0 | 11:54 | 00:00 | 00:09 | 12:03 |
| 57 G. Bourque | L | 0 | 0 | 0 | -1 | 2 | 1 | 15:31 | 00:05 | 00:09 | 15:45 |
| 59 R. Josi | D | 0 | 0 | 0 | -1 | 0 | 2 | 17:29 | 01:13 | 00:10 | 18:52 |
| 74 S. Kostitsyn | L | 0 | 0 | 0 | 0 | 0 | 0 | 13:07 | 00:58 | 01:11 | 15:16 |
| 75 H. Gill | D | 0 | 0 | 0 | -1 | 0 | 1 | 13:14 | 00:01 | 01:07 | 14:22 |
Other Facts
| | |
| --- | --- |
| Attendance | 17113 |
| Referees | Wes McCauley, Dan O'Halloran |
| Linesmen | Scott Driscoll, Pierre Racicot |
Sections
Sports
Topics
Alexander Radulov, Andrei Kostitsyn, Barry Trotz, Colin Wilson, David Legwand, Jay Levin, Mike Smith, Nashville Predators, Nashville TN, patrick hornqvist, Paul Gaustad, Pekka Rinne, Phoenix Coyotes, Predators, Roman Josi, Ryan Suter, Shea Weber