APSU Sports: Austin Peay Women' Track and Field

Cape Girareau, MO – Unable to build any consistent momentum, Austin Peay State University young women's track and field team finished in seventh place at the Ohio Valley Conference Outdoor Track and Field championships, held at the Abe Stuber Track Complex on the Southeast Missouri State University campus, Saturday.

The Lady Govs finished with 51 points, 4.5 points behind sixth-place Tennessee State. Eastern Illinois won its fourth straight women's championship with 179.50 points, 9.5 points ahead of host Southeast Missouri.  Murray State was third with 112 points followed by Jacksonville State (111) and Eastern Kentucky (77). Morehead State was eighth with 16 points while Tennessee Tech ended with eight points.

Eastern Illinois also captured the men's championship.

"It was just one of those days," APSU coach Doug Molnar said. "Every time it seemed like we would have something good happened, someone else would top us."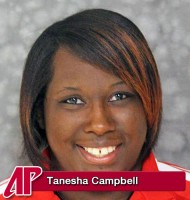 Nothing could have been more evident that in the shot put. Senior Tanesha Campbell, sitting in third place heading into her final throw, recorded a school-record 47-07.25 toss to move into first place. But Tennessee State sophomore Brittani Logan matched the exact throw and was rewarded the victory (and the 10 points) because her second-best throw was better than Campbell's.
Not only did Campbell set a school mark in the shot put, but in the hammer throw as well with a toss of 143-09, good enough for third place. The Clarksville senior, who transferred to APSU for her senior season, has battled a stress fracture in her foot during the season's latter stages.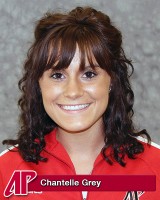 "Tanesha really did a great job today," Molnar said. "A second and a third (place) and two school records, you couldn't ask too much more than that."
Junior Chantelle Grey, the favorite heading into 800-meter finals, was leading heading into the stretch before falling to fourth with a 2:13.65 time, nearly three seconds slower than her prelim time.
"The heat got to Chantelle a little bit in the 1500," Molnar said. "We thought it was going to be a 'sit and kick' race and it turned out to be the opposite.  It was really tough on her and I think it hurt her in the 800."
]The Lady Govs shaved two seconds off their 4×400-meter relay time, but still managed a sixth-place finish.
Junior Lauren Lyles, after finishing fifth in the long jump, took fourth in the 100-meter hurdles.
Although disappointed with the Lady Govs' seventh-place finish, Molnar is optimistic about the Lady Govs future.
"When they asked the seniors from each team to step out (at meet's end), we definitely had the fewest group out there (three)," Molnar said. "We have had a great recruiting year and combined with the people we have coming back, I feel really good about where we are heading."
Sections
Sports
Topics
Abe Stuber Track Complex, APSU, APSU Athletics, APSU Sports, APSU Track and Field, APSU Women's Track and Field, Austin Peay State University, Brittani Logan, Cape Girareau MO, Chantelle Grey, Doug Molnar, Eastern Illinois, Eastern Kentucky, Jacksonville State, Lady Govs, Lauren Lyles, Morehead State, Murray State, Ohio Valley Conference, OVC, OVC Outdoor Track and Field Championships, Southeast Missouri, Southeast Missouri State University, Tanesha Campbell, Tennessee State, Tennessee Tech