Ice Storm Warning In Effect ... [Click here for more information]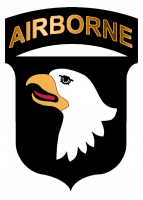 Fort Campbell, KY – As the 101st Airborne Division (Air Assault) prepares for its next rendezvous with destiny, the commanding general continues to focus on the health and readiness of his force.

Major General James C. McConville, 101st Airborne Division commander, and a team of division, brigade and medical leadership will give remarks and answer questions near the 4th Brigade Combat Team Headquarters, Monday, May 14th, 2012, pointing out the division's effort to embed behavioral health assets within the brigade combat teams. This concept is similar to the way Soldiers access behavioral health services while deployed.

"Embedding behavioral health professionals within the brigades here at home helps bring support services closer to the Soldiers," said McConville. "We must continue to reduce stigma and encourage Soldiers to seek out behavioral health services."

Decreasing risky behavior is a top priority for McConville. He said that he is keenly aware it takes all commanders working together, including brigade, medical, garrison and division, to foster a culture of a highly trained, disciplined and fit force.

"Reducing risky behavior is a community effort," said McConville. Fort Campbell Soldiers should feel confident in turning to family, friends, co-workers, Chaplains, their unit and medical providers. Blanchfield Army Community Hospital will soon post more than 50 behavioral health positions at www.usajobs.gov.  Filling these positions will bring medical providers closer to the Soldiers work environment, which McConville hopes will help reduce risky behavior prior to, during, and following deployments.

The 4th Brigade Combat Team will be one of the first to increase embedded behavioral health assets within their footprint.



Sections
News
Topics
101st Airborne Division, 4th Brigade Combat Team, Air Assault, Blanchfield Army Community Hospital, Fort Campbell KY, Fort Campbell Soldiers, James C. McConville