Special Weather Statement In Effect ... [Click here for more information]
APSU Sports: Austin Peay Men's Golf

Bowling Green, KY – It was a difficult first day for Austin Peay State University sophomore Anthony Bradley in the first round of the NCAA Regional at The Club of Olde Stone.

The middle round holes led to Bradley firing an uncharacteristic 8-over 80 in the tourney's first round on par-72, 7,248-yard course. In fact, Bradley played holes 9-13 at eight over, with double bogeys occurring at 9, 12 and 13 and bogeys at 10 and 11.

"This is a course where even the smallest mistakes get magnified," APSU coach Kirk Kayden said. "Anthony made a couple of minor mistakes, a couple of his tee shots getting into the rough. The rough is so high here that it can cost you if you get in it. You really have to have a good touch, especially with the rough around the greens. That cost Anthony a couple of times today."

Bradley, who began the day with consecutive pars on No. 1 and 2, found trouble on the next two holes, bogeying both. But he got one stroke back on No. 7 with a birdie putt and went to No. 9 hoping to make the turn at no worse than one over par. However, his approach shot landed just behind the green in the rough. His chip came up well short of the hole, forcing him to two-putt for the double.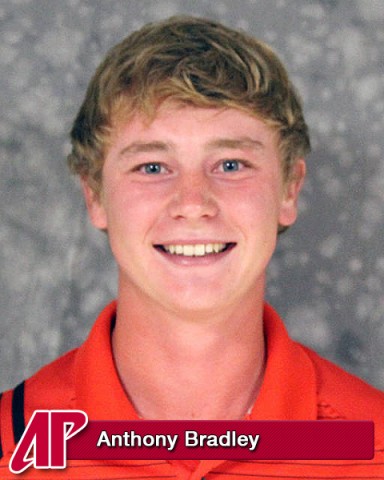 That started a downward trend for the Ivybridge, Devon, England native. But he recovered on the final five holes to shoot one-under, with a birdie on 18 capping his day.
"Anthony finally got some rhythm going on those final five holes," Kayden said. "He began to relax and play like we know he can. In fact, on 18 he almost chipped in for eagle.
"Anytime you can close like that, it certainly gives you momentum. I think he learned a lot today. He went back out to (the range) and was working on a few things…and really had a good practice."
The course played extremely tough during the first round. Only UCLA came in under par at four-under 284. The next best scores were Chattanooga and Colorado State at six-over 294. Jacksonville State sits in 12th place after shooting 20-over 308.
"When probably the second-best team in the SEC, Arkansas, comes in at 14-over (302), that tells you how tough the course is playing," Kayden said. "With the heat and the wind expected the rest of the week, it is only going to get tougher."
Bradley, who sits in a tie for 66th place individually, again will tee off at 9:40am, Friday, in the tourney's second round. However, he will begin at No. 10 during second-round play.
Sections
Sports
Topics
Anthony Bradley, APSU, APSU Athletics, APSU Golf, APSU Men's Golf, APSU Sports, Arkansas, Austin Peay State University, Bowling Green KY, Chattanooga, Colorado State, Governors, Govs, Jacksonville State, Kirk Kayden, NCAA Regionals, The Club of Olde Stone, UCLA