Winter Storm Watch In Effect ... [Click here for more information]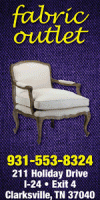 Clarksville, TN – "I'm so glad that you did not close!" is a common exclamation these days as customers arrive at Fabric Outlet, the not-to-be-missed purple building at 211 Holiday Drive in Clarksville. Current owners Rose Pollard and Joyce Turner rescued the business when the former owners decided they wanted to sell.
The announcement that "We're going out of business!" was greeted by one customer with "But what will Clarksville do? What will the nation do!" as she couldn't stand the thought of not being able to buy upholstery and drapery fabrics locally. When Rose and Joyce considered that alternative, they decided the only answer was to keep Fabric Outlet open and improve its offerings.
Now customers can buy not only fabrics for draperies and upholstery but interlinings, insulated linings, and blackout lining fabric. Drapery sheers plus French country, silk and faux silk fabrics are on hand too. Popular Ikats fabric, microfibers and chenilles are some of the most frequently requested materials these days.
Men are also frequent customers as they purchase marine vinyls for car and boat upholstery. The store also carries a great selection of outdoor fabrics for covering patio furniture.
Rose, a former upholstery expert, met Joyce when she made all the draperies for Joyce's home. Friends for years, both owners, as well as their assistants, help customers figure yardage and match colors.
On hand also are a few pieces of beautifully upholstered furniture for sale to a good home. A surprise addition to the offerings are full size animal skins and jungle prints.
Heather Dorris, Rose's daughter, is assistant manager. She has worked at the Fabric Outlet for about 10 years. When the store was formerly going out of business, workers were swamped with customers. That's when she called her mom to come in and work to help out. Rose was hooked and the rest is history.
Sharhonda Childress is also part of the sales team; she works sometimes alongside Will Thompson who is a senior at Clarksville Academy. Will is Joyce's grandson and he's a twin. Will has been accepted at The Citadel but his twin will be going to the University of Tennessee next fall; the two boys are twins by birth but not by interests. Will's time at the store will be limited to summer employment.
In addition to fabric, Fabric Outlet offers pillow forms, crystal and silk trims, and an extensive list of local upholsterers and drapery workrooms.
The new showrooms are sparkling clean and bright after the business was closed for a month for remodeling. The ambiance of Fabric Outlet is one of cheeriness and an inviting array that urges anyone ready to redecorate to find what is needed and get to work.
Stop in to Fabric Outlet this week and get your Spring renovation off the ground. You'll be glad you did. The staff is ready, willing and able to help you find just exactly what you want.
Photo Gallery
Map
About Sue Freeman Culverhouse
Sue Freeman Culverhouse has been a freelance writer for the past 36 years. Beginning in 1976, she published magazines articles in Americana, Historic Preservation, American Horticulturist, Flower and Garden, The Albemarle Magazine, and many others. Sue is the winner of two Virginia Press Awards in writing.

She moved to Springfield, Tennessee in 2003 with her sculptor husband, Bill a retired attorney. Sue has one daughter,  Susan Leigh Miller who teaches poetry and creative writing at Rutgers University.

Sue teaches music and writing at Watauga Elementary School in Ridgetop, Tennessee to approximately 500 students in kindergarten through fifth grade. She also publishes a literary magazine each year; all work in the magazine is written and illustrated by the students.

Sue writes "Uncommon Sense," a column in the Robertson County Times, which also appears on Clarksville Online. She is the author of "Seven keys to a sucessful life", which is  available on amazon.com and pubishamerica.com; this is a self-help book for all ages.

Web Site: http://culverhouseart.com/
Email: cuverhouse@comcast.net
Sections
Business
Topics
Clarksville Academy, Clarksville TN, Drapery, Fabric, Fabric Outlet, Heather Dorris, Holiday Drive, Joyce Turner, Rose Pollard, Sharhonda Childress, The Citadel, University of Tennessee, Upholstery, Vinyl, Will Thompson