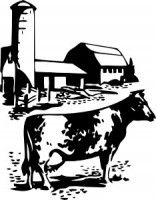 Clarksville, TN – While helping a friend with his cows, we were getting hay out of the loft of one of those iconic barns that have been around for well more than a century.  He pointed to an out-of-place sign on the loft door for a title company.
A local bank had created the title company when it began to acquire foreclosed farms in the 1930s.  By 1960, the bank wanted out of the land ownership business and started liquidating the farms by auction.  A local businessman had bought 300 acres of this particular farm for $50,000 not knowing where he would come up with the money.
The businessman turned farmer has since passed on.  Few people would remember the title company.  The bank is long gone and not many would even remember it.  Even the landmark building that housed the bank for most of the 20th Century is gone.
My farmer friend and I went through some powerhouse names of presidents and leaders of the bank who we had recalled from years past.
That is a good reminder that things which seem important are less significant in the scope of time.  There are many things we think are bedrock which fade away in time.  Banks.  Title companies.  Buildings.
There aren't many things that last forever.  Decisions made as a reaction to the moment may be difficult to unravel later. But, there is a good chance those reactionary decisions eventually will require reversal. Decisions made on foundational truths rather than the situation are more solid.  You should never need to back up from a decision made on the basis of truth or foundational principle.  Perhaps we should put more effort in making the right decision the first time.
About Frank White
Frank White is a native of east Tennessee and reveres the hills and nature of the Cumberland Plateau and east Tennessee. He enjoys backpacking, canoeing and flyfishing. He and his wife, Natalie, have been Clarksville residents since 1979. Frank is the owner of MediaWorks, a design and printing company in Clarksville, TN.

He earned a BS in mass communications and political science from Middle Tennessee State University and a master of arts in journalism from the Indiana University School of Journalism at Bloomington. He is a distinguished military graduate from ROTC at Indiana University and is retired from the U.S. Army Reserve having also served in the Tennessee Army National Guard. He served with the U.S. Army VII Corps in Operation Desert Storm.

Frank is a passionate follower of Christ and seeks to mentor others in exploring the endless depths of grace.

Web Site: http://www.mediaworksdesign.com/
Email: frank@mediaworksdesign.com
Sections
Commentary
Topics
Decision Making