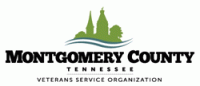 Clarksville, TN – The Montgomery County Veterans Service Organization (MCVSO) held its annual Memorial Day Ceremony on Monday May 28th, at Veterans Memorial Park in Clarksville, TN.
The event featured City and county officials, as well as MCVSO staff, with the keynote address given by Colonel William B. Hickman, Deputy Commander of Operations, 101st Airborne Division (Air Assault). The colors were posted by the Elester Garner Chapter of the 555th Triple Nickel, and music was provided by the 101st Airborne Division Band.
Any time one of the many soldiers who were left behind in the combat zone are returned home to their families, it is a special sad and somber occasion. The uncertainty is removed and the families are finally able to move on with their lives.
Since last year's ceremony, Clarksville welcomed home the remains of one of its fallen native born sons; Major Woodrow Wilson Vaden's body was returned home from the Republic of Vietnam. He was designated missing in action when his Air Force plane went down over Vietnam in 1964. His remains were only recently identified and returned home. A special ceremony saw his name engraved onto the Vietnam War monument at Veterans Memorial Park. May his family and loved ones finally have the peace of mind that they have so long deserved!
His recognition was followed by the wreath-laying ceremony that many of the area's veterans service organizations take part in each year.
Statement from Clarksville's Mayor Kim McMillan
Today we honor those brave men and women who died fighting for our freedom, our safety, our livelihood, our country. We stop and remember that they voluntarily gave their lives so that we may live in faith, freedom and prosperity. But we honor more than the lives they lived and sacrifice. We also honor the ideals and dreams those servicemen and women stood for.
In the City of Clarksville, like most any other city in America, there are soldiers buried from each war America as fought beginning with the Civil War. Our community is rich with their history, their presence and their promise.
I thank you all, each person in uniform, for the commitment you have made to each of us and I promise we will never forget your comrades who have made the ultimate sacrifice. On behalf of the city of Clarksville please accept my appreciation and gratitude to those of you whose family members sacrificed everything and to those who stand ready to do so today.
Memorial Day around Clarksville
On Memorial Day Clarksville Online reporters traveled around our city looking for everyday people to find out what Memorial Day means to them. Perhaps because of the proximity to Fort Campbell, most people seem to have a good grasp on the true meaning of the holiday. You can see their responses in the video below.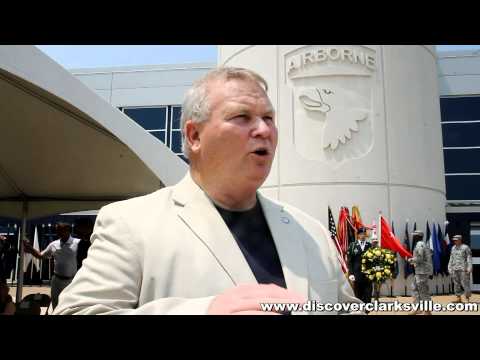 Photo gallery
Clarksville-Montgomery County Memorial Day Ceremony
Photos from around Clarksville on Memorial Day
About Bill Larson
Bill Larson is the Creator and Publisher of Clarksville Online, and works as a network administrator for Compu-Net Enterprises. He is politically and socially active in the community. Bill serves on the board of the Clarksville Community Concert Association, and is a member of the Friends of Dunbar Cave.

You can reach him via telephone at 931-249-0043 or via the email address below.
Sections
News
Topics
101st Airborne Division, 101st Airborne Division Band, 555th Triple Nickel, Air Assault, City of Clarksville, Civil War, Clarksville Mayor, Clarksville TN, Elester Garner Chapter, Fort Campbell KY, Gold Star Wives, Kim McMillan, Memorial Day, Montgomery County TN, Montgomery County Veterans Service Organization, Veterans Memorial Park, vietnam, Vietnam War Monument, William B. Hickman, Woodrow Wilson Vaden