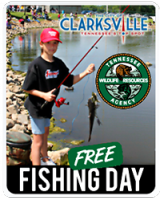 Clarksville, TN – The Tennessee Wildlife Resources Agency (TWRA) in partnership with the Clarksville Department of Parks and Recreation, Grandpa's, Walmart, Boyles Bait, and the Healing outside of a Hospital (HOOAH) Program worked together to give the youth of Clarksville an opportunity to enjoy a day of free fishing in Liberty Park.

The annual Youth Fishing Rodeo is held on the second Saturday in June to coincides with Tennessee's Free Fishing Day and 16 and under Free Fishing Week. "This is the 11th Year that we've joined together with the Clarksville Department of Parks and Recreation, and all of our sponsors to bring the outdoors to young kids who may be fishing for the very first time," said Montgomery County Wildlife Officer Dale Grandstaff. "There are over 400 kids gathered around the fishing pond at Liberty Park to have a great time in the great outdoors!"

He continued, "The TWRA holds this event on Free Fishing Day because we for this one day we don't have to worry about checking anyone's fishing licenses. For Free Fishing Day, the TWRA stocks lakes across the state with fish, and invites the public to bring out their children in the hope that these events will instill a love of the outdoors in them."

Jackie Langford, who described herself as the current grandma of the Grandpa's sporting-goods store has sponsored this event since the very beginning, "My Dad, Owen, and members of the Clarksville Bass Club got together with the TWRA roughly 11 years ago and started this wonderful event."

When Jackie looks back over the years that this event has been held, she is amazed at how much it has grown, "It was originally held at a farm pond, and now it is held every year right here at Liberty Park. The kids now have access to this fabulous new pond, and it is as the kids would say, Awesome! Every year we contact all our suppliers and asked them for donations for this event, and the happy to provide all of the stringers, nets, fishing line, fishing poles, and the paraphernalia that takes to fish."

It seemed as if even the fish wanted to ensure that the kids had a great day fishing! From the time the first line was tossed into the lake it only took 15 seconds for the first fish to be reeled in by Javon Santiago, who ended up catching the most fish out of all of the boys. His father, who regularly fishes. The pond uses either shrimp or chicken livers which ever works the best, and on that day chicken livers were clearly on the menu.

1st LT. Sean Clifford, was on hand representing the HOOAH Program, " The TWRA supports us big-time sending wounded warriors fishing and hunting throughout Tennessee and Kentucky. So whenever they have events like this, we like to come out and show our support for them," he said. "We couldn't do our job as the  Healing outside of a Hospital (HOOAH) program without organizations like the TWRA. The TWRA Game Wardens help and guide our soldiers while they are out on these hunting and fishing trips. We can only coordinate from our end to the event, these guys coordinate everything else on the other hand and that's huge for us as a non-funded organization. The HOOAH program is part of the Warrior Transition Battalion at Fort Campbell, Kentucky. We're just soldiers helping other soldiers."

Owen Schroeder, the Outdoors Correspondent for the Clarksville Leaf Chronicle newspaper gave me some first hand perspective on the origins of the Youth Fishing Rodeo in Montgomery County, "The event started years ago with a gentlemen named Charlie Bumpus. Charlie was well-known local angler who fished on the professional Bass fishing tour for several years, in fact he was one of the old-timers on the old Bass Anglers Sportsman Society Tour. Charlie started the original kids fishing rodeo many years ago and ran for several years until it kind of faded away. Roughly 11 to 12 years ago the TWRA and the Clarksville Department of Parks and Recreation got together and reinstituted the tournament, and it's just been a tremendous success ever since. I think that I've been here for every one of the Youth Fishing Rodeos,and it just keeps getting bigger and bigger, and the kids really have a lot of fun! Now they have this new fishing lake at Liberty Park, and so they've have a lot more good fishing area."

Prizes were awarded awarded for the biggest and smallest fish caught by the boys and the girls, the biggest creel (most fish caught), as well as a variety of door prize drawings. Prizes usually include gift certificates from area businesses, as well as fishing equipment and other sporting-goods from Grandpa's.

The final results were as follows:

Biggest Creel
Boys: 28 pounds caught by Javon Santiago
Girls: 9.83 pounds for Kirsten Tellez
Big Fish
Boys: A 6.67 pound alligator gar with lots of sharp teeth, caught by Kyler Ashby, who received a $25 gift card from Grandpa's as well as two fishing poles.
Girls: 6.41 pounds caught by Nina Frederic, who received a $25 gift card from Grandpa's, as well as two fishing poles.
Smallest Fish
There was a tie for the smallest fish caught for both the boys and the girls. The tie was broken by looking at who caught the most total weight.
Boys: .01 ounces caught by Jadon Minor, runner-up Tanner Bowers
Girls: .02 ounces caught by Isabelle Colunga, runner-up Nicole Davis
Overall winner Javon Santiago said, "It feels good to win today, I love fishing! I want to say thank you to Grandpa's and all of the other sponsors who were out here supporting us today!"
Photo Gallery
About Bill Larson
Bill Larson is the Creator and Publisher of Clarksville Online, and works as a network administrator for Compu-Net Enterprises. He is politically and socially active in the community. Bill serves on the board of the Clarksville Community Concert Association, and is a member of the Friends of Dunbar Cave.

You can reach him via telephone at 931-249-0043 or via the email address below.
Sections
Arts and Leisure
Topics
Alligator Gar, B.A.S.S., Bass Anglers Sportsman Society., Boyles Bait, Charlie Bumpus, Clarksville Department of Parks and Recreation, Dale Grandstaff, Grandpa's Sporting-Goods Store, Healing Outside of a Hospital, HOOAH program, Isabelle Colunga, Jackie Langford, Jaden Minor, Javon Santiago., Kirsten Tellez., Kyler Ashby, Liberty Park, Nicole Davis, Nina Frederic, Owen Schroeder., Tanner Bowers, Tennessee Free Fishing Day, Tennessee Wildlife Resources Agency, The Leaf Chronicle, TWRA, youth fishing rodeo