Ice Storm Warning In Effect ... [Click here for more information]
APSU Sports: Austin Peay Soccer

Bogota, Colombia – Austin Peay State University soccer standouts Natalia Ariza and Tatiana Ariza again will appear on the world stage, representing Colombia in the London 2012 Olympics, the Colombian Federation announced Tuesday.

The Bogota, Colombia natives, who have starred at Austin Peay for the past two seasons, joined a select group of players in early May to begin training for the Olympic team. Last summer, the twins participated in training camp for the Colombian FIFA World Cup team with Tatiana making the final roster, while Natalia left on the final cut.

"I'm so proud of the girls," Lady Govs head coach Kelley Guth said. "I've kept in touch with them throughout training camp and they've both worked very hard to earn their roles on the team. To have two Austin Peay players representing their country on the Olympic stage amongst the best athletes in the world is tremendous."
The Arizas are believed to be the first Austin Peay athletes to appears as Olympic team members.

Tatiana led the Ohio Valley Conference in scoring, last season, with 16 goals and seven assists. Natalia has played primarily as a midfielder, scoring five goals with four assists in 2011.

When the Arizas hit London with the Colombian team, both will assume different roles than what they do for the Lady Govs. Tatiana is slated to play in the midfield while Natalia will be a defender.

The position change is an easily adapted one, according to Guth. Tatiana's speed and ball technique, as well as her explosiveness, transfers well to the midfield. Natalia's transition will be smooth considering she saw ample time last season in the Lady Govs defense.

Participating at the Olympic level is an honor reserved for the world's greatest athletes which also allows the Arizas a unique preseason experience. When Guth's team reports to training camp in early August, the Colombian team will be amidst group stages competing against United States, France and Democratic People's Republic of North Korea in Group G.

"We're especially excited for the July 28th match between the United States and Colombia," Guth said. "Even though it's a few days for camp starts, we're planning to watch this match together as a team. I'm hopeful that Colombia will advance to the second round and have a chance to win a medal, even though it means the twins will be late to join our team for the season."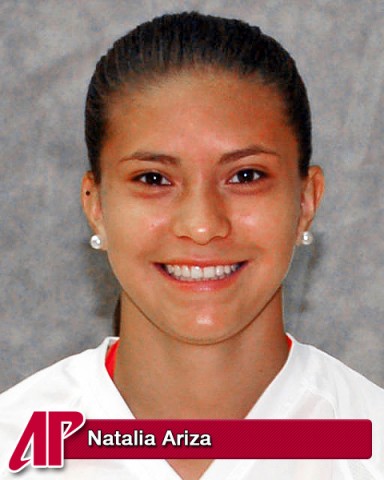 The Arizas' late arrival has become a worthwhile accommodation for Guth.
"Of course, we'd love to have them back with the team," Guth said. "This is an opportunity of a lifetime for them and we support them completely in their pursuit. Playing in the Olympic games will certainly be great preparation for the Fall season."
The women's tournament will run from July 25th-August 9th in London along with five other United Kingdom cities-Glasgow, Newcastle, Cardiff, Coventry and Manchester. The top two teams from each of three pools advances automatically to the tourney's knockout stage. The top two third-place teams also advance into the eight-team bracket.
Sections
Sports
Topics
2012 London Olympics, APSU, APSU Athletics, APSU Soccer, APSU Sports, APSU Women's Soccer, Austin Peay State University, Bogota Colombia, Clarksville TN, Colombian Federation, Democratic People's Republic of North Korea, FIFA Women's World Cup, France, Kelley Guth, Lady Govs, Natalia Ariza, North Korea, Ohio Valley Conference, Olympics, OVC, Soccer, Tatiana Ariza, United Kingdom, United States