Winter Storm Watch In Effect ... [Click here for more information]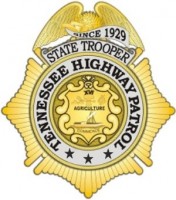 Montgomery County, TN – A Breeden Transportation Inc. tanker truck carrying a load of liquified Anhydrous Ammonia was traveling south on Highway 48/13 yesterday around noon, When it attempted to make a right turn onto Highway 149 the vehicle rolled over onto its driver side and then slid down an embankment before coming to rest.
This resulted in Highway 149 being shutdown between noon yesterday, and 12:40am this morning, but Highway 13 was kept open except for times when recovery activities were underway. Once the truck was pulled back up on the road another tanker was brought in to offload the cargo before the vehicle was towed off by Clarksville Towing (1362 College Street).
Around the truck the smell of ammonia was quite plain, but it was an extremely minor leak; and could have been so much worse. Ammonia is an irritant and is very corrosive to the skin, eyes, respiratory tract, as well as your mucous membranes. Exposure to liquid or rapidly expanding gases may cause severe chemical burns and frostbite to the eyes, lungs and skin. Skin and respiratory related diseases could be aggravated by exposure.
The truck and trailer was recovered by Clarksville Towing with assistance from Clean Harbors Environmental Services which is based out of Norwell, MA, and has locations all across the United States and Canada.  The Tennessee Highway Patrol was in charge of the accident scene, with Trooper Curley Jackson the investigating officer. Traffic and accident scene control assistance was provided by the Montgomery County Sheriff Department. Representatives from the Tennessee Department of Transportation were also on hand to provided assistance where needed.
Anhydrous is a term that means "without water". Anhydrous ammonia is naturally a gas, but when placed under pressure it liquifies. When in its liquid form the space required for storage for an equivalent volume is massively reduced. its chemical formula is NH3, and it is very soluble in water.
The accident scene was finally cleared and the roads reopened at 12:40am this morning.
Photo Gallery
About Bill Larson
Bill Larson is the Creator and Publisher of Clarksville Online, and works as a network administrator for Compu-Net Enterprises. He is politically and socially active in the community. Bill serves on the board of the Clarksville Community Concert Association, and is a member of the Friends of Dunbar Cave.

You can reach him via telephone at 931-249-0043 or via the email address below.
Sections
News
Topics
Accident, Anhydrous Ammonia, Breeden Transportation Inc., Clean Harbors Environmental Services, Curley Jackson, Highway 13, Highway 149, Liquified Anhydrous Ammonia, Montgomery County Sheriff's Department, Montgomery County TN, Tennessee Department of Transportation, Tennessee Highway Patrol