If you're like most people who grew up watching "The Andy Griffith Show," Andy seemed more like a member of your family than an actor on television. Born on June 1st, 1926, Andy had just celebrated his 86th birthday about a month ago when he died on July 3rd.

His wife, Cindi, who was by his side as always when he left this life, said, "Andy was a person of incredibly strong Christian faith and was prepared for the day he would be called Home to his Lord. He is the love of my life, my constant companion, my partner, and my best friend. I cannot imagine life without Andy, but I take comfort and strength in God's Grace and in the knowledge that Andy is at peace and with God."

Governor Bev Perdue, added, "North Carolina has lost its favorite son. Andy Griffith graciously stepped into the living rooms of generations of Americans, always with the playful charm that made him the standard by which entertainers would be measured for decades. Throughout his career, he represented everything that was good about North Carolina: a small town boy and UNC graduate who took a light-hearted approach to some of the attributes he grew up with and turned them into a spectacularly successful career. And regardless of where that career took him, he always came back to North Carolina and spent his final years here. In an increasingly complicated world, we all yearn for the days of Mayberry. We all will miss Andy, and I will dearly miss my friend."

Andy was laid to rest on his beloved Roanoke Island. His favorite causes were Outer Banks Conservationists and the Griffith Scholarship Fund at University of North Carolina-Chapel Hill."

Andy Griffith was not only an actor, but a director, producer, writer and Grammy Award-winning gospel singer. He first came to prominence when he starred in A Face in the Crowd (1957). His unforgettable scene in No Time for Sergeants had him saluting his commanding officer in the Army by having all the toilet lids rise up simultaneously as the latrine was inspected.

His other great television drama was Matlock where he played widower Benjamin Leighton "Ben" Matlock, It aired from September 23rd, 1986 to May 8th, 1992 on NBC and from November 5th, 1992 until May 7th, 1995 on ABC.

Andy Griffith at first wanted to be an opera singer, but later decided to become a Moravian preacher. He enrolled as a pre-divinity student at the University of North Carolina-Chapel Hill in 1944. There he became involved in musical theater and drama and was graduated with a degree in music in 1949.

Married to Barbara Edwards, also an actor at UNC, he taught high school music for three years before beginning a career as an entertainer. The duo sang, danced and Andy performed monologues from which "What It Was Was Football" developed. This was released on record in 1953; it became one of the most popular comedy routines of all time.

Griffith taught high school music for three years before setting out, with his new wife, Barbara Edwards, a fellow actor at UNC, on a career as an entertainer. The couple developed a traveling routine, featuring singing, dancing and monologues performed by Griffith. One of these monologues, called "What It Was Was Football," was released commercially in 1953 and became one of the most popular comedic monologues of all time.

Moving to New York with his wife, Andy made his television debut in 1954 on the Ed Sullivan Show and performed his comedy monologue. Then came his role as Will Stockdale in the television version of No Time for Sergeants. It was produced on Broadway in 1955 and became a hit. Andy was nominated for a Tony Award for outstanding supporting actor. His co-star, Don Knotts, joined him in the movie version in 1858.

Andy was again nominated for a Tony award in 1960 for Destry Rides Again in 1960; this time it was for best actor in a musical. His feature film debut was in 1957 in Face in the Crowd, followed by regular appearances with Don Knotts on The Steve Allen Show during 1959 and 1960.

After he appeared in 1960 as a small-town mayor on Make Room for Daddy, he became Sheriff Andy Taylor in his own sitcom, The Andy Griffith Show. Featuring Don Knotts as the nervous Barney Fife and Ron Howard as his son, Opie, the show lasted eight years beginning in 1960.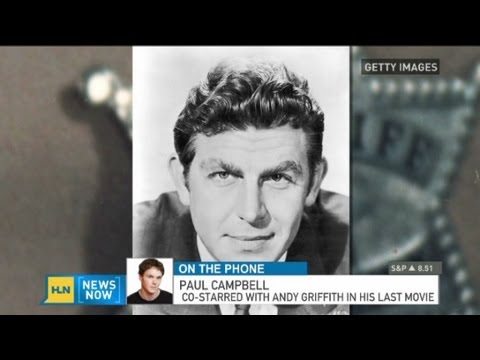 The next years had Andy appearing in movies and television with even a "new" Andy Griffith Show in 1972. That was the year that he formed a production company, Andy Griffith Enterprises. One of its projects, in 1981, starred Andy in a television movie, Winter Kills (1974).

In 1981, Griffith received an Emmy nomination for his supporting role in another TV movie, Murder in Texas.

After The Andy Griffith Show went off the air in 1968, Griffith appeared in several feature films, including Hearts of the West (1975), also starring Jeff Bridges. For the most part, however, he concentrated on TV, and appeared in several short-lived attempts to recapture the success of The Andy Griffith Show, including Headmaster (1970-71), and The New Andy Griffith Show (1972), both on CBS, Salvage (1980) on ABC, and the ABC Western comedy series, Best of the West (1981-82). Griffith was also the executive producer of Mayberry, R.F.D., the first spinoff of The Andy Griffith Show, which ran from 1968 to 1971.

In 1972, Griffith formed a production company, Andy Griffith Enterprises. His company's projects included a TV movie, Winter Kills (1974), in which Griffith also starred. In 1981, Griffith received an Emmy nomination for his supporting role in another TV movie, Murder in Texas. Griffith was also the executive producer of Mayberry, R.F.D., the first spinoff of The Andy Griffith Show, which ran from 1968 to 1971.

Andy was stricken with Guillen-Bare syndrome, a crippling disease of the muscles; he was partially paralyzed in 1983 as a result. He underwent rehabilitation for six months and made a full recovery. He resumed acting through Matlock in 1986. He was also the executive producer and executive story supervisor for the show. He later recreated his role of Ben Matlock in a series of movies for television.

In 1996, Griffith appeared as a villain opposite Leslie Nielsen in the James Bond parody Spy Hard.

The re-runs of The Andy Griffith Show proved so popular that Don Knotts and Ron Howard joined him in Return to Mayberry, which became the highest-rated TV movie of the 1986 season. He also hosted The Andy Griffith Reunion Special in 1993, and served as executive producer for both programs.

Griffith's marriage to Barbara Edwards, having ended in divorce in 1972, he married his second wife, Solicia, whom he divorced in 1981 after five years of marriage. Cindi Knight and Andy were married in 1983; she was a former teacher and actress. They lived for many years in Dare County, North Carolina, on a 68-acre ranch. His first wife and he had three children, Dixie, Nan and Sam, a real-estate developer who died in 1996.

Tanya Jones, executive director of the Surry Arts Council, expressed the feeling of many of his fans as she stated, "We are broken hearted. Andy Griffith means the world to the arts everywhere–not just here in Mount Airy. His contribution to us, the Surry Arts Council, and the town of Mount Airy cannot be measured. We are blessed to have known him. We will cherish is his art, his music, his talent, and of course, our beloved Andy Griffith Show. Our prayers and love go out to Cindi. We know that Andy is at peace and that is what is important right now."



About Sue Freeman Culverhouse
Author of Tennessee Literary Luminaries: From Cormac McCarthy to Robert Penn Warren (The History Press, 2013) Sue Freeman Culverhouse has been a freelance writer for the past 36 years. Beginning in 1976, she published magazines articles in Americana, Historic Preservation, American Horticulturist, Flower and Garden, The Albemarle Magazine, and many others. Sue is the winner of two Virginia Press Awards in writing.

She moved to Springfield, Tennessee in 2003 with her sculptor husband, Bill a retired attorney. Sue has one daughter,  Susan Leigh Miller who teaches poetry and creative writing at Rutgers University.

Sue teaches music and writing at Watauga Elementary School in Ridgetop, Tennessee to approximately 500 students in kindergarten through fifth grade. She also publishes a literary magazine each year; all work in the magazine is written and illustrated by the students.

Sue writes "Uncommon Sense," a column in the Robertson County Times, which also appears on Clarksville Online. She is the author of "Seven keys to a sucessful life", which is  available on amazon.com and pubishamerica.com; this is a self-help book for all ages.

Web Site: http://culverhouseart.com/
Email: cuverhouse@comcast.net
Sections
News
Topics
ABC, Andy Griffith, Barbara Edwards, Barney Fife, CBS, Cindi Knight, Copies in a Flash, Disease, Don Knotts, Ed Sullivan Show, Gov. Ben Perdue, Griffith Scholarship Fund, Guillen-Bare syndrome, Leslie Nielsen, Make Room for Daddy, Matlock, Mayberry, Mayberry R.F.D., NBC, Opie, Roanoke Island, Ron Howard, The Andy Griffith Show, Univeristy of North North Carolina--Chapel Hill, What It Is Was Was Football