Special Weather Statement In Effect ... [Click here for more information]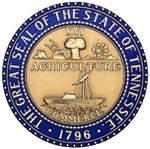 Nashville, TN – Tennessee State Representative John Tidwell recently attended meetings in Washington DC in Senator Lamar Alexander's office for discussions about several TVA programs.

The future of the New Johnsonville Steam Plant, the TVA managed shore land use plans and the recent increased fee proposals on water related businesses were discussed. These are due to go into effect January 1st, 2013.

Several other items affecting the citizens of Tennessee were discussed. Some businesses have contracts while others operate under different conditions.  It seems there is little uniformity across the entire TVA waterways.

A breakfast with Senators Alexander and Corker  present was held for all Tennesseans on Tuesday at which  Toney Troyani, a Montgomery County resident and TVA employee attended while on vacation with his family.

After the breakfast a meeting in Senator Alexander's office was attended by Tidwell, representatives of  "Shoreline Alliance" (an organization formed to protect the ability of all to use and enjoy the Tennessee river and other waterways) and also by a River Marina representative.

TVA is also going to place restrictions on long term leases along the river. People with RV's, Trailers or campers can not have semi-permanent structures and must reapply each year for their spot. Following the meeting, Rep. Tidwell and the group visited most of the Senators and or their staff of Kentucky, Alabama, and Mississippi with TVA interests in their districts. He also discussed the issue with the summer water levels in the river.

Representative Tidwell made the point that he was interested in jobs and all aspects of TVA and its impact on the businesses and citizens of Tennessee. As senior member of Tennessee's Conservation and Environment Committee and a Civil Engineer, he has never been satisfied with the way TVA classifies and handles their ash. There are 2 major TVA coal burning plants in his district that are affected by this classification.

There were alternatives offered for these problems. TVA should determine the public sentiment by holding a series of public meetings before placing any restrictions on the shoreline residents, campers, boaters and the fees on businesses.

The Johnsonville Plant has a river harbor that probably could not get built under today's laws. There is a lot of infrastructure and investment connected to this site. The primary reason for the closing is a rather old environmental lawsuit having to do with acid rain and other reasons. It was pointed out that there are other ways to make electricity and the site has a large diameter high pressure gas line. Smaller safer high efficiency nuclear units are being developed.

During the 1970's TVA announced the shutdown of the New Johnsonville plant but after layoffs and outsourcing of employees the plant did not close.  The demand was too great. The announced date of 2016 is close. The demand for electricity will be greater than in the 70's and therefore Representative Tidwell has expressed his concerns regarding the plants closure.



Sections
Politics
Topics
Alabama, John Tidwell, Kentucky, Lamar Alexander, Mississippi, Montgomery County, Nashville TN, New Johnsonville TN, Senator, Tennessee River, Tennessee State Representative, Tennessee Valley Authority, Toney Troyani, TVA, washington d.c.