Winter Weather Advisory In Effect ... [Click here for more information]
APSU Sports: Austin Peay Soccer

Clarksville, TN – Austin Peay State University women's soccer team returns 11 starters and a host of contributors from last season's 8-9-1 squad, including two Olympians and an All-Ohio Valley Conference performer.

The Lady Govs open play at 7:00pm, Friday, in Fayetteville, AR against SEC foe Arkansas. Austin Peay swings through Little Rock for a 1:00pm, Sunday, match-up against UALR.

Arkansas went 4-14-0 in 2011 but return seven starters, including Beth Stratton, who was the Razorbacks second-leading scorer last season. In the preseason SEC Coaches poll, the Razorbacks were picked to finish sixth in the SEC West.

This will be the Lady Govs third meeting with Arkansas, having dropped both previous meetings. The last Austin Peay-Arkansas match-up came in 2008, with the Razorbacks taking a 1-0 win at Morgan Brothers Field.

Meanwhile, UALR lost eight players from a 7-13-0 squad in 2011, but bring back leading scorer Ariel Galletti and incumbent keeper Michelle Pittman, who made 96 saves last season. Sunday's match will be the first between Austin Peay and UALR.

"I think the girls are prepared," said head coach Kelley Guth. "We've been spending a lot of time teaching and getting them ready to hit the field. We're excited to play."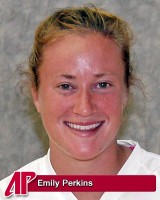 Natalia Ariza and Tatiana Ariza, who return stateside this weekend after representing their native Colombia in the 2012 London Summer Olympics, return as juniors for the Lady Govs. Both were All-OVC selections last season and were recently named preseason All-OVC first-team choices by CollegeSportsMadness.com. However, they will be unavailable for the opening weekend.
The twins will be joined up front by senior Emily Perkins, a transfer from Ole Miss last season who scored seven goals on her way to All-OVC second-team honors in 2011; she was preseason second-team All-Conference by CollegeSportsMadness.com.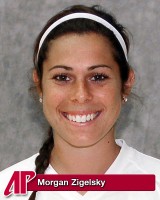 Another Ole Miss transfer, Morgan Zigelsky, made 10 starts for the Lady Govs last season and will get plenty of chances to make an impact in 2012.
The Lady Govs other set of twins also will play huge roles in 2012. Andy Quiceno and Joceline Quiceno, juniors from Houston, Texas, combined for four goals and seven assists last season.
Austin Peay's back line will be among the most well-seasoned in the conference, with seniors Jazzmine Chandler, Jocelyn Murdoch, Renny Robinson and Stephanie Weider anchoring a unit enhanced by the play of junior Corey Osborn and sophomore Taylor Van Wagner. This deep unit will be in charge of protecting the net, where incumbent Haylee Shoaff and freshman Nikki Filippone are charged with keeping opponents at bay.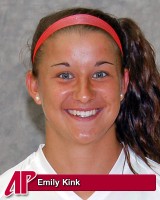 "We've spent a lot of our time in preseason working on defense," Guth said. "We should be a little more organized and confident on that side of the ball."
Returners Emily Kink, Sara Kluttz and Claire Pultz are versatile players that Guth will make it a point to find places for as the season progresses.
Although it might be easy for freshmen to get lost in the shuffle in such a veteran group, Guth has brought talent to Clarksville that will not be content to languish on the bench in their respective first seasons. Regan Colaner, Melissa Fletcher and Tiana Thorpe will push upperclassmen for playing time and could steal minutes as the season progresses.
The Lady Govs open up the home portion of the schedule at 7:00pm, Friday, August 24th against Appalachian State at Morgan Brothers Soccer Field.
Sections
Sports
Topics
Andy Quiceno, Appalachian State, APSU, APSU Athletics, APSU Morgan Brothers Field, APSU Soccer, APSU Sports, APSU Women's Soccer, Ariel Galletti, Arkansas, Austin Peay State University, Beth Stratton, Claire Pultz, Clarksville TN, College Sports Madness, Corey Osborn, Emily Kink, Emily Perkins, Fayetteville AR, Haylee Shoaff, Houston TX, Jazzmine Chandler, Joceline Quiceno, Jocelyn Murdoch, Kelley Guth, Lady Govs, Little Rock AR, Melissa Fletcher, Michelle Pitman, Morgan Zigelsky, Natalia Ariza, Nikki Filippone, Ohio Valley Conference, Ole Miss, Olympics, OVC, Razorbacks, Regan Colaner, Renny Robinson, Sara Kluttz, SEC, Southeastern Conference, Stephanie Weider, Tatiana Ariza, Taylor Van Wagner, Tiana Thorpe, UALR