Winter Weather Advisory In Effect ... [Click here for more information]
Written by Cody Bush
APSU Sports Information

Memphis, TN – Austin Peay State University's volleyball team couldn't maintain the momentum of its season-opening victory, dropping a five-set contest (25-13, 23-25, 23-25, 25-23, 13-15) to UALR, Saturday afternoon, in the Memphis Invitational at Elma Roane Fieldhouse.

Austin Peay (1-1) won a lopsided first set, jumping out to a 15-5 lead and not looking back en route to a 25-13 win. The Lady Govs needed only 12 kills in the win as UALR handed them 10 points on errors.

UALR (1-1) leveled the match with a wire-to-wire win in the second set. Austin Peay rallied from a 20-15 deficit late to tie the set at 23-23. But the Trojans held off the rally, using a Adisa Hodzic kill and a Emily Pepperman service ace to secure the win.

The third and fourth sets were wild affairs with both teams using late set rallies to post come-from-behind wins. Austin Peay led 17-9 in the third set only to watch UALR tie the set with a 10-2 run to tie the set, 19-19. The Lady Govs momentarily held off the lead change, but the Trojans used three consecutive kills to win the set, 25-23.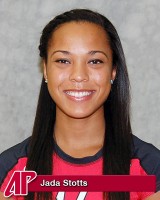 UALR held a 16-10 lead in the fourth set, but Austin Peay tied the set with six consecutive points, with sophomore Jada Stotts and senior Alex Sain each recording two kills. The Trojans would get within three points, 22-21, of winning the match but the Lady Govs scored four of the set's final five points to force a decisive fifth set.

After playing the tournament's first nine sets with the offense running efficiently, Austin Peay saw its offense sputter. The Lady Govs committed six errors in the set, allowing the Trojans to stay within striking distance early. Then, trailing 11-10, UALR finally struck and scored five of the final seven points to win the match.

"We lost a close match against Arkansas-Little Rock," said Lady Govs head coach Taylor Mott. "We played well in spurts but lacked the intensity we showed against Memphis. We'll come back tomorrow and play two more quality teams. We have to treat it like a new day and leave tonight's result in the past."

Austin Peay was unable to capitalize on Stotts' career-best 19-kill performance. Sophomore Hillary Plybon followed up her career-best outing in the season opener with a 15-kill outing against UALR. Junior middle blocker Lauren Henderson added 10 kills.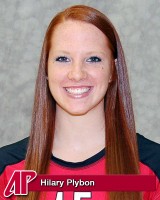 Edina Begic led UALR with an impressive 25-kill outing, including five kills in the decisive set. Hodzic and Eva Xie each added 10 kills.
The Lady Govs return to action with a 10:00am, Saturday contest against Eastern Michigan. The Eagles enter the tournament's second day with a 2-0 record after posting four-set wins against both UALR and Southern Illinois, Friday.
Box Score
Austin Peay Lady Govs
Austin Peay vs UALR
(08/24/12 at Memphis, TN)
Austin Peay
ATTACK
SET
SERVE
SRV
DEF
BLOCK
GEN
##
Player
SP
K
E
TA
PCT
A
SA
SE
RE
DIG
BS
BA
BE
BHE
Points

1

FIELDS, Cami

5

0

1

2

-.500

53

1

1

0

10

0

0

0

0

1.0

2

HULL, Calyn

3

1

1

7

.000

1

1

1

0

6

0

1

0

0

2.5

9

DOYLE, Nikki

5

9

2

29

.241

0

3

2

0

11

0

0

0

0

12.0

12

HENDERSON, Lauren

5

10

4

24

.250

2

2

4

0

3

1

2

1

3

14.0

14

STOTTS, Jada

5

19

8

50

.220

1

0

0

1

13

1

2

0

0

21.0

15

PLYBON, Hillary

5

15

2

28

.464

0

0

2

1

7

1

2

0

1

17.0

3

ADAMS, April

3

0

0

0

.000

0

0

0

0

9

0

0

0

0

0.0

5

SAIN, Alex

4

8

0

16

.500

0

0

0

0

5

0

1

0

0

8.5

10

STROTHER, Samantha

2

2

4

14

-.143

0

0

2

0

4

0

0

0

0

2.0

Totals

5

64

22

170

.247

57

7

12

2

68

3

8

1

4

78.0

TOTAL TEAM BLOCKS: 7.0
TEAM ATTACK BY SET
Set
K
E
TA
Pct
Sideout
Pct

1

12

3

23

.391

11-14

78%

2

15

2

37

.351

15-24

62%

3

14

7

45

.156

11-25

43%

4

16

4

39

.308

14-23

60%

5

7

6

26

.038

8-15

53%

59-101

58%

SET SCORES
1
2
3
4
5
TEAM RECORDS

Austin Peay

(2)

25

23

23

25

13

1-1

UALR

(3)

13

25

25

23

15

1-1
UALR
ATTACK
SET
SERVE
SRV
DEF
BLOCK
GEN
##
Player
SP
K
E
TA
PCT
A
SA
SE
RE
DIG
BS
BA
BE
BHE
Points

2

Hodzic, Adisa

5

10

2

21

.381

0

0

0

0

1

0

5

1

0

12.5

4

Souza Moura, Daniele

5

5

3

22

.091

4

0

4

0

8

0

3

0

0

6.5

8

de Zoete, Marleen

5

5

2

10

.300

42

0

1

1

3

0

1

0

0

5.5

9

Begic, Edina

5

25

10

59

.254

1

1

2

0

17

0

3

0

0

27.5

10

Shaedig, Sawyer

1

1

0

3

.333

7

0

1

0

1

0

0

0

0

1.0

11

Xie, Eva

5

10

5

32

.156

1

0

0

0

2

1

4

1

0

13.0

1

Wyatt, Allison

5

1

1

3

.000

1

0

2

3

10

0

0

0

0

1.0

5

Pepperman, Emily

5

0

0

0

.000

2

1

1

3

21

0

0

0

0

1.0

7

Davis, Tyler

5

0

2

3

-.667

0

0

0

0

14

0

0

0

0

0.0

14

Booher, Mikalah

4

3

2

11

.091

0

0

0

0

0

0

0

0

0

3.0

Totals

5

60

27

164

.201

58

2

11

7

77

1

16

2

0

71.0

TOTAL TEAM BLOCKS: 9.0
TEAM ATTACK BY SET
Set
K
E
TA
Pct
Sideout
Pct

1

8

6

29

.069

10-24

41%

2

15

4

37

.297

16-24

66%

3

15

7

40

.200

11-23

47%

4

14

7

38

.184

14-25

56%

5

8

3

20

.250

8-13

61%

59-109

54%

Site: Memphis, Tenn. (Elma Roane FH)
Date: 08/24/12 Attend: 79 Time: 1:46
Referees: Tim Neels, Mike Hamilton


| | | | | | | |
| --- | --- | --- | --- | --- | --- | --- |
| | 1 | 2 | 3 | 4 | 5 | Total |
| Tie scores | 1 | 2 | 8 | 6 | 5 | 22 |
| Lead changes | 1 | 0 | 2 | 1 | 2 | 6 |
Sections
Sports
Topics
Adisa Hodzic, Alex Sain, APSU, APSU Athletics, APSU Sports, APSU Sports Information, APSU Volleyball, APSU Women's Volleyball, Arkansas-Little Rock, Austin Peay State University, Cody Bush, Eastern Michigan, Edina Begic, Elma Roane Fieldhouse, Emily Pepperman, Eva Xie, Hillary Plybon, Jada Stotts, Lady Govs, Lauren Henderson, Memphis Invitational, memphis tn, Southern Illinois, Taylor Mott, Trojans, UALR