Hendersonville, TN – The suite of paintings presented by artist Terri Jordan at the Monthaven Mansion this October brings together her signature women with decorative backdrops of rich pigments. Jordan's modern day girls are enveloped in vintage looking wallpaper patterns; which adds a sense of vulnerability to their otherwise strong presence.
The artist says "In a world of instant information and camera watching, there is still the ability to hide, to project a false image of ourselves quite easily to even our closest friends.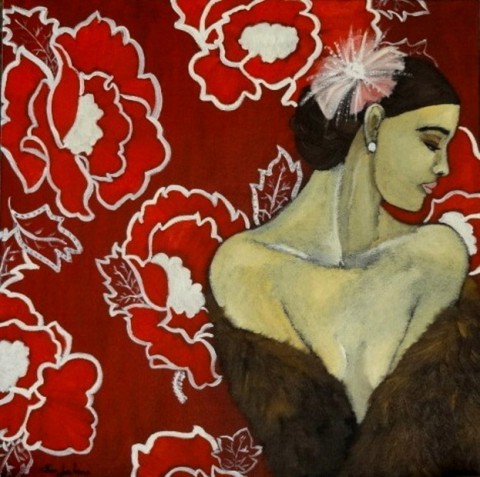 With this group of paintings, I try to show the relationship of confidence and delicacy. The figure and background share equal billing". 50% of sales from this exhibit will benefit local Backpack programs. Second Harvest has 15 Kids Cafes throughout Davidson County, and 52 BackPack programs throughout Middle Tennessee, including Sumner county – home of Monthaven. One of the Sumner County Programs – Unity.com –serves children who are homeless or otherwise displaced from their typical home.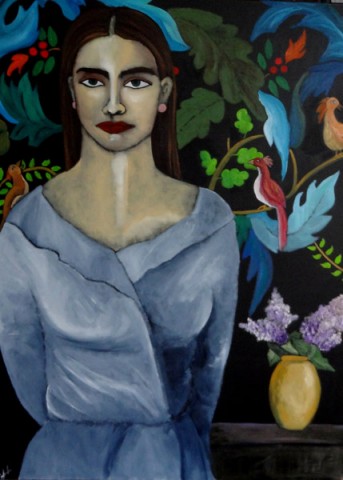 Oftentimes these are families that have been evicted and are doubling up with other family or friends, or even living at a local campground.  Second Harvest provides BackPack sacks for 80 children each week at this program.
"The month of October would have been my niece's (Brittany Paes) 13th birthday. She was killed this past June. Brittany was a sensitive and caring girl – always wanting to help others less fortunate. I wanted to find a way to do something for her birthday. An estimated 17 million kids in this country don't have food to eat on weekends. Backpack and Kids Café are programs that help counter this problem."
Terri has exhibited in group and solo shows in New York and throughout the Southeast. Most recently she was one of twenty-five women artists selected to participate in the National juried exhibit, titled "Where Do We Go from Here?  The Shape of Things to Come," at the RCC Wiseman Gallery in Grants Pass, Oregon. She was also juried into the 2012 National Juried exhibition in Cooperstown, New York. Jordan's paintings are in collections from New York to California, Italy and England.
About the Hendersonville Arts Council
The Hendersonville Arts Council chartered in 1975, is a non-profit, community arts service promoting the cultural development of Hendersonville and the surrounding middle Tennessee area. Monthaven was created in a Federal architectural style. The two-story weatherboard façade with front parlor rooms was built in the 1840s or 50s and is an example of a late Greek Revival period plantation house, with Victorian elements.
Wallflower is showcased in the Hendersonville Arts Council's Monthaven Mansion through the month of October. The opening reception, from 5:00pm to 7:00pm, on October 6th is free to the general public. The mansion is located at 1154 West Main Street in Hendersonville, Tennessee.
Sections
Events
Topics
Backpack program, Brittany Paes, Davidson County, Hendersonville Arts Council, Hendersonville TN, Kids Café, Middle Tennessee, Monthaven Mansion, paintings, Second Harvest, Sumner County, Terri Jordan