Special Weather Statement In Effect ... [Click here for more information]

Clarksville, TN – In what has become a highly anticipated event, the Clarksville Montgomery County Home Builders Association is bringing you the annual Parade of Homes. With interest rates at an all-time low and the housing affordability index unbelievably high, now is a great time to look at new homes.  The 2012 Parade of Homes will take place from September 27th to September 30th.
This year's tour will feature an incredible 18 homes from Association members.  Included in the tour for the first time will be a condominium and an Energy Star Certified home.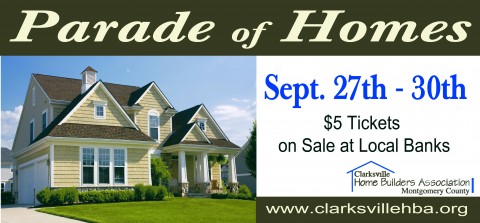 Anyone can view these "Dream Homes" during special hours by buying a $5.00 ticket at area financial institutions or at the homes during the event.  50% of the ticket sales will go to Clarksville Montgomery County Schools.

The public will be able to view homes in a variety of areas and subdivisions.  Surveys from last year showed that many people gathered decorating and remodeling ideas.  Builders are allowed to fully stage one room with furniture and accessories.

Participating homes were judged earlier.  Winners were determined in numerous categories including "Best Master Suite", "Best Kitchen", and "Best Landscaping".  The public will get to vote for a "People's Choice" award.  The Overall winner in each price category is listed below.

Real Estate agents and mortgage lenders will be on hand to provide support. Visit the Clarksville Home Builder Website for a map and more information on times and where tickets can be purchased. www.clarksvillehba.org
Winners this year in the under $265,000 category for Best Overall
1st Place: Lot 53 Whitetail Ridge – Hawkins Home Builders
2nd Place: Lot 18 Farmington – Clarksville Homes
3rd Place: Lot 178 Hickory Wild – Powers, LLC
Winners in the $265,000 – $300,000 category for Best Overall
1st Place: Lot 77 Bentley Meadows – Pranger Construction
2nd Place: Lot 126 Farmington – Hawkins Home Builders
3rd Place: Lot 67 Bentley Meadows – Pranger Construction
Winners in the over $300,000 category for Best Overall
1st Place: Lot 8 boyer Farms – Crabbe Construction
2nd Place: Lot 75 Farmington – Reda Home Builders
3rd Place: Lot 19 Copperstone – Prestige Builders
About Randy Worcester
Randy Worcester is a REALTOR® with Avalar Real Estate. He is a Certified Distressed Property Expert and is e-PRO® internet certified by the National Association of REALTORS®. He utilizes the latest technologies, market research, and business strategies to consistently exceed his clients expectations. More importantly  he listens to his clients, and uses his background in marketing and finance to tailor a custom solution that fills their individual needs. Randy Worcester is the perfect choice to guide you in buying a new home, or creatively selling your current house. Randy is licensed in both Tennessee and Kentucky. Randy's wife, Peggy, is also a member of the team. Together they serve all of Clarksville, Woodlawn, Oak Grove, and Ft. Campbell. Their specialty is relocation, upscaling, new home buyers, senior options, short sales, and luxury home marketing in the Sango, Adams, and Exit 11 areas.

Randy strongly believes in giving something back to the community. He is passionate about, and is a devoted public servant with the Clarksville Sunrise Rotary Club and the Boy Scouts of America where he has received numerous honors and awards.

Web Site: http://www.clarksvillehomepros.com/
Email: randyw@realtracs.com
Sections
Events
Topics
Clarksville Homes, Clarksville Montgomery County Homebuilders Association, Clarksville Montgomery County Schools, Clarksville TN, Crabbe Construction, Hawkins Home Builders, Parade of Homes, Powers LLC, Pranger Construction, Prestige Builders, Reda Home Builders