Written by Chris Austin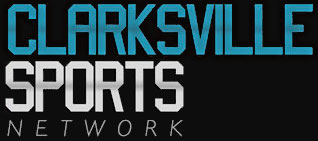 Cunningham, TN – Two quick turnovers by Montgomery Central led to a pair of short-field touchdowns for Harpeth, Friday night at Phillip Horsey Stadium, as the visitors broke open a halftime tie to defeat the Indians, 44-7, in a District 11-AA contest.

The first turnover of the second half for Montgomery Central (0-7, 0-3 District 11-AA) came in its third play from scrimmage, with quarterback Peyton Delvendahl being picked off by Harpeth's Brent Burger at the Central 29.

Burger would return the pick 27 yards down to the Montgomery Central two-yard line to set up Harpeth (3-3, 3-0 District 11-AA) with a first-and-goal.

Bryce Baker would score the go-head touchdown on Harpeth's first play, but the extra point was missed and the visitors led 13-7 just 1:14 into the final half.

Baker would finish the night with four touchdowns – all rushing – and 151 yards on 15 carries.

Central was looking to respond after the Harpeth score, getting into the visitor's territory, but Elmer Smith would have the ball knocked out of the hands from behind by a Harpeth defender, as he was running down the field after he caught a pass from Delvendahl.

Harpeth would return the fumble to the Central 26-yard line to give themselves another short-field scoring opportunity.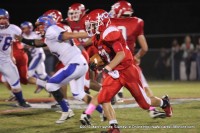 Three plays later, Baker would take it in from 11 yards out to extent Harpeth's lead out to 19-7, with 7:12 left in the third quarter.
The score would remain that way until the fourth quarter, when Harpeth would pull away with four touchdowns in the final 12 minutes of play.
The first came on a 28-yard run by Baker, 48 seconds into the quarter, followed by an 8-yard touchdown pass to Jaron Marlow from Jett Binkley, with 8:38 left, after a failed pass attempt on a fake punt on fourth down.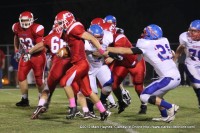 Montgomery Central would fumble the ensuing kickoff return and Harpeth would score its third touchdown of the quarter on a 1-yard run by Jacob Dillon, with 6:26 left in the game.

Harpeth's final score came with 1:54 left, on a 6-yard run by James Meeks, after Central came up short on a fourth-and-one at its own 30-yard line.

In the first half, it looked like Montgomery Central would get the first break of the game with Austin Downey recovering what looked like a fumble by Brinkley on the Harpeth 26-yard line.

But after the Central offense came on the field the officials got together and after a few minutes of discussion changed the call to an incomplete pass and returning the ball back to Harpeth.

The visitors took advantage of the ruling three plays later, with Baker breaking through the Central defense for a 74-yard touchdown run and a 7-0 lead.

Montgomery Central would tie the game late in the second quarter, going 92 yards on seven plays, highlighted by a 36-yard scoring run by Smith with 3:20 left before intermission.

Smith would lead Central with 71 yards rushing.

Central had a chance to take a lead before the end of the opening half, after recovering an on-side kick following the tying score, but Delvendahl threw an interception on a first-and-goal from the Harpeth 6-yard line, with 44.2 seconds left before intermission.

Delvendahl would finish the game completing 7-of-17 pass attempts for 89 yards and three interceptions.
Box Score
Harpeth 44, Montgomery Central 7
| | | | | | |
| --- | --- | --- | --- | --- | --- |
| | 1 | 2 | 3 | 4 | Final |
| Harpeth | 7 | 0 | 12 | 25 | 44 |
| Montgomery Central | 0 | 7 | 0 | 0 | 7 |
H—Bryce Baker 74-yard run (Jake Brooks, kick), 7:44.
MC—Elmer Smith 36-yard run (Cole Mensing, kick), 3:20
H—Barker 2-yard run (kicked failed), 10:36
H—Barker 11 run (rush failed), 7:12
H—Barker 28-yard run (kicked failed), 11:12
H—Jaron Marlow 8-yard pass from Jett Brinkley (kick failed), 8:38
H—Jacob Dillon 1-yard run (Jason Fennell, kick), 6:26
H—James Meeks 6-yard run (run failed), 1:54
First Downs 10 7
Rush Att.-Yards 39-260 28-73
Pass Yards 0 89
Total Offense 260 162
C-A-I 3-7-0 7-18-3
Punts-Avg. 4-44.8 5-35.2
Fumbles-Lost 1-1 2-2
Penalties-Yards 7-75 7-78
Friday Night High School Football Scores
Dickson County 42 , West Creek 12
Kenwood 52 , Clarksville Northwest 6
Springfield 49 , Rossview 42
Fort Campbell 43, Paducah-Tilghman 14
Harpeth 44, Montgomery Central 7, Clarksville Academy 34, White House Heritage 21, Clarksville High off
Harpeth 44 (2-3, 2-2 11-AA), Montgomery Central 7 (0-6, 0-2 11-AA)

Montgomery Central 7

Date
Opponent
Result
Sat
Aug. 18
7:30 PM
Clarksville Academy
L 7-47
Fri
Aug. 24
7:30 PM
at East Robertson
L 15-36
Fri
Aug. 31
7:30 PM
at Cheatham County
L 7-49
Fri
Sep. 7
7:30 PM
Rossview
L 0-49
Fri
Sep. 14
7:30 PM
at Waverly Central
L 7-36
Fri
Sep. 21
7:00 PM
at Obion County
L 47-7
Fri
Sep. 28
7:30 PM
Harpeth (Homecoming)
L 44-7
Fri
Oct. 5
7:30 PM
at Camden Central
Fri
Oct. 26
7:30 PM
Stewart County

Harpeth 44
Date
Opponent
Result
Fri
Aug. 24
7:30 PM
Hickman County
L 0-36
Fri
Aug. 31
7:30 PM
at Creek Wood
W 21-14
Fri
Sep. 7
7:30 PM
Nashville Christian
L 18-32
Fri
Sep. 14
7:30 PM
at Stewart County
W 34-28
Fri
Sep. 21
7:30 PM
East Robertson (Homecoming)
L 27-28
Fri
Sep. 28
7:30 PM
at Montgomery Central
W 44-7
Fri
Oct. 5
7:00 PM
at Sycamore
Fri
Oct. 12
7:30 PM
Camden Central
Fri
Oct. 19
7:30 PM
Waverly Central
Fri
Oct. 26
7:30 PM
Cheatham County
AP Tennessee Prep Football Poll
Class 6A
Record Pts Prv
1. Maryville (18) 6-0 195 1
2. Siegel 6-0 166 2
3. Whitehaven (1) 6-0 149 4
(tie) Kingsport Dobyns Bennett (1) 5-0 149 3
5. Science Hill 5-0 113 5
6. Bearden 5-0 89 8
7. Brentwood 6-0 84 9
8. Mt. Juliet 4-1 48 10
9. Oak Ridge 4-1 39 7
10. Riverdale 4-2 22 6
Class 5A
Record Pts Prv
1. Beech (18) 6-0 198 1
2. Jackson Northside 6-0 154 3
3. Knoxville West (1) 4-1 147 2
4. Henry County 5-1 136 4
5. Lenoir City 4-1 114 5
6. Powell 5-1 82 7
7. South Doyle (1) 5-0 60 10
8. Ridgeway 3-2 58 8
9. Daniel Boone 4-1 49 9
10. Northeast 4-1 22 NR
Class 4A
Record Pts Prv
1. Giles County (16) 5-0 194 1
2. Covington (3) 5-0 175 2
3. Knoxville Fulton (1) 4-1 151 3
4. East Hamilton 4-1 132 4
5. Livingston Academy 5-0 116 5
6. DeKalb County 6-0 100 7
7. Lexington 4-1 82 8
8. Maplewood 4-2 56 9
9. Greeneville 2-3 27 6
10. Dyersburg 4-1 14 NR
(tie) Gibbs 4-2 14 10
(tie) Mitchell 5-1 14 NR
Class 3A
Record Pts Prv
1. CAK (11) 6-0 190 1
2. Alcoa (9) 6-1 184 2
3. CPA 5-0 155 3
4. Cheatham County 6-0 130 4
5. Milan 5-1 112 5
6. South Gibson 5-0 90 6
7. Tyner Academy 4-1 67 7
8. Sullivan North 5-1 61 8
9. Elizabethton 4-2 49 10
10. Polk County 5-1 20 NR
Class 2A
Record Pts Prv
1. Boyd Buchanan (14) 6-0 190 1
2. Dresden (3) 6-0 169 2
3. Grace Christian (2) 4-1 152 3
4. Friendship Christian (1) 5-1 133 4
5. Houston County 5-0 109 5
6. Oneida 4-1 89 6
7. Adamsville 5-1 88 7
8. Cascade 5-1 58 8
9. Hampton 4-1 47 10
10. Trousdale County 3-2 45 9
Class 1A
Record Pts Prv
1. Greenback (14) 6-0 189 2
2. South Pittsburg (3) 4-1 163 1
3. Gordonsville (3) 4-1 151 4
4. Moore County 6-0 147 5
5. Huntingdon 5-1 114 6
6. Coalfield 5-0 103 7
7. Clarksville Academy 5-1 79 3
8. West Carroll 5-1 72 9
9. Union City 4-2 31 8
10. Copper Basin 5-1 26 NR
Division II
Record Pts Prv
1. Ensworth (18) 6-0 180 1
2. CBHS 5-0 146 2
3. Brentwood Academy 4-1 133 3
4. Knoxville Webb 4-1 112 4
5. St. George's 6-0 91 5
6. MUS 4-2 90 6
7. Baylor 4-2 67 8
8. University-Jackson 6-0 66 7
9. Briarcrest 6-0 50 10
10. MBA 4-2 48 9
Kentucky Football Prep Polls
Class 3A

Rank-School

FPV

Rcd

TP

Pvs

1. Lou. Central

(12)

5-1

146

1

2. Breathitt Co.

(3)

6-0

135

2

3. Bell Co.

–

4-1

118

3

4. Belfry

–

4-1

103

4

5. Paducah Tilghman

–

4-2

81

6

6. Bourbon Co.

–

5-0

72

7

7. Wayne Co.

–

5-1

57

5

8. Monroe Co.

–

5-1

47

8

9. Fort Campbell

–

4-2

35

9

10. Morgan Co.

–

5-0

23

10
Sections
Sports
Topics
Austin Downey, Brent Burger, Bryce Baker, Chris Austin, Clarksville Sports Network, Cunningham TN, Elmer Smith, Harpeth, Jacob Dillon, James Meeks, Jaron Marlow, Jett Binkley, Montgomery Central, Peyton Delvendahl, Phillip Horsey Stadium