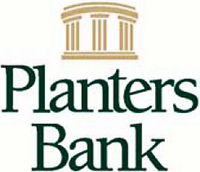 Clarksville, TN – On a rainy Monday morning, members of the Harvey family gathered in the lobby of Planters Bank on Commerce Street. That's where their beloved mother and wife Cindy Crutcher Harvey worked as vice president of cash management before she passed away in February 2010.

After her death, the family created the Cindy Crutcher Harvey Endowed Scholarship at Austin Peay State University, to give deserving students an opportunity to earn a college education. On that Monday morning, Harvey's former employer, Planters Bank, made a major contribution to the endowed scholarship.

"Cindy worked at our bank and was a good friend to a lot of us that worked here," President Elizabeth McCoy said. "We wanted to support her memory and family."

Harvey's husband Todd, her son Jon and her daughter Ashley attended the check presentation, as did Harvey's parents Jon and Anne Crutcher. Suzanne Langford, senior vice president of commercial lending at Planters Bank and friend of Cindy Harvey, was also present.

"This is tremendous," Todd Harvey said. "She made some lifelong memories here and lifelong friends. They were awfully good to her. She had pleasant memories working with the bank, and we are tickled to death that they were able to do this."

"We appreciate this very much," Anne Crutcher added.

McCoy presented the check for a large, unspecified amount to Roy Gregory, director of the APSU Advancement Office. He reminded the family and friends that Harvey's legacy would continue with this scholarship.

"The great thing about endowed scholarships is that they last forever," he said. "The person's memory goes on forever. And we have a huge need for scholarships at Austin Peay. Our students borrow more than $60 million a year to go to school, which is enormous."

After the check presentation, the Harvey family and bank employees lingered in the lobby reminiscing and avoiding the rain outside. Jon Crutcher, Cindy's father, mentioned that he's particularly happy her memory is tied to Austin Peay because their family has a connection to the University. His brother, Brian Crutcher, served for several decades as a professor of education at APSU.

To contribute to the Cindy Crutcher Harvey Endowed Scholarship or to learn more about creating a similar legacy, contact the APSU Advancement Office at advancement@apsu.edu, 221-7127 or Box 4415, Clarksville, TN 37044.



Sections
Business
Topics
Anne Crutcher, APSU, APSU Advancement Office, Ashley Harvey, Austin Peay State University, Brian Crutcher, Cindy Crutcher Harvey, Cindy Crutcher Harvey Endowed Scholarship, Clarksville TN, Commerce Street, Elizabeth McCoy, Jon Crutcher, Jon Harvey, Planters Bank, Roy Gregory, Suzanne Langford, Todd Harvey