Special Weather Statement In Effect ... [Click here for more information]
Clarksville, TN – A&S All Support will be hosting their annual Taste of the Holiday event on Friday, October 5th starting at 2:00pm at the brand-new Wilma Rudolph Pavilion at Liberty Park.
At the Taste of the Holidays event a veritable Who's Who of Clarksville will gather to enjoy scrumptious food and drink, an evening of wonderful entertainment. "We would like to invite you out for a event that is sure to be fun for the entire family. Come out and get your first look at the new events center and sample all the wonderful things that Clarksville has to offer for the holidays," said Janese Cleary.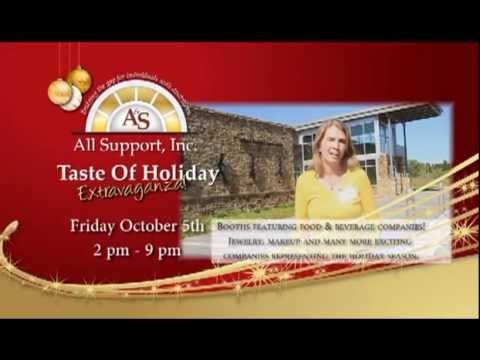 This year's taste of holiday extravaganza has expanded to even more vendors than ever before, featuring food & beverage companies, as well as jewelry, makeup, and many more exciting vendors representing the holiday season.  Chef Corey of C&K catering will be cooking up a variety of tasty dishes at his demo station; both Marathon Chiropractic and Source Chiropractic clinics will be on hand giving out massages, and talking to attendees about healthy living; Halloween express will be on hand showing off the latest in Halloween costumes.
Attending this year is Thirty-One Gifts; Sam's Club; Grace Adele; Jamberry Nails & Paparazzi; Scentsy, Victoria Gildernew; New Eye Candy; Mary Kay, Elaine Murray; The Daymar Institute; Altria Federal Credit Union; Furnish 123; Peggy Frey Fashion Jewelry; Daphne's Portrait Design; Lori Austin Send Out Cards; Jewels by Park Lane; the Clarksville Country Club; C&K Catering, Chef Corey; Liz Scarlett Tupperware; Alicia Sparks Send Out Cards; Pampered Chef, Donna Boring; Edington's Etc.; Any Sweet Reason; Send Out Cards; Aqua Color Medical Spa; picture This by Jean; Halloween Express; Publix; Marathon Chiropractic; Potato Bowl; Source Chiropractic; the James E. Bruce Convention Center; Burritos Fresh Mexican Grill.
You can sample the various foods available, and can opt to purchase larger quantities for you to take home.
As you can see your builder by most if not all of your Christmas gifts for this year's holiday season; so be sure to bring your Christmas cash and shop for everyone on your list.
The festivities will be co-emceed by Eddie Owen from WJZM 1400 AM, and Cindy McElroy from the Beagles who will be providing musical entertainment throughout the evening.
As always the Taste of the Holidays event will include a silent auction where you'll find some amazing items. This years silent auction will include a painting from Lynne Griffey, several perfume baskets with a value of $500, a mystery box which would be good for a special man, among other items.
There will be activities for the kids as well as adults, "We are extremely excited because we will have Santa Claus, and Halloween Express doing Face Painting." Kids age 5 and up can get them for half price between 2:00pm and 4:00pm. "This is a great event for the family to come out and enjoy together," said Cleary. "We are going to have some kids items available as part of silent auction as well."
Starting at 6:30pm will be a Fashion Show with Flower Lily, Clothes Mentor, Halloween Express' New Halloween Costumers for the fall season.
Door prizes will be given out throughout the evening, there will be gift cards from area restaurants and caterers, wine baskets, and other items. Freedom Deli will be giving first 100 people through the door a gift
By coming out and supporting the event you are paying it forward and help A&S All Support to provide employment services for people with disabilities.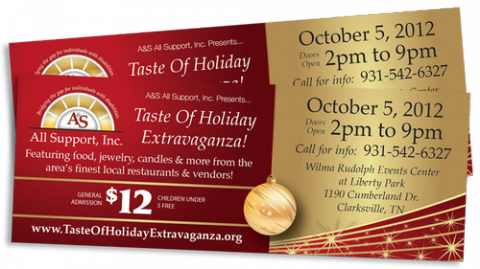 The event is sponsored by Aqua Colour, the James E. Bruce Convention Center, Kohl's, Halloween Express, WJZM 1400am, and Clarksville Online. Tickets are $12 each, children under 5 admitted free.
For more information contact the A&S All Support Office at 931-542-6327, or email jcleary@asallsupport.org. You can visit them on the web at http://www.tasteofholiday.org or http://www.asallsupport.org/
Map
Sections
Events
Topics
A&S All Support, Taste of the Holidays