Written by Cody Bush
APSU Sports Information

Clarksville, TN – A balanced offensive attack helped Austin Peay State University's volleyball team overcome a scrappy Eastern Illinois squad with a three set (25-23, 25-19, 25-23) Ohio Valley Conference victory, Friday night at the Dunn Center.

Austin Peay (11-12) knew senior outside hitter Nikki Doyle would be the focus of the opponent's defense after her 34-kill performance against Middle Tennessee, Wednesday. Eastern Illinois (4-16) proved that thought correct as the Panthers defense keyed on Doyle all night, limiting her to 11 kills and a modest .121 attack percentage.

The Lady Govs responded by balancing their attack with senior opposite hitter Alex Sain picking up the biggest part of the load with 11 kills and an impressive .476 attack percentage. Junior middle blocker Lauren Henderson and sophomore outside hitter Jada Stotts each added nine kills.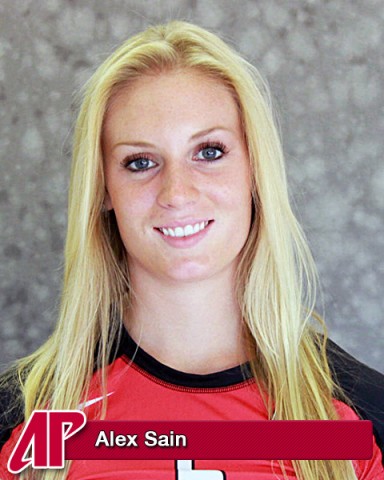 Still, it wasn't an easy night for the Lady Govs as they trailed in both the first and third sets until nearly the closing moment. Austin Peay trailed the first set 22-20 before rallying to score five of the final six points, including three kills by Sain, to win 25-23. After winning the second set in wire-to-wire fashion, the Lady Govs trailed 22-21 in the third set before scoring the final four points to close the match.
Eastern Illinois was held to 34 kills, Reynae Hutchinson leading the offensive with nine kills. The Panthers were able to post a dominating 11-6 advantage in blocks, with Stephanie Arnold leading the effort with five blocks.
Austin Peay returns to action when it hosts SIU Edwardsville in a 2:00pm, Saturday contest.
Box Score
Eastern Illinois vs Austin Peay
(Oct 12th, 2012 at Clarksville, TN)
Eastern Illinois
ATTACK
SET
SERVE
SRV
DEF
BLOCK
GEN
##
Player
SP
K
E
TA
PCT
A
SA
SE
RE
DIG
BS
BA
BE
BHE
Points

1

BERENS, Alison

3

6

3

16

.188

0

0

2

0

2

2

2

0

0

9.0

4

SAALFRANK, Abby

3

4

4

25

.000

0

1

1

0

5

2

2

0

0

8.0

7

HUTCHINSON, Reynae

3

9

6

30

.100

1

0

0

3

9

0

2

0

0

10.0

9

ARNOLD, Stephanie

3

5

1

9

.444

1

0

0

0

0

2

3

0

0

8.5

10

BRADBURY, Marah

3

4

1

7

.429

25

0

1

0

7

0

1

0

0

4.5

17

FRANKLIN, Emily

1

0

0

0

.000

0

0

0

0

0

0

0

0

0

0.0

3

NESBITT, Kayla

3

6

1

23

.217

0

0

0

0

1

0

0

0

0

6.0

6

WALLACE, Stephanie

3

0

0

1

.000

1

0

2

0

7

0

0

0

0

0.0

8

SPRINGER, Dakota

1

0

0

0

.000

0

0

0

0

1

0

0

0

0

0.0

12

BROOKE, Kelsey

3

0

0

1

.000

4

0

1

1

14

0

0

0

0

0.0

TEAM

1

Totals

3

34

16

112

.161

32

1

7

5

46

6

10

0

0

46.0

TOTAL TEAM BLOCKS: 11.0
TEAM ATTACK BY SET
Set
K
E
TA
Pct
Sideout
Pct

1

12

7

36

.139

16-25

63%

2

8

5

36

.083

11-24

45%

3

14

4

40

.250

16-25

63%

43-74

58%

SET SCORES
1
2
3
TEAM RECORDS

Eastern Illinois

(0)

23

19

22

4-16, 1-6 OVC

Austin Peay

(3)

25

25

25

11-12, 4-3 OVC
Austin Peay
ATTACK
SET
SERVE
SRV
DEF
BLOCK
GEN
##
Player
SP
K
E
TA
PCT
A
SA
SE
RE
DIG
BS
BA
BE
BHE
Points

1

FIELDS, Cami

3

0

0

0

.000

36

0

1

0

7

0

0

0

0

0.0

5

SAIN, Alex

3

11

1

21

.476

1

1

0

0

10

0

1

0

0

12.5

9

DOYLE, Nikki

3

11

7

33

.121

0

0

0

0

9

1

0

0

0

12.0

12

HENDERSON, Lauren

3

9

5

18

.222

1

2

4

0

4

1

2

0

0

13.0

14

STOTTS, Jada

3

9

4

33

.152

0

2

0

0

14

1

1

0

0

12.5

15

PLYBON, Hillary

3

5

4

15

.067

0

0

1

1

3

0

1

0

0

5.5

7

MARSELLIS, Aubrey

1

0

0

0

.000

4

0

0

0

0

0

1

0

0

0.5

8

LANDON, Liz

3

0

0

0

.000

1

0

0

0

8

0

0

0

0

0.0

Totals

3

45

21

120

.200

43

5

6

1

55

3

6

0

0

56.0

TOTAL TEAM BLOCKS: 6.0
TEAM ATTACK BY SET
Set
K
E
TA
Pct
Sideout
Pct

1

13

6

35

.200

16-23

69%

2

15

9

39

.154

12-20

60%

3

17

6

46

.239

16-22

72%

44-65

67%

Site: Clarksville, TN (Dunn Center)
Date: Oct 12, 2012 Attend: 136 Time: 1:15
Referees: Ken Gilkey, Mary Bruenderman


| | | | | |
| --- | --- | --- | --- | --- |
| | 1 | 2 | 3 | Total |
| Tie scores | 5 | 0 | 4 | 9 |
| Lead changes | 3 | 0 | 1 | 4 |
Sections
Sports
Topics
Alex Sain, APSU, APSU Athletics, APSU Dunn Center, APSU Sports, APSU Volleyball, APSU Women's Volleyball, Austin Peay State University, Clarksville TN, Eastern Illinois, Jada Stotts, Lady Govs, Lauren Henderson, Middle Tennessee, Nikki doyle, Ohio Valley Conference, OVC, Panthers, Reynae Hutchinson, SIU Edwardsville, Stephanie Arnold