APSU Sports: Austin Peay Women's Golf

Clarksville, TN – It wasn't a great first-day score by the Austin Peay State University women's golf team, Monday, but it was good enough to have the Lady Govs in third place heading to the final round of F&M Bank APSU Intercollegiate, being played at the Clarksville Country Club.

Austin Peay shot a 316 and trails fellow Ohio Valley Conference rivals Jacksonville State (301) and Morehead State (309).  Southern Illinois, the only non-OVC team in the top seven, and Murray State are tied for fourth (317) while SIU Edwardsville (319) and Belmont (324) are sixth and seventh, respectively. The tourney's other OVC foe, Tennessee Tech (329), is tied for eighth on the par-72, 5879-yard layout.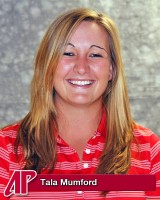 "A 316 on an average day is okay," APSU coach Sara Robson. "To be in third place with a 316 is pretty fortunate when you considered we had a couple girls really struggle today. But we were really fortunate to have some girls really play well today.  That is why it is team golf.
"We carried a couple of girls today who have carried us in the past."
Junior Tala Mumford, who has played her career's most consistent golf this fall, led the Lady Govs with a 3-over 75, tying her for third place.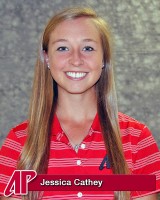 Freshman Jessica Cathey was tied for 11th with a 77 while Holly Batey was tied for 16th at 79. JSU's Ornella Arrizon and Luz Armijo-Fernandez are tied for first after shooting 1-over 73s, respectively.

"I thought Tala just played real solid today," Robson said. "She always has had the game and always has worked hard. But now she has gained confidence-she started believing she could play well.  She comes to the golf course focused, knowing she is going to play well.

"Jessica played well today. She made a couple of freshman mistakes. She lost a couple of shots on (No.) 12 because she got in a hurry. But she played solid golf as did Holly."

However, the Lady Govs' top fall golfer entering the tournament, senior Lauren Bond, got off to a good start, being at minus-1 through two holes, but then finished with an 85. Senior Tabitha Beard, the Lady Govs' best golfer during the stretch last spring, shot an 86.

Playing as an individual, sophomore Meghan Mueller carded an 81.

"Not having that lower fourth score hurt a little bit today," Robson said. "But they will do better tomorrow.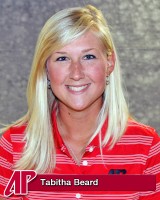 "What I really liked about today is we really grinded well. We made some par putts; we chipped in some pars.  We hit a lot of fairways and we hit a lot of greens. We had some three putts, but you are going to have three putts on this course. Minimizing those has you leading the tournament."
For the most part, Robson liked what she saw from her Lady Govs, Monday.
"We had a lot of positives from today," she said. "Mentally, we need to do a little better in some areas tomorrow, but I am confident we will improve in those areas tomorrow."
F&M Bank APSU Intercollegiate – Day 1
Clarksville Country Club
Clarksville, TN
Dates: Oct 15th-Oct 16th
| | | | |
| --- | --- | --- | --- |
| Finish | School – Players | Round 1 | Totals |
| 3 | Austin Peay State University | 316 | 316 |
| T 3 | Tala Mumford (2) | 75 | 75 |
| T 11 | Jessica Cathey (5) | 77 | 77 |
| T 16 | Holley Batey (3) | 79 | 79 |
| T 45 | Lauren Bond (1) | 85 | 85 |
| T 51 | Tabitha Beard (4) | 86 | 86 |
| | | | |
| T 30 | Meghan Mueller | 81 | 81 |
Sections
Sports
Topics
APSU, APSU Athletics, APSU Golf, APSU Sports, APSU Women's Golf, Austin Peay State University, Belmont, Clarksville Country Club, Clarksville TN, F&M Bank APSU Intercollegiate, Holly Batey, Jacksonville State, Jessica Cathey, Lady Govs, Lauren Bond, Luz Armijo-Fernandez, Meghan Mueller, Morehead State, Murray State, Ohio Valley Conference, Ornella Arrizon, OVC, Sara Robson, SIU Edwardsville, Soutehrn Illinois, Tabitha Beard, Tala Mumford, Tennessee Tech