Written by Cody Bush
APSU Sports Information

Nashville, TN – Austin Peay State University's volleyball team ended a brief two-match losing streak with a four-set (21-25, 25-15, 25-22, 27-25) Ohio Valley Conference victory against Tennessee State, Saturday at Kean Hall.

Austin Peay (14-14, 8-5 OVC West) took advantage of an error-prone Tennessee State squad to pick up the win. The Lady Govs trailed by a 59-54 margin in kills but the Tigers committed a staggering 29 attack errors while APSU recorded only 16 attack miscues.

"We passed better and our intensity was better today," said Lady Govs head coach Taylor Mott. "This was a much-needed win against a quality opponent. Hopefully, this will put us on the right track for our upcoming homestand."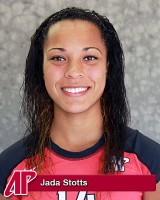 Tennessee State (14-11, 8-4 OVC East) scored its Set 1 victory thanks to a 20-kill performance while it committed only six errors. However, Austin Peay romped in Set 2 thanks to a comparatively clean 13-kill, two-error performance as TSU's offense was held to 10 kills and seven errors.
The Tigers jumped out to a 4-1 lead in the third set but could not hold on. Austin Peay used a 7-1 run to take an 8-5 lead and would not look back. The fourth set was the most competitive of the match with nine ties and three lead changes. The Lady Govs held the advantage but could not build a lead to avoid overtime, but back-to-back Tennessee State errors gave APSU the 27-25 victory.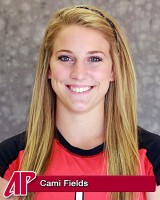 Sophomore Jada Stotts led Austin Peay with 16 kills and a .220 attack percentage. Senior Nikki Doyle finished with only 14 kills – ending a streak of four straight 20-kill performances – but notched a .297 attack percentage. Sophomore Hillary Plybon added 12 kills. Sophomore setter Cami Fields had 47 assists on APSU's 54 kills.
Tennessee State's Naomi Wells led all hitters with 21 kills and a .372 attack percentage. Rachel Ambroch added 16 kills and Lindsay Hornsby chipped in 11 kills.
Austin Peay returns home to begin a regular-season ending four-match home stand, beginning with a 7:00pm, Friday contest against UT Martin.
Box Score
Austin Peay vs Tennessee State
(October 27th, 2012 at Nashville, TN)
Austin Peay
ATTACK
SET
SERVE
SRV
DEF
BLOCK
GEN
##
Player
SP
K
E
TA
PCT
A
SA
SE
RE
DIG
BS
BA
BE
BHE
Points

1

FIELDS, Cami

4

2

0

2

1.000

47

2

1

0

8

0

0

0

1

4.0

5

SAIN, Alex

4

3

3

16

.000

0

0

1

0

13

0

1

0

0

3.5

9

DOYLE, Nikki

4

14

3

37

.297

0

2

4

1

15

1

1

0

0

17.5

12

HENDERSON, Lauren

4

7

0

17

.412

2

0

0

0

3

1

4

0

0

10.0

14

STOTTS, Jada

4

16

5

50

.220

1

1

0

0

19

1

2

0

0

19.0

15

PLYBON, Hillary

4

12

5

28

.250

1

0

1

0

3

0

2

1

0

13.0

3

ADAMS, April

4

0

0

0

.000

1

0

0

0

16

0

0

0

0

0.0

7

MARSELLIS, Aubrey

2

0

0

1

.000

0

0

0

0

0

0

2

0

0

1.0

TEAM

1

Totals

4

54

16

151

.252

52

5

7

2

77

3

12

1

1

68.0

TOTAL TEAM BLOCKS: 9.0
TEAM ATTACK BY SET
Set
K
E
TA
Pct
Sideout
Pct

1

12

5

41

.171

14-24

58%

2

13

2

31

.355

12-16

75%

3

13

4

38

.237

11-21

52%

4

16

5

41

.268

19-26

73%

56-87

64%

SET SCORES
1
2
3
4
TEAM RECORDS

Austin Peay

(3)

21

25

25

27

14-14, 8-5 OVC

Tennessee State

(1)

25

15

22

25

14-11, 8-4 OVC
Tennessee State
ATTACK
SET
SERVE
SRV
DEF
BLOCK
GEN
##
Player
SP
K
E
TA
PCT
A
SA
SE
RE
DIG
BS
BA
BE
BHE
Points

3

WILLIAMS,CALASIA

4

0

0

1

.000

1

0

1

1

8

0

0

0

0

0.0

4

AMBROCH,RACHEL

4

16

5

41

.268

1

0

3

2

7

0

1

0

0

16.5

8

WELLS,NAOMI

4

21

5

43

.372

0

0

0

1

17

0

1

0

0

21.5

11

BUTLER,SHERRYCE

4

6

5

19

.053

2

0

0

0

0

0

2

1

0

7.0

12

MOSS,ERIKA

4

3

0

12

.250

44

1

0

0

11

0

0

0

1

4.0

14

HORNSBY,LINDSAY

4

11

7

39

.103

0

0

0

0

1

0

1

0

0

11.5

1

BUNCH,BRITTANY

4

0

0

0

.000

0

1

1

0

2

0

0

0

0

1.0

6

HATHORN,BRITANI

4

0

0

6

.000

7

0

1

0

24

0

0

0

1

0.0

7

PIPER,JORDAN

4

1

3

9

-.222

0

0

0

0

0

0

0

0

0

1.0

9

AASE,EMILIE SANDVE

4

1

4

7

-.429

0

0

0

0

2

0

1

0

0

1.5

13

COOPER,JAIME

4

0

0

0

.000

0

0

1

0

0

0

0

0

0

0.0

TEAM

1

Totals

4

59

29

177

.169

55

2

7

5

72

0

6

1

2

64.0

TOTAL TEAM BLOCKS: 3.0
TEAM ATTACK BY SET
Set
K
E
TA
Pct
Sideout
Pct

1

20

6

52

.269

15-22

68%

2

10

7

36

.083

11-24

45%

3

14

7

46

.152

12-25

47%

4

15

9

43

.140

17-26

65%

55-97

56%

Site: Nashville, Tenn. (Kean Hall)
Date: Oct 27, 2012 Attend: 187 Time: 1:40
Referees:


| | | | | | |
| --- | --- | --- | --- | --- | --- |
| | 1 | 2 | 3 | 4 | Total |
| Tie scores | 1 | 0 | 1 | 9 | 11 |
| Lead changes | 0 | 0 | 1 | 3 | 4 |
Sections
Sports
Topics
APSU, APSU Athletics, APSU Sports, APSU Volleyball, APSU Women's Volleyball, Austin Peay State University, Cami Fields, Cody Bush, Hillary Plybon, Jada Stotts, Kean Hall, Lady Govs, Lindsay Hornsby, Naomi Wells, Nashville TN, Nikki doyle, Ohio Valley Conference, OVC, OVC East, Rachel Ambroch, Taylor Mott, Tennessee State, Tigers, UT-Martin