According to Jennifer Bouknight, she owed $250.00 to a man and stole two women's purses to repay the debt.  But, the plan had one flaw—she was caught by Clarksville Police.

Clarksville, TN – On October 30th, 2012, around 11:00am, Clarksville Police were called to a 1680 Fort Campbell Boulevard business after a 30 year old woman left her purse unattended for a short period of time and it was stolen.
The store's security footage showed a woman, later identified as Jennifer Bouknight, pushing a shopping cart with a car seat and being in possession of the stolen purse, leaving the store, and getting into a red Dodge pickup with a black front tag holder.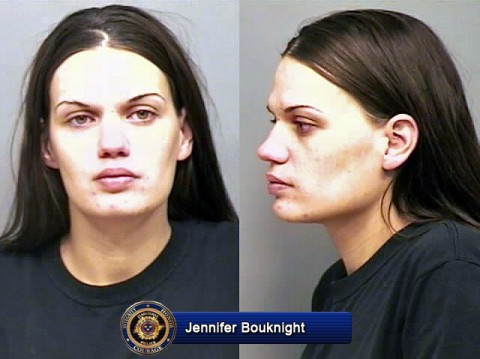 The vehicle and suspect were spotted by Officer Todd Bell in the parking lot of a business at 1128 Fort Campbell Boulevard. Officers Avery Lambert and Todd Bell approached the vehicle and asked the driver, Bouknight, to get out of the pickup.

Instead of getting out of the vehicle, Bouknight, put the vehicle in reverse and attempted to leave.  Officer Bell managed to turn off the vehicle to prevent Bouknight from leaving the lot. Both officers had to fight with Bouknight to remove her from the vehicle and take her in custody.

There were three purses found inside of the vehicle; two of them did not belong to the suspect. Officers knew one purse belonged to the 30 year old woman from earlier in the day. The owner of the second purse was located and it was determined the purse was taken from a shopping cart around 5:00pm, while a 31 year old woman had been shopping  at a 110 Dover Road business.

When Bouknight was searched and Xanax and Cocaine were found. It was also discovered during the investigation, Bouknight had used one of the victim's credit cards.
Jennifer Bouknight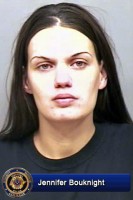 Name: Jennifer Lauren Bouknight (W/F)
DOB: 9/10/85
Given Address: 208 Sunset Court, Clarksville, TN
Arresting Officer: Avery Lambert
Booked Into: Montgomery County Jail
Charged With: Identity Theft, Two Counts of Theft of Property, Driving On A Revoked License, Resisting, Two Counts of Simple Possession, Possession For Resale Of Cocaine
Bond: $13,500
Sections
News
Topics
Avery Lambert, Bond, Clarksville Police Department, Clarksville TN, Cocaine, CPD, credit cards, Dover Road, Driving on Revoked License, Fort Campbell Boulevard, Identity Theft, Jennifer Bouknight, Montgomery County jail, Possession For Resale of Cocaine, Resisting Arrest, Simple Possession, Sunset Court, Theft of Property, Todd Bell, Xanax