Special Weather Statement In Effect ... [Click here for more information]
Clarksville Police are looking for Michael Gray and Gregory Robinson, who have multiple warrants on file after severely beating a man over a landlord/tenant dispute.

Clarksville, TN – On November 2nd, 2012, around 12:45pm, Gregory Robinson walked through an unlocked door, uninvited into Apartment C, at 145 Tandy Drive and confronted a 34 year old who was inside and visiting the resident. The 34 year old man had sub-leased an apartment from Robinson.
After entering the residence, Robinson displayed a handgun and started demanding overdue rent money that the man owed. Robinson then started punching the man, struck him several times with a handgun, claimed to be a "Blood" gang member and would kill him if he did not get his money.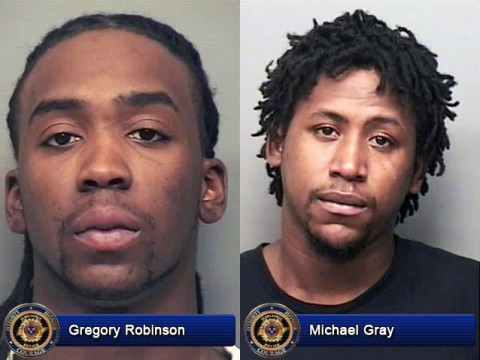 The beating stopped, Robinson walked outside, and it appeared as though he was leaving. But, that could not have been farther from the truth.

Robinson reentered the residence a few minutes later and had three other men with him. All four men started to beat the victim, stuck him several times with a handgun, and one of the suspect was demanding money while the assault was taking place. The men fled from the scene at which time Clarksville Police were called.

Patrol officers located a vehicle in the area matching the description of one of the vehicles in which some of
the assailants fled in. There was an assault rifle found on the ground near the car covered with a coat.

Detective Eric Ewing arrived on scene and took over the investigation. During the course of the investigation another man, Michael Gray, was identified as being inside of the Tandy Drive residence and actively participating in the assault of the 34 year old man.

Gray was also seen removing the assault rifle from the trunk of a vehicle and placing it in his coat before Police arrived. The rifle had been reported stolen during a residential burglary in Clarksville in December 2011.

The victim sustained multiple injuries. He had a large laceration on the back of his head, severe swelling to the left side of his face, and two of his teeth were knocked out. He was treated on the scene by EMS, but refused transport.

Police have taken out the following warrants on Robinson and Gray:
Gregory Robinson
Name: Gregory Sean Robinson (B/M)
DOB: 7/11/86
Given Address: 746 Cedar Grove Court, Clarksville, TN
Wanted For: Aggravated Burglary, Aggravated Assault, Criminal Attempt Aggravated Burglary, and Possession of a Firearm
Bond: $200,000.
Robinson is currently on parole for aggravated assault and aggravated robbery.
Michael Gray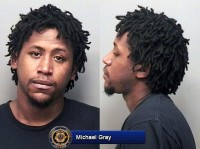 Name: Michael Eli Gray (B/M)
DOB: 6/13/89
Given Address: 1974 Timberline Way, Clarksville, TN
Wanted For: Aggravated Burglary, Aggravated Assault, Criminal Attempt Aggravated Robbery, and Theft
Bond: $100,000.
The investigation is ongoing and Police are still trying to identify the  other two suspects involved in the assault of the 34 year old man. The lead investigator is Detective Eric Ewing.
Anyone with information, call 931.645.8477.
Sections
News
Topics
Aggravated Assault, aggravated burglary, Bond, Cedar Grove Court, Clarksville Police Department, Clarksville TN, CPD, Criminal Attempt Aggravated Burglary, EMS, Eric Ewing, Gregory Sean Robinson, Michael Eli Gray, Parole, Possession of a Firearm, Tandy Drive, Theft, Timberline Way