Special Weather Statement In Effect ... [Click here for more information]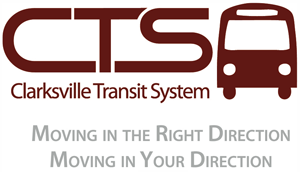 Clarksville, TN – Citizens and visitors across Clarksville are invited to ride Clarksville Transit  System (CTS) buses for free all day long on Election Day, Tuesday, November 6th. For route and schedule information, please visit www.ridects.com.

"We're offering this free ride day on Election Day for a couple of reasons," says Jimmy Smith, CTS Director.  "First, we want to encourage all of our citizens to get out and vote, because voting is a valuable right and a privilege. Many of our routes go right by Clarksville polling places, so just check our route maps at ridects.com.

Second, we want to give everybody a chance to try our great public transportation system here in Clarksville. We continue to grow and improve our routes, schedule and service every day, and our buses are clean, safe and convenient. More and more people are choosing public transportation in Tennessee and across the country due to rising gas prices, a strong interest in saving time and money, and protecting the environment by reducing emissions. We'd love for you to ride with us anytime."

CTS buses operate on nine specific routes that circulate through the downtown Transit Center at 200 Legion Street.

"All of our buses leave out of the Transit Center at approximately the same time," Smith said. "They arrive back to the Transit Center at about the same time. That way, riders can have quick and easy transfers, if necessary, to get them to their final destinations."

Smith says riding the bus also promotes physical fitness. "We have riders right now who ride their bikes to the bus stop, hop on the bus after they stow their bike on our bike racks, which are on every bus, ride to their stop, and then ride their bike the rest of the way. Also, walking to the bus stop from home or business gives you some exercise before you ride.

Fare for a one-way bus ride is usually $1.50, but all rides and transfers will be free November 6th. Passes for those who want to ride the bus more frequently also are available. CTS buses operate from 5:00am through 9:00pm Monday through Friday. On Saturdays, bus routes begin at 7:00am.

"We encourage folks to check our Web site at ridects.com to learn more about our routes and schedules," Smith said.  "You can also get information about our system at www.facebook.com/ClarksvilleTransitSystem.  And if you will 'like' our page or give us your email address on our Web site home page, we'll keep you informed about everything we're doing."
How to Ride CTS
First, review the route maps to learn where the routes go (go to ridects.com for complete information).
Second, determine the routes that run closest to where you are coming from, and where you are going (your origination and destination points).
Third, identify and review the route closest to your destination.
Fourth, locate the time on that route closest to the time you need to be at your destination.
Fifth, "backtrack" your planning to allow time for possible transfer at the downtown Transit Center and to determine what time you need to catch the bus.
Clarksville Transit System Reminders
All routes originate and transfer at the downtown Transit Center at 200 Legion Street.
CTS has eight routes that run throughout the city.
Buses run Monday through Saturday, six days a week. Monday through Friday, buses run from approximately 5:00am until 9:00pm. Saturdays, buses run beginning at 7:00am until 9:00pm.
Wait for the bus at the bus stop or you can flag down the bus and drivers will be glad to stop for you.
CTS bus drivers try very hard to stay on schedule, so get to your stop a few minutes early to make sure you don't miss the bus.
Check to be sure you are getting on the right bus before you board.  Each bus shows its destination and route number above the front windshield.
Every CTS bus has a bike rack.
Every CTS bus is wheelchair-accessible.
Sections
News
Topics
Clarksville TN, Clarksville Transit center, Clarksville Transit System, CTS, election day, Jimmy Smith, Legion Street, public transportation, Tennessee