Clarksville Police make more Arrests in Conjunction with House Party Confrontation

Clarksville, TN – As the Clarksville Police investigation continues into the double shooting on North Second Street, additional arrests have been made and more pending.
The investigation has lead to the following additional arrests and the men are in custody: D'Mareo DeShawn Majors, DeAndre Marqual Williams, and Lawrence Edward Gilbert.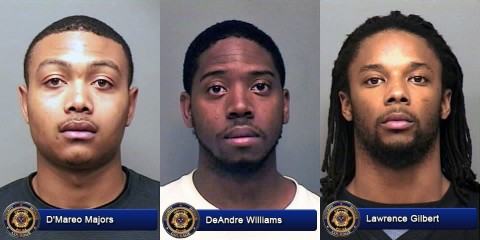 Police have warrants on file and looking for: Dvantae Markeise Smith (B/M, DOB: 3/27/91; Given Address: 528 Augusta Drive, Hermitage, TN) Assault; Bond: $1,000 and Romeo Recardo Gilbert (B/M, DOB: 2/8/89: Given Address: 746 Lewis Street, Nashville, TN) Felony Vandalism, Two Counts of Assault; Bond: $4,000.
All five men can be seen in a video assaulting a 20 year old man. Romeo Gilbert can also be seen in the video assaulting another man who was on the ground attempting to shield himself from the attack. Additionally, Gilbert was responsible for breaking a video camera at the scene.
D'Mareo Majors was shown the video from the fight, and specifically asked if he knew the man, Darryl Ford, who can be seen in the video holding a gun. Majors denied knowing Ford, but it was later determined that was untrue and they both are on the same sports team.
The lead investigator is Detective Nick Newman. Anyone with information can call the TIPLINE, 931.645.8477.
For more on the story see:
Clarksville Police report confrontation at House Party leaves Two People Shot [1]
Clarksville Police update on shooting along North Second Street [2]
Clarksville Police make first arrest in October 21st House Party Confrontation [3]
D'Mareo Majors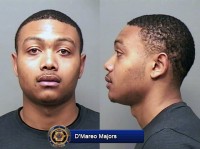 Name: D'Mareo DeShawn Majors (B/M)
DOB: 7/29/90
Given Address: 101 University Avenue, Clarksville, TN
Arresting Officer: Marvin Carnagey
Charged With: False Report, Assault
Booked Into: Montgomery County Jail
Bond: $3500
DeAndre Williams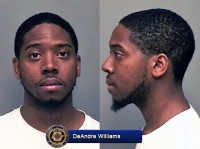 Name: DeAndre Marqual Williams (B/M)
DOB: 7/24/90
Given Address: 517 Waterford Place, Antioch, TN
Arresting Officer: Kenny Austion
Charged With: Assault
Booked Into: Montgomery County Jail
Bond: $1,000
Lawrence Gilbert
Name: Lawrence Edward Gilbert (B/M)
DOB: 6/28/90
Given Address: Meacham Apt, 367, Clarksville, TN
Arresting Officer: Rory Kennedy
Charged With: Assault
Booked Into: Montgomery County Jail
Bond: $1,000
Photo Gallery
[1] Clarksville Police report confrontation at House Party leaves Two People Shot: http://www.clarksvilleonline.com/2012/10/21/clarksville-police-report-confrontation-at-house-party-leaves-two-people-shot/
[3] Clarksville Police make first arrest in October 21st House Party Confrontation: http://www.clarksvilleonline.com/2012/11/03/clarksville-police-make-first-arrest-in-october-21st-house-party-confrontation/