APSU Sports: Austin Peay Volleyball

Clarksville, TN – Austin Peay State University women's volleyball team concludes the regular-season portion of its schedule when 2012 Ohio Valley Conference regular-season champion Morehead State visits for a 2:00pm, Saturday contest at the Dunn Center.

Austin Peay (17-14, 10-5 OVC West) has secured a berth in next week's OVC Volleyball Championship but will be playing for a share of the OVC West Division title and its seeding in the upcoming tournament. The Lady Govs would secure a share of the divisional title with a victory and a Southeast Missouri loss to Tennessee Tech.

Despite that, the Lady Govs are working to earn either the third or fourth seed in the upcoming OVC tournament.

"We achieved our goal of getting into the OVC tournament," said Lady Govs head coach Taylor Mott. "I'm pleased for our players that they will have the opportunity to extend their season next week. However, we have the ability to end the season unbeaten at the Dunn Center this season and I believe we would be very pleased defending our home court this season."

Morehead State (23-6, 15-0 OVC East) will make it difficult for Austin Peay to end its season on a positive note. The Eagles have won 21 consecutive matches dating back to a September 5th five-set loss at Marshall. Morehead State has posted a 45-11 set record en route to its 15-0 OVC mark and has been pushed to five sets three times this season – twice on the road.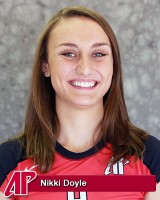 "I believe beating Morehead State will rely on our ability to play our best volleyball of the year," said Mott. "Morehead State has proven they are a quality volleyball team and they will be someone we can measure ourselves against just before the tournament.  I'm looking forward to Saturday's match, I want to see if we can respond to the challenge."
Saturday's match will feature the league's top-two offenses in OVC play. Morehead State leads the league in both kills (14.82 per set) and attack percentage (.252) with Austin Peay ranking second in both categories (13.84 kills per set and a .227 attack percentage).
In addition, the league's top two hitters will be on display – the Eagles Ellie Roberson with her league-best 4.82 kills per set against the Lady Govs Nikki Doyle, who ranks second with 4.16 kills per set.
Sections
Sports
Topics
APSU, APSU Athletics, APSU Dunn Center, APSU Sports, APSU Volleyball, APSU Women's Volleyball, Austin Peay State University, Clarksville TN, Eagles, Ellie Roberson, Lady Govs, Marshall, Morehead State, Nikki doyle, Ohio Valley Conference, OVC, OVC Tournament, OVC Volleyball Championship, OVC West, Southeast Missouri, Taylor Mott, Tennessee Tech