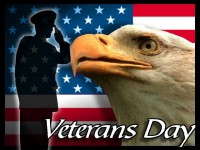 Cunningham, TN – On Friday, November 9th, 2012, Montgomery Central Elementary School held their 2nd annual "Veteran's Day Celebration" to salute our Military in honor of Veteran's Day. All of the students participated in the event with group performances as well as grade level performances.
The celebration started at 9:00am in the MCES gymnasium. Several veterans and current members of the Armed Services were on hand to be honored. The students were wearing lots of red, white and blue colors.
There was a great turn out for the program. All the seats were taken and people were lined up along the walls to hear the children sing and to pay respect to our veterans.
"We are just real fortunate that when we have a program at the school that the turn out is so huge that we usually have to move to a bigger facility," stated MCES Music Teacher Leslie Harrison.
The program began with the Presentation of the Colors by the Montgomery Central High School Varsity Color Guard. While everyone stood, the MCES Honor Choir sang the National Anthem.
Fifth grade students got up and read papers they had written on what Veteran's Day is and what it meant to them. The presenters were Shelby Bowling, Adam Jones, Andrew Harloin, Tori James, Kaitlinn Woodruff, Megan McFaul, Michael Lobdell, and Abigail Linsey.
The guest speaker was veteran David Elliott.
The Veteran's Day Celebration program is listed below:
"Veteran's Day Celebration"
Montgomery Central Elementary School
November 9th, 2012
| | |
| --- | --- |
| Presentation of the Colors | MCHS Varsity Color Guard |
| "National Anthem" | MCES Honor Choir |
| "Blue and Red and White" | Grades K-5 |
| "We Will Not Forget" | Third Grade |
| "You're a Grand Ole' Flag | Kindergarten |
| Student Presentations | Fifth Grade |
| "For You" | Fifth Grade |
| "Heart of America" | Fifth Grade |
| Guest Speaker | David Elliott |
| "Travelin' Soldier" | Fourth Grade |
| "Veteran's Day" | Second Grade |
| "A Grateful Nation" | Grades K-5 |
| "God Bless the USA" | Grades K-5 |
"I thought today could not have been any better than it was. They sang from their heart and I could tell they felt it. Their behavior was probably better than a room full of adults could have been," commented Harrison.
Guest speaker David Elliott said, "I think its very important that we stop and reflect and recognize our veterans with programs like this."
"Last year was our first year to do this program and it was beyond what we ever expected. The kids took everything so seriously. They listened and they prepared for it, " stated Harrison. "We put it together as an attempt last year and it went so well we decided this needs to be apart of us every year. It was the best thing we did all year."
Photo Gallery
Presentation of the Colors & National Anthem
"Blue and Red and White" – Grades K-5
"We Will Not Forget" – Third Grade
"You're a Grand Ole' Flag" – Kindergarten
Student Presentations
"For You" – Fifth Grade
"Heart of America" – First Grade
Guest Speaker – David Elliott
"Travelin' Soldier" – Fourth Grade
"Veteran's Day" – Second Grade
"A Grateful Nation"  & "God Bless the USA" – Grades K-5