Clarksville, TN – The Roxy Regional Theatre is currently staging their production of The Giver, a tale set in what first appears to be a perfect world, everything is under control. There is no war or fear or pain. But when young Jonas takes part in the ceremony of twelve and is assigned his profession as the receiver of memory he discovers the real truth, and there is no turning back.
Jonas has been selected to bear the collective memories of a society that lives only in the present, where "Sameness " is the rule. His new position in his community is considered an extremely high honor, but Jonas soon comes to recognize the price the people are paying is much too high. He decides he will change his world for the better, but he cannot predict how that change will come about, or what that change will mean for himself and the "new child" Gabriel, whom he has resolved to protect.
The Giver stars Rob Rodems as Jonas and features the incredibly talented Jay Doolittle as The Giver, who transfers the collected memories of their society to Jonas. The play explores the question of how we want our world to be, and what would you would be willing to compromise in order to lead a life free of poverty, war and suffering? How much should the individual lose of himself or herself for the collective good? Can we ignore and minimize pain in our lives–both physical and emotional–to live happier existences?
The cast is rounded out by Kaitlin Doherty, Michelle Foletta, Leslie Green, and Colin Ryan. It is really an all-star cast.
I love Leslie Greene, and cannot say that enough. Rod Rodems is always an amazing actor. Jay Doolittle brings a deep emotional intensity to which ever role he portrays, slipping seamlessly into his characters as if they were his second skin. Michelle Foletta easily portrays an innocence as she plays Lily that is directly at odds with the last role of Columbia in the Rocky Horror Show.  Colin Ryan shows a versatility that I admire. Kaitlin Doherty always makes it look easy.
The giver has a of distinctly sci-fi/fantasy feel and fans of those genres will definitely enjoy the story line. A lot is left to your imagination, such as the details of the sameness, but it doesn't interfere with you being able to sit back and enjoy the play.
The sets are simple a tables and some chairs, a stack of books, a metal tub and of course the bicycle. But the real canvas in this play is the actors themselves.
The story is based on Lois Lowry's Newberry award-winning book, which was adapted by Eric Coble. The Roxy's production is directed by Ryan Bowie, and plays November 14th through the 16th; 5 showings only. November 14th and 15th at 7:00pm and November 16th and 17th at 8:00pm, wtih a 2:00pm matinee on Saturday, November 17th. I really enjoyed watching this play, and I think that you will too.
Tickets are $20.00 (adults) and $15.00 (ages 13 and under) and may be reserved online at www.roxyregionaltheatre.org, by phone at 931.645.7699, or at the theatre during regular box office hours (9:00am to 2:00pm, Monday through Friday, and one hour prior to curtain).  Active duty military with ID can buy two tickets for the price of one for Wednesday and Thursday evening's performances.
Photo Gallery
Poster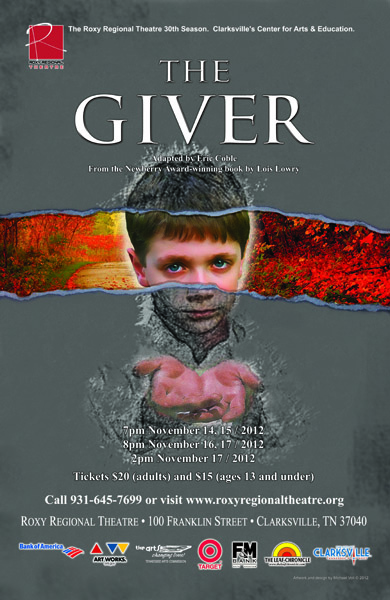 About Bill Larson
Bill Larson is  is politically and socially active in the community. Bill is a member of the Friends of Dunbar Cave.

You can reach him via telephone at 931-249-0043 or via the email address below.
Sections
Arts and Leisure
Topics
Clarksville TN, Colin Ryan, Eric Coble, Franklin Street, Jay Doolittle, Kaitlin Doughty, Leslie Greene, Lois Lowry, Michelle Foletta, Rob Rodems, Roxy Regional Theatre, Ryan Bowie, The Giver