APSU Sports: Austin Peay Volleyball

Morehead, KY – Austin Peay State University's volleyball team saw its season come to an end with a four-set loss (15-25, 25-18, 25-27, 25-17) to Tennessee State in the first round of the 2012 Ohio Valley Conference Volleyball Championship, Thursday, at Wetherby Gym.

Austin Peay (17-16) could not overcome an error-prone outing as they committed 20 attack errors, nine service errors and an uncharacteristic six ball handling errors – a total of 35 points handed to Tennessee State.

"We had too many errors at crucial times," said Lady Govs head coach Taylor Mott. "Our errors prevented us from gaining enough momentum to finish the third and fourth sets."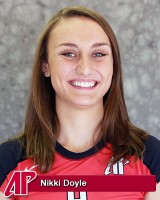 In addition, senior Nikki Doyle and sophomore Jada Stotts, the Lady Govs top two hitters, had sub-par nights. Doyle was held to seven kills and an .097 attack percentage while Stotts was able to post 12 kills but only at a .132 attack percentage.
The Lady Govs middle blockers attempted to fill the gap. Junior Lauren Henderson recorded a team-best 14 kills and a .462 attack percentage while sophomore Hillary Plybon added eight kills. Senior opposite hitter Alex Sain added nine kills at a .318 attack percentage.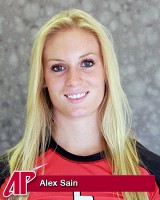 Tennessee State (18-13) needed a 57-kill performance to end Austin Peay's season as the match featured 31 ties and 10 lead changes. Naomi Wells led all hitters with 16 kills and posted a .324 attack percentage. Rachel Ambroch added 13 kills.
"I am very proud of this team and the improvements they have made this season," said Mott. "Most of all I am proud of the people they are and the character they have displayed this season."
Box Score
Tennessee State vs Austin Peay Lady Govs
(November 15th, 2012 at Morehead, KY)
Tennessee State
ATTACK
SET
SERVE
SRV
DEF
BLOCK
GEN
##
Player
SP
K
E
TA
PCT
A
SA
SE
RE
DIG
BS
BA
BE
BHE
Points

4

AMBROCH,RACHEL

4

13

6

28

.250

0

1

4

1

7

0

3

0

0

15.5

8

WELLS,NAOMI

4

16

4

37

.324

3

1

4

2

13

0

1

0

0

17.5

9

AASE,EMILIE SANDVE

4

6

2

16

.250

0

0

0

0

2

0

4

0

0

8.0

11

BUTLER,SHERRYCE

4

8

3

24

.208

0

0

0

0

1

0

4

0

0

10.0

12

MOSS,ERIKA

4

5

1

9

.444

41

0

0

0

8

0

2

1

0

6.0

14

HORNSBY,LINDSAY

4

9

2

24

.292

0

0

0

0

0

0

2

0

0

10.0

3

WILLIAMS,CALASIA

4

0

0

0

.000

1

0

0

0

6

0

0

0

0

0.0

6

HATHORN,BRITANI

4

0

0

0

.000

4

0

1

0

15

0

0

0

0

0.0

13

COOPER,JAIME

4

0

0

0

.000

1

0

0

0

4

0

0

0

0

0.0

TEAM

1

Totals

4

57

18

138

.283

50

2

9

4

56

0

16

1

0

67.0

TOTAL TEAM BLOCKS: 8.0
TEAM ATTACK BY SET
Set
K
E
TA
Pct
Sideout
Pct

1

16

2

33

.424

11-15

73%

2

13

6

33

.212

15-25

60%

3

16

6

45

.222

16-25

63%

4

12

4

27

.296

12-18

66%

54-83

65%

SET SCORES
1
2
3
4
TEAM RECORDS

Tennessee State

(3)

25

18

27

25

18-13

Austin Peay

(1)

15

25

25

17

17-16
Austin Peay
ATTACK
SET
SERVE
SRV
DEF
BLOCK
GEN
##
Player
SP
K
E
TA
PCT
A
SA
SE
RE
DIG
BS
BA
BE
BHE
Points

1

FIELDS, Cami

4

1

0

2

.500

44

0

0

0

9

0

3

0

2

2.5

5

SAIN, Alex

4

9

2

22

.318

1

2

0

0

7

0

1

0

1

11.5

9

DOYLE, Nikki

4

7

4

31

.097

0

2

2

1

10

0

2

0

1

10.0

12

HENDERSON, Lauren

4

14

2

26

.462

0

0

5

0

1

1

1

1

1

15.5

14

STOTTS, Jada

4

12

7

38

.132

1

0

1

0

13

0

1

0

1

12.5

15

PLYBON, Hillary

4

8

5

20

.150

2

0

1

0

2

0

4

0

0

10.0

7

MARSELLIS, Aubrey

1

0

0

0

.000

0

0

0

0

0

0

1

0

0

0.5

8

LANDON, Liz

4

0

0

0

.000

1

0

0

1

14

0

0

0

0

0.0

Totals

4

51

20

139

.223

49

4

9

2

56

1

13

1

6

62.5

TOTAL TEAM BLOCKS: 7.5
TEAM ATTACK BY SET
Set
K
E
TA
Pct
Sideout
Pct

1

11

6

33

.152

11-26

42%

2

15

2

27

.481

15-18

83%

3

14

5

47

.191

16-27

59%

4

11

7

32

.125

11-23

47%

53-94

56%

Site: Morehead, Ky. (Wetherby Gym)
Date: Nov 15, 2012 Attend: 105 Time: 1:35
Referees: Jack Gallagher, Bruce Albert


| | | | | | |
| --- | --- | --- | --- | --- | --- |
| | 1 | 2 | 3 | 4 | Total |
| Tie scores | 5 | 4 | 15 | 7 | 31 |
| Lead changes | 1 | 1 | 5 | 3 | 10 |
Sections
Sports
Topics
Alex Sain, APSU, APSU Athletics, APSU Sports, APSU Volleyball, APSU Women's Volleyball, Austin Peay State University, Hillary Plybon, Jada Stotts, Lady Govs, Lauren Henderson, Morehead KY, Naomi Wells, Nikki doyle, Ohio Valley Conference, OVC, OVC Tournament, OVC Volleyball Championship, Rachel Ambroch, Taylor Mott, Tennessee State, Tigers, Wetherby Gym