A man is charged after threatening his girlfriend with a knife, throwing a one year old female child against a wall, and punching a hole in the wall during a domestic dispute.

Clarksville, TN – On November 14th, 2012, around 5:15pm, Police were called to 3709 Nadia Drive for a domestic in progress in which a man, Patrick Winter, 31, had been drinking and threatened a woman and child with a knife. She had locked him outside of the residence and called Police.
When Police arrived, they were told that Patrick Winter had come home from work and started to argue with his 31 year old girlfriend. It was alleged that it turned physical and Winter grabbed the victim's hand and twisted the wrist causing some fingernails to break.



The situation calmed down for a short period of time, but they started to argue again. Winter was supposed to watch their one year old female child but passed out from consuming alcohol, at which time, the child had gotten into some medication.

The argument escalated and Winter grabbed a knife, held it against the woman's wrist and neck, threatening to kill her. Winter, then, grabbed their one year old child and tossed her against a wall, causing abrasions to her forehead.

Furthermore, after the woman picked up the child, the assault continued and they were both threatened with the knife as he pinned them against a wall. He also punched a hole in the wall.

At some point, Winter went outside and Police were called.

The child and woman did not sustain any serious injuries.
Patrick Winter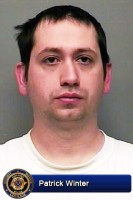 Name: Patrick Don Winter (W/M)
DOB: 6/24/81
Given Address: 3709 Nadia Drive, Clarksville, TN
Arresting Officer: Jeff Jackson
Charged With: Two Counts of Aggravated Assault (Domestic), Child Abuse/Neglect, and Vandalism
Booked Into: Montgomery County Jail
Bond: $25,500.
Sections
News
Topics
Aggravated Assault, alcohol, Bond, Child, Child Abuse and Neglect, Clarksville Police Department, Clarksville TN, CPD, Jeff Jackson, knife, Montgomery County jail, Nadia Drive, Patrick Don Winter, Vandilism