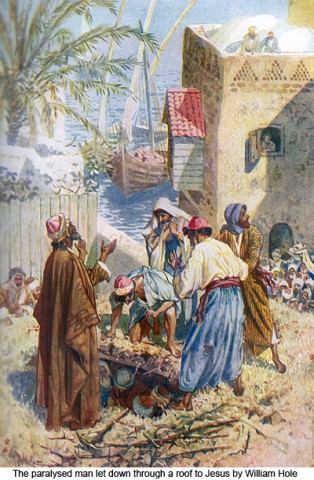 Going through scripture this morning, while listening to a couple friends of mine on the Spirit of Clarksville, I found a verse that moved me. It's simple, and easy to overlook as part of a story, yet it shows the meaning of friendship to me.
Mark 2:3-5 (3) Some men came, bringing to Him a paralyzed man, carried by four of them. (4) Since they could not get him to Jesus because of the crowd, they made an opening in the roof above Jesus by digging through it and then lowered the mat the man was lying on. (5) When Jesus saw their faith, he said to the paralyzed man, "Son, your sins are forgiven."
Those guys who lowered their friend, I say were more than just friends, they were "good friends." You could read it, verbatim, and decide that a few guys knew who Jesus was, and that He could heal the paralyzed man, so they just grabbed him on their way to see if Jesus could heal him too.

However, being put in that situation today, in our daily pursuit of Christ, could we really say that we would delay in heading to the "concert" and concern ourselves with some paralyzed or crippled guy? Be honest. Generally, most of us would (and DO) pass by. BUT, these guys had faith that Jesus could heal their paralyzed friend.

These guys thought outside of the box and tore through some guy's roof for their friend. Would you do that for a stranger? Maybe not. Would you risk something for someone even when there's no benefit for you to do so?

Put yourself in that position for a second… The paralyzed man likely didn't hang out with the four men on Saturday's playing golf or going to the local horse races. Jesus' encounter for their friend was important enough to take the risk.

Our friends are worth it, whether they are an associate or close buddy, all of our friends need an encounter like that with God. His presence is good and worth the risk. If you have a friend who needs an encounter with the Lord, do what you can to help them, to serve them, to take a risk for them if necessary. Most of all, pray for them – get their name in front of the King of Kings today.

I'm praying for my friends today, that God would encounter you all, wherever you are and whatever you're going through. If you're a friend of mine – there's a reason. I'm praying for you. God bless you all, my friends.



About Mat Lasater
Mat Lasater is the Founder & CEO of the LASATERS®COFFEE, LLC.  He is a Tennessee Licensed Commercial/Residential General Contractor. Mat is married to Annie Lasater, together they have 4 children. Read more at www.matlasater.com.

Editor's Note: Articles by this author contains the view points of Mat Lasater, and may not represent the views of LASATERS® Coffee & Tea Franchisees or their employees; or Clarksville Online, our Staff, Contributors, or Advertisers.


Web Site: http://www.lasaterscoffee.com
Email: matlasater@gmail.com
Sections
Spirituality
Topics
benefits, friends, Jesus, Mark 2, Risk, Spirit of Clarksville