The following account is a true story. All those involved can testify to the events that took place here. This happened in 2009 in Clarksville, TN.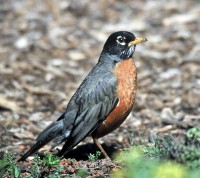 I was sitting in my office at LASATERS® Headquarters preparing for the day when Barry (one of my employees at the time) came into the room. Barry was only in my office briefly when I felt a heaviness that had entered with him (you know, when someone comes in and you can tell that something's not right, or you get a sense that they are 'dealing with something'?).

I asked him if we could pray together, and so we did. After we prayed, I felt that, through our prayer together, that we got rid of whatever it was that he was carrying (at least to some degree). I told him that I felt that he was to go to the front door and kick out the heaviness that came into our building. This was to be a symbolic act of getting rid of the heaviness that accompanied him that morning.

So, Barry went to the front door, opened it, made a gesture of himself kicking something and then closed the door.  No big deal – I just felt that he was supposed to do that, for whatever reason. Immediately after this he said he felt better and I could see joy upon him again. Kind of a quick incident, actually. That type of experience with prayer was common, yet, it was only the beginning.

As if the joy of the Lord wasn't enough, God decided to do something remarkable – something I have never seen or even heard about. God sent "watchmen" to guard our door! But, the watchmen were not in the form that I was expecting, yet they were a symbol of how powerful He is and how His ways are not like our ways.

Marcy (my assistant), Barry and I all met in the lobby to gaze upon what God had just done. There, in front of the glass door, the same glass door that Barry had just opened and kicked out 'the enemy', sat two robins. Interesting.

The two robins sat motionless.  Ten minutes later, they were still there, motionless.

We stood there in awe and prayed. We knew that God had sent them. I know it may sound silly or weird, but, God's presence is different than what we generally expect or can even comprehend. We knew this was something different than any of us had experienced before.  God's presence was sooo strong!

Only God could orchestrate something so simple, yet, something that would glorify Him and His love for those who call out to Him. It's amazing – He can call to the birds of the air and command them to go where He pleases.

How do I know this was something that was done by the Lord? How do I know that it wasn't a coincidence? For one, I believed it was the Lord. I had faith that He was with me. Secondly, robins are very timid. They seem to be easily startled and they're definitely hard to approach. We were standing on the other side of the glass door (that you could see through very easily), but they never moved. There's more…

All three of us were quite moved by what the Lord was doing. I wanted more of His presence. I decided to go outside and be with the two robins…

I opened the door and one robin hopped a few times and moved out of the doorway.  The other robin simply turned, almost facing me, as to say "have a seat." So I did.

So there I was, outside with the two robins, sitting. Marcy and Barry were standing on the other side of the door in awe. I reached out to one of the robins. Marcy took the next picture through the glass door.

There's no question that God was with us that morning. Take time to sit with the Lord today friends. He's waiting for YOUR presence.

Psalm 46:10 Be still, and know that I am God; I will be exalted among the nations, I will be exalted in the earth!



About Mat Lasater
Mat Lasater is the Founder & CEO of the LASATERS®COFFEE, LLC.  He is a Tennessee Licensed Commercial/Residential General Contractor. Mat is married to Annie Lasater, together they have 4 children. Read more at www.matlasater.com.

Editor's Note: Articles by this author contains the view points of Mat Lasater, and may not represent the views of LASATERS® Coffee & Tea Franchisees or their employees; or Clarksville Online, our Staff, Contributors, or Advertisers.


Web Site: http://www.lasaterscoffee.com
Email: matlasater@gmail.com
Sections
Spirituality
Topics
Clarksville TN, God, Lasaters, Prayer, Robin