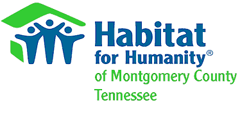 Clarksville, TN – Habitat for Humanity of Montgomery County, TN is currently seeking partner families for its homeowner program. Applications are available Monday thru Friday between the hours of 9:00am to 5:00pm.
Applications are also available outside the office and at the ReStore. Call the Affiliate office at 931.645.4222 with any questions.The application process allows a family to demonstrate their willingness to partner by completing the application and by demonstrating their financial capacity to afford a no-interest mortgage and need for suitable housing.  Applicants will submit copies of their income, housing, debts, bills and any other information supporting their desire to partner with Habitat.
The Family Selection Committee reviews applications every month.  Qualifications are listed on our website – go to www.habitatmctn.org [1] and click Homeownership.
Partner families accepted into the Habitat homeownership program contribute between 250 and 500 hours of 'sweat equity' by working on the construction of their and other Habitat homes, through homeowner education seminars, financial counseling, working at the ReStore, supporting Habitat events, and ensuring their children maintain high grades during this exciting time in their family's life.
Habitat for Humanity is an equal opportunity housing lender and does not discriminate in the financing of homes based on race, color, religion, sex, national origin, disability, or familial status.
About Habitat for Humanity of Montgomery County, TN
Since 1992, Habitat has partnered with 81 qualified applicants who invest sweat equity into building simple, decent and affordable housing to achieve homeownership through a twenty-year, zero-interest mortgage. Habitat collaborates with faith, civic, and business organizations who envision neighborhood revitalization through new home construction.
Please contact the Affiliate office at 931.645.4222 or info@habitatmctn.org [2].
About Habitat for Humanity International
Habitat for Humanity International is an ecumenical Christian ministry that welcomes to its work all people dedicated to the cause of eliminating poverty housing. Since its founding in 1976, Habitat has built, rehabilitated, repaired or improved more than 500,000 houses worldwide, providing simple, decent and affordable shelter for more than 2 million people.
Visit www.habitat.org [3]