Clarksville, TN – On December 10th, 2012 around 7:26pm, Clarksville Police Officers responded to a kidnapping at Dollar General Market, 1945 Madison Street, Sharonda Belvin, 26, went inside of the store to pick up some medicine, left her 7 year old son alone in the backseat of her Chrysler 300 with the vehicle running and the doors unlocked.

Belvin had thought the doors had locked, but they did not. Belvin came out of the store about 10-15 minutes later and her vehicle and son were gone.

She called 911 and officers from across the city responded to the area to look for the stolen vehicle and child.  Shortly thereafter, around 7:34pm, the 7 year old child found by a woman outside the gas station on the Wal-Mart lot and was taken to the main store.

The 7 year old told officers he had been dropped off by the suspect and gave officers a description of his kidnapper. Officers combed the surrounding areas looking for the suspect.

Officer Llin Scudder went inside of the K-Mart on Madison Street and located a man, Willie Cole, who closely met the description of the suspect. The keys to the stolen Chrysler 300 were found in Cole's pants pocket. The stolen vehicle was located in aisle 7 of the parking lot at the 2315 Madison Street, Wal-Mart.

A line up was conducted and the 7 year old positively identified Willie Cole as the person who took him and the car. During Detective Chris Nolder's interview with Cole, Cole told him that he saw the car running and took it because he needed the bail money for previous charges.

The child was in good spirits, unharmed, and returned to his mother. Also, the vehicle was turned back over to Belvin.

The investigation is ongoing and the lead Detective is Chris Nolder.
Willie Cole II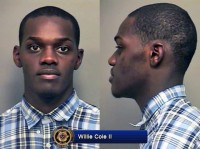 Name: Willie Charles Cole II
Race: B
Sex: M
DOB: 10/8/92
Given Address: 1390 Ambleside Drive, Clarksville, TN
Arresting Officer: Christopher Nolder
Charged With:  Theft of Property and Kidnapping
Booked Into: Montgomery County Jail
Bond: $200,000.
Cole was served with an outstanding Violation of Probation warrant and is being held without bond.
For more on Willie Cole II, see: Clarksville Police arrest Two Men for Robbing a Friend
Sections
News
Topics
911 Call, Ambleside Drive, Bond, Chris Nolder, Chrysler 300, Clarksville Police Department, Clarksville TN, CPD, Dollar General Store, Kidnapping, KMart, Llin Scudder, Madison Street, Montgomery County jail, Sharonda Belvin, Theft of Property, Walmart, Willie Charles Cole II