Austin Peay State University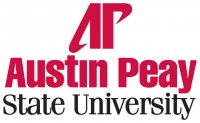 Clarksville, TN – Faculty and staff members at Austin Peay State University recently announced publications or conferences attended as part of their professional and scholarly activities.

Beth Liggett, University photographer, had her photograph "Road Trip" accepted into the professional experimental and alternative processes category of the 2013 Downtown Artist's Co-op Regional Photography Exposition. The exposition will open with a reception at 5:00pm, January 3rd and will remain open for viewing through February 1st at the Clarksville Downtown Artist's Co-op, 96 Franklin Street.

Darren V. Michael, associate professor of acting/directing, was just elected to the position of president-elect of the Tennessee Theatre Association. He also had his latest play "Feathers" chosen for inclusion in Theatre Nashville's Ten Minute Playhouse, held December 9th and 10th at the Street Theatre in Nashville, TN.

Darrell Roberts, classroom assistant at the Child Learning Center, received the Child Development Associate from the CDA National Credentialing Program. This is an 18-month process with on-hands demonstrations, college classes and a portfolio.



Sections
Education
Topics
APSU, Austin Peay State University, Beth LIggett, Clarksville TN, Darrell Roberts, Darren V. Michael, Downtown Artists Co-op, Feathers, Franklin Street, Nashville TN, Photographer, Tennessee Theatre Association