Habitat for Humanity of Montgomery County Tennessee Participates in Building Tennessee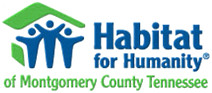 Montgomery County, TN – Habitat for Humanity of Tennessee, an organization supporting the 50 Habitat affiliates serving 63 counties in our state, received a $1.4 million grant from the Tennessee Housing Development Agency (THDA) toward the construction of 65 homes statewide through the Building Tennessee initiative — including Habitat for Humanity of Montgomery County Tennessee."We are extremely grateful for THDA's leadership in creating the Housing Trust Fund," said Colleen Dudley, executive director of Habitat for Humanity of Tennessee, "We are able to take these funds and match them with $5.3 million in donations from individuals, churches, foundations and businesses to complete these builds."
Upon the successful completion of this statewide project Building Tennessee, an estimated 228 children and adults will be living in an affordable, new, quality built energy efficient home they own, while making monthly home loan payments to Habitat that are then used to build even more homes.
"We are honored to be selected as a participant in the Building Tennessee initiative," stated Shelby Logsdon, executive director of Habitat for Humanity of Montgomery County Tennessee. "We plan to build our 81st home, which is for a disabled single mother and her son, through this initiative."
In 2011, Habitat generated $55.7 million in economic activity, the equivalent of 1,511 full-time jobs, this is according to a major statewide economic impact study conducted by the University of Tennessee's Center for Business and Economic Research in Knoxville.
Tennessee is now ranked the 4th largest builder of Habitat for Humanity homes in the country, selling these homes to families earning below 60% of their area median income and providing these families with a zero interest mortgage to make it affordable.  Habitat for Humanity is a hand up…not a hand out!!
About Habitat for Humanity of Montgomery County, TN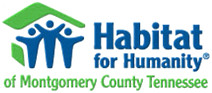 Since 1992, Habitat has partnered with 80 qualified applicants who invest sweat equity into building simple, decent and affordable housing to achieve home ownership through a twenty-year, zero-interest mortgage. Habitat collaborates with faith, civic, and business organizations who envision neighborhood revitalization through new home construction.
Program applications are accepted daily. Contact the Affiliate office at 931.645.4222, on our website at www.habitatmctn.org [1] or via Facebook/Habitat for Humanity of Montgomery County, TN.
About Habitat for Humanity International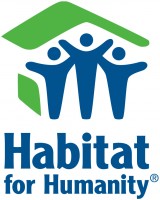 Habitat for Humanity International is an ecumenical Christian ministry that welcomes to its work all people dedicated to the cause of eliminating poverty housing.
Since its founding in 1976, Habitat has built, rehabilitated, repaired or improved more than 400,000 houses worldwide, providing simple, decent and affordable shelter for more than 2 million people. Visit www.habitat.org [2]