Austin Peay Governors Basketball's turnovers lead to 69-57 loss to Arkansas State Red Wolves
APSU Sports: Austin Peay Men's Basketball

Jonesboro, AR – For the second straight game Austin Peay State University shot 50 percent from the floor. For the second straight game, the Governors shot better than 58 percent from three-point range. And for the second straight game APSU was handed a double-digit loss.
Why? For the second straight game APSU committed an unsightly 28 turnovers.
Arkansas State, forcing APSU into a multitude of errors, rallied from a five-point halftime deficit and ran past the Governors, 69-57, Sunday afternoon in non-conference basketball action at the ASU Convocation Center.
The loss drops APSU to 4-6 on the season while Sun Belt member Arkansas State won its second straight and improved to 6-3.
For Austin Peay it was a continuing nightmare of ball-handling woes that have plagued the Govs through the first third of the season. It was the fourth time in 10 games the Govs committed 20 or more turnovers. The Red Wolves scored 23 of their points off APSU turnovers.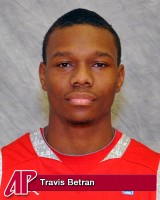 Despite all their first-half fumbles, the Governors led 29-24 at halftime when Travis Betran's 30 footer at the buzzer gave APSU some momentum. Defensively, in the first half APSU limited ASU to just 11 of 33 shooting (33 percent), including 0-for-8 from three-point range.
However, it was a quick three-point Red Wolves second-half barrage that turned the game's momentum and they all came from senior preseason All-Sun Belt guard Trey Finn. With APSU lead 42-39 lead out of the 12-minute media timeout, Finn tied the game at the 11:18 mark with a trey.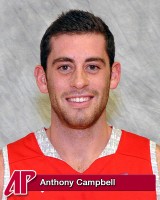 After APSU failed to respond in missing two shots in close, the Red Wolves caught the Govs in a numbers game and Finn nailed his second three in rhythm off the dribble to give ASU its first second-half lead-and advantage they would never relinquish.
After APSU's Betran was unable to connect at the free-throw line, Finn again nailed a long three to extend the advantage to six. APSU would never get closer than three as Anthony Campbell briefly halted the momentum.
Finn finished with 15 for ASU as did fellow guard Ed Townsel.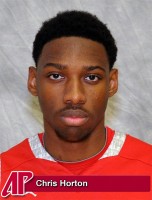 Ohio Valley Conference Newcomer of the Week Travis Betran led the Govs with 21 points, his second straight 20-point outing and third this season. Anthony Campbell added 14 while freshman center Chris Horton recorded his season's third triple-double with 10 points and a season-best 13 rebounds.
The Govs finished 23 of 46 from the floor, including 9-of-16 from three-point range. But the 28 turnovers led to 23 Arkansas State points.
Austin Peay returns home Tuesday, December 18th to take on the Lipscomb Bisons at the Dunn Center. Tipoff is at 7:00pm.
Box Score
Austin Peay vs Arkansas State
12/16/12 2:05pm at Jonesboro, AR (Convocation Center)
Austin Peay 57
Total
3-point
Rebounds
##
Player
p
fgm-fga
fgm-fga
ftm-fta
off-def
tot
pf
tp
a
to
blk
stl
min

10

TRIGGS, Will

f

4-8

0-0

1-2

2-4

6

3

9

3

2

1

1

27

25

CAMPBELL, Anthony

f

5-8

3-4

1-2

1-2

3

4

14

4

6

0

0

36

05

HORTON, Chris

c

4-9

0-0

2-2

6-7

13

3

10

2

3

4

3

34

04

BETRAN, Travis

g

9-16

3-6

0-1

0-1

1

1

21

1

3

0

0

39

23

LYNCH, AJ

g

0-2

0-1

0-0

0-1

1

2

0

1

4

0

1

17

11

GREER, Thomas

–

0-1

0-0

0-0

0-1

1

2

0

0

3

0

0

10

15

FREEMAN, Chris

–

0-1

0-0

0-0

0-1

1

1

0

1

0

1

0

16

20

ARENTSEN, Corey

–

1-1

1-1

0-0

0-1

1

2

3

0

3

0

0

14

22

LAWRENCE, Herdie

–

0-0

0-0

0-2

0-3

3

2

0

1

4

0

0

7

TM

TEAM

–

–

–

–

1-5

6

–

–

–

–

–

–

–

Totals…………..

–

23-46

7-12

4-9

10-26

36

20

57

13

28

6

5

200

50.0%

58.3%

44.4%

Team summary:
FG
3FG
FT
1st Half:

13-26

3-8

0-0

50.0%

37.5%

0.0%

2nd Half:

10-20

4-4

4-9

50.0%

100 %

44.4%
Arkansas State 69
Total
3-point
Rebounds
##
Player
p
fgm-fga
fgm-fga
ftm-fta
off-def
tot
pf
tp
a
to
blk
stl
min

15

Peterson, Brandon

f

4-11

0-0

2-6

4-3

7

3

10

0

3

2

5

34

01

Dickerson, Rakeem

g

0-5

0-2

2-2

2-2

4

2

2

2

1

0

4

22

02

Finn, Trey

g

5-11

3-9

2-2

3-3

6

3

15

0

0

0

0

35

24

Townsel, Ed

g

6-20

2-8

1-2

1-1

2

3

15

2

1

0

4

36

35

Worsham, Raeford

g

4-8

0-0

4-6

3-2

5

0

12

2

1

0

2

26

00

Golden, Cameron

–

1-2

0-1

2-4

1-3

4

0

4

4

2

0

4

17

05

Hooten, Marcus

–

1-2

0-0

0-2

1-0

1

1

2

0

0

0

0

6

14

Downs, Kelvin

–

0-0

0-0

0-0

0-0

0

2

0

0

2

0

0

3

40

Washington, Kendrick

–

4-6

0-0

1-1

1-2

3

2

9

0

2

2

0

21

TM

TEAM

–

–

–

–

5-1

6

–

–

–

–

–

–

–

Totals…………..

–

25-65

5-20

14-25

21-17

38

16

69

10

12

4

19

200

38.5%

25.0%

56.0%

Team summary:
FG
3FG
FT
1st Half:

11-33

0-8

2-7

33.3%

0.0%

28.6%

2nd Half:

14-32

5-12

12-18

43.8%

41.7%

66.7%
| | | | | |
| --- | --- | --- | --- | --- |
| Score by Periods | 1st | 2nd | Total | |
| Austin Peay | 29 | 28 | 57 | Record: (4-6) |
| Arkansas State | 24 | 45 | 69 | Record: (6-3) |
Officials: Billy Dunlap, Frank Raposo, Anthony Jordan
Technical fouls: Austin Peay-None. Arkansas State-None.
Attendance: 2652