Austin Peay Governors vs. High Point
December 29th, 2012 | 3:30pm
McKenzie Arena | Chattanooga, TN

Chattanooga, TN – Austin Peay will attempt to snap a five-game losing streak when it plays High Point in the consolation game of the Dr. Pepper Classic, 3:30pm (CDT), Saturday in McKenzie Arena.
High Point also is amidst a losing streak. Its 68-61 loss to Chattanooga, Friday, was its fourth straight.
Fastbreak
This is Dave Loos' 23rd season as Austin Peay head coach and he is 367-319 at APSU-the winningest basketball coach in Ohio Valley Conference history-while 449-372 all-time in his 27th season as a college head coach.
Austin Peay was picked to finish third behind Murray State and Southeast Missouri in the newly formed OVC West Division in the preseason poll.
This is the third of five straight games played by the Govs away from Dave Aaron Arena, including the OVC-opening weekend at Southeast Missouri (January 3rd) and UT Martin (January 5th).
Austin Peay enters the game seeking to snap a five-game losing streak after losing 84-77, Friday, against Utah Valley in first-round Dr. Pepper Classic play.
High Point owns a 4-7 record and also amidst a losing streak. The Panthers lost their fourth straight to Chattanooga, 68-61, Friday night.
Scott Cherry is in his fourth season as High Point head coach, owning a 44-59 record.
Redshirt freshman forward John Brown has been on fire of late, recording back-to-back double-doubles. He had 23 points and 16 rebounds against Chattanooga, Friday. He is averaging a team-high 18.5 ppg to go with 7.5 rpg.
Senior forward Allan Chaney is the Panthers only other player averaging in double figures at 13.8 ppg. He also is the team's leading rebounder (8.1 rpg).
Freshman forward Lorenzo Cugini came off the bench to grab 12 rebounds and dish out a team-best five assists versus Chattanooga.
The Series
This is the first meeting between Austin Peay, a member of the Ohio Valley Conference, and High Point, a member of the Big South Conference.

This will be APSU's fifth meeting against current Big South programs, including the second this season. APSU played Gardner-Webb in the Mayan Division title game of the Cancun Challenge.
What You Should Know
The Series: This is the first meeting between Austin Peay, a member of the Ohio Valley Conference, and High Point, a member of the Big South Conference. This will be APSU's fifth meeting against current Big South programs, including the second this season. APSU played Gardner-Webb in the Mayan Division title game of the Cancun Challenge.
Tournament Preview: This is the 23rd Annual Dr. Pepper Classic, hosted by Chattanooga. This is the Govs second tourney appearance. The Govs reached the finals of 2000 Classic.
Deeper Meanings
What A Win Would Mean: The Govs would move to four games under the .500 mark at 5-9…they would go to 2-6 in December…it would snap a five-game losing streak… the Govs would gain their second neutral site victory this season…they would go to 1-0 against High Point…it would be head coach Dave Loos' first win against Panthers Scott Cherry…it would be APSU's third win against current Big South Conference members… it would be Loos' 450th career victory.
What A Loss Would Mean: The Govs would drop six games below the .500 mark at 4-10…the govs would enter OVC play amidst a six-game losing streak…it would make the Govs 1-3 at neutral sites this season…the Govs would fall to 1-7 in December…they would go to 2-3 against Big South Conference members… it would be Dave Loos' 320th APSU loss and 373rd all-time.
Losing Streak
After opening the season with a modest 4-4 record, the Governors are amidst a five-game losing streak heading into this year's final game. Statistics tell much about the Govs' December struggles. In the first eight games, the Govs were averaging 72.6 ppg, shooting 46 percent from the floor while permitting only 71.1 ppg, allowing only 43 percent shooting.

In the last five games the Governors are scoring only 68.0 ppg while permitting 81.2 ppg–APSU has allowed 80 or more points the last three contests. The Govs are still shooting a respectable 47 percent from the floor but the opponents are shooting 50 percent from the floor.

In addition, the Governors are averaging an almost unfathomable 20.2 turnovers per game in that four game stretch.
11 And Counting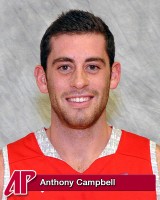 In the previous two seasons, forward Anthony Campbell never got to play in Game No. 11. After game No. 10 of 2010-11, he tore the ACL in his left knee during practice. In 2011-12, Campbell tore the ACL in the same knee in Game No. 10 against Arkansas State. He celebrated No. 11 this season by scoring a career-high 25 points, including a trio of three pointers against Lipscomb.
But he followed that up with 20 more points against Illinois State, knocking down five three pointers along the way. On Friday, he had a third straight 20-point outing, scoring 22 points on 8-of-16 shooting. It was the first time in his career he tallied three straight 20-point outings.
Bounce Back
After being held to just two points by Illinois State, leading scorer Travis Betran bounced back by tying his previous season high with 27 points against Utah Valley. He did it on 9-of-16 shooting, which included 6 of 10 from behind the arc.
Insider Trading
After being outscored 42-18 inside the paint against Utah Valley, it meant the Governors have been out-pointed 241-113 in the paint during the five-game losing streak, or an average of 48.2 points to 22.6.
Twenty Two
For the third time this season the Govs had a pair of players score 20 or more points in a single game when both Travis Betran (27) and Anthony Campbell (22) did the trick against Utah Valley. Previously, Campbell and Cory Arentsen had 20 against Berea. Campbell had 20 points while Travis Betran had 22 versus Western Carolina in the Cancun Challenge.
Top 15 Travis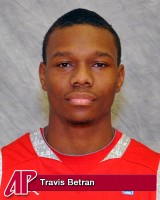 Despite going 0-of-2 from three-point range against Illinois State, junior transfer guard Travis Betran entered the week still ranked 11th nationally in three-point field goal percentage at 48.5 percent.
Betran got back in the groove against Utah Valley, going 6-of-10 from three – point range. His six three pointers were a season-high for the junior and matched the APSU high by Cory Arentsen against Berea.
Turnover Turn Down
After being charged for more than 20 turnovers for the fifth time this season at Illinois State, the Governors were charged with a season-low seven turnovers against Utah Valley. The Govs entered the weekend ranked 336th (out of 345) in turnovers per game, an unsightly 18.8.
Pointless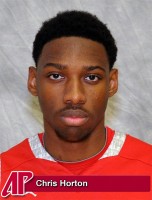 Less than a week after receiving his fifth straight OVC Freshman of the Week honor, center Chris Horton failed to score against Illinois State. He did have a team-high five assists, six rebounds and three steals. He failed to gain a block shot for the first time this season.
He also went block-less against Utah Valley while scoring on two points in 12 minutes against Utah Valley.
Block Party
Although he failed to block a shot against Illinois State, freshman center Chris Horton was ranked ninth in blocks entering the week, averaging 3.0 per game. After failing to gain a block against Utah Valley, his average has dropped to 2.77 per contest.
From Walk On To Starter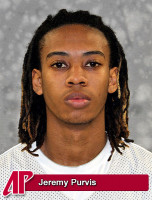 With senior point guard Jerome Clyburn out indefinitely with a hamstring injury and APSU's other point guards struggling with turnovers, APSU's coaching staff turned to a player against Lipscomb who joined the Governors practice sessions a little more than a week earlier.
Jeremy Purvis, who played at Clarksville's Northeast High School before playing junior college basketball for two seasons at Jackson State, got the starting nod against Lipscomb. He ended up playing 32 minutes and dishing out five assists. More importantly, he had just one turnover against the Bisons.
He then started and played 34 minutes against Illinois State, scoring his first points. In fact, he finished with eight points, including his first two three pointers. He also had nine points–all on three pointers–against Utah Valley in 33 minutes.
Sections
Sports
Topics
Allan Chaney, Anthony Campbell, APSU, APSU Athletics, APSU Basketball, APSU Men's Basketball, APSU Sports, Arkansas State, Austin Peay State University, Berea, Big South Conference, Bisons, Cancun Challenge, Chattanooga, Chattanooga TN, Chris Horton, Cory Arentsen, Dave Aaron Arena, Dave Loos, Dr Pepper Classic, Gardner-Webb, Governors, Govs, High Point, Illinois State, Jackson State, Jerome Clyburn, John Brown, Lipscomb, Lorenzo Cugini, McKenzie Arena, Murray State, Northeast High School, Ohio Valley Conference, OVC, OVC West, Panthers, Scott Cherry, Southeast Missouri, Travis Betran, UT-Martin, Utah Valley