Murray State vs. Austin Peay Lady Govs
Saturday, January 12th, 2013 | 5:15pm (CT)
Clarksville, TN | Dunn Center (7,257)

Clarksville, TN – Austin Peay opens its season's longest homestand – a four-game tilt – with a 5:15pm, Saturday, Ohio Valley Conference contest against Murray State.

The Lady Govs return home seeking their first OVC win this season and hoping that the Dunn Center's home cooking will provide the remedy to its recent woes.

Austin Peay opened OVC play with losses at both Southeast Missouri and UT Martin – two teams atop the West Division standings after two weeks. Murray State brings a 1-2 OVC mark into Saturday's contest, picking up a key win at UT Martin last week before falling at Southeast Missouri.

The Lady Govs won both regular season contests last season, including a 71-63 win in Clarksville, but the Racers claimed a win in the OVC Basketball Tournament.
Lady Govs Ledger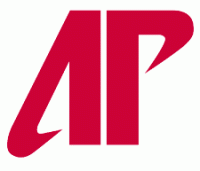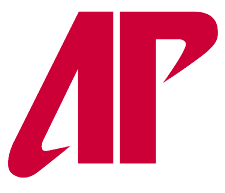 Austin Peay puts a four-game home win streak on the line Saturday, the Lady Govs are scoring nearly 17 more points per game at home (71.0) versus on the road (54.6) this season.
The Lady Govs haven't shot the ball well this season, making just 39.1 percent of their shots during the season, but have topped 40 percent seven times and are 5-2 in those contests. Austin Peay won the rebounding battle at UT Martin, but suffered a loss for the first time when doing so this season (3-1 record when winning rebounding battle).
Austin Peay has won the turnover battle in nine games and owns a plus-1.6 turnover margin. Eight APSU players have played in every contest. Seven players are averaging five or more points per game, with two players averaging double figures (Meghan Bussabarger and Leslie Martinez at 11.4 and 10.7 points per game, respectively).
Racers Report
Murray State concludes a three-game road trip Saturday and has posted a 2-3 in road games this season. The Racers did put together a seven-game win streak this season, but that accounts for all but one of their wins this season. Murray State owns the OVC's second-ranked offense, averaging 68.6 points per game and are ranked third among the league's defenses, limiting opponents to 61.5 points per game.
The Racers have two players ranked among the league's top 10 in scoring – senior Mariah Robinson (3rd, 17.1 ppg) and junior Erica Burgess (10th, 12.0 ppg). Murray State also has four players ranked among the league's top 20 in rebounding, including freshman Kelsey Dirks who ranks ninth with 7.0 rebounds per game.
An Austin Peay Win Would
End its two-game losing streak… be its first OVC win this season… be its fifth-straight win at the Dunn Center… be its seventh consecutive regular-season win against Murray State… be its fourth straight win in Clarksville against Murray State… make it 1-2 in January… improve Daniels' record to 78-125 overall and 51-62 in OVC play… make the Lady Govs 431-598 overall since 1976-77.
An Austin Peay Loss Would
Be its third straight loss… end its four-game home win streak… be its first 0-3 OVC start under head coach Carrie Daniels and first since 2005-06… be its first regular-season loss to Murray State since Feb. 7, 2009 – ending a six-game regular-season win streak against the Racers… make it 0-3 in January… drop Daniels' record to 77-126 overall and 50-63 in OVC play… make the Lady Govs 430-599 overall since 1976-77.
Last Time Out
Austin Peay falls at UT Martin
Martin, TN – Senior Leslie Martinez finished with 20 points and nine rebounds but it wasn't enough as Austin Peay State University women's basketball team dropped an 84-57 Ohio Valley Conference decision to UT Martin, Monday night, at the Elam Center.
Martinez scored 13 points in the first half, including consecutive six points during a 14-4 run that gave Austin Peay (5-9, 0-2 OVC) a 17-9 lead with 13:49 remaining. Martinez would later hit a three-pointer that pushed the Lady Govs lead to nine points, 26-17, with 7:48 left in the half.
UT Martin (7-10, 2-1 OVC) stiffened its defense at that moment and found its stride offensively. The Skyhawks would hold the Lady Govs to one field goal the half's remainder and closed the period with a 21-2 run.
The Skyhawks would extend that run into the second half and ultimately produced an incredible 44-8 scoring burst that lasted 16 minutes and ended with UTM holding a decisive 61-34 advantage at the 11:49 mark of the second half.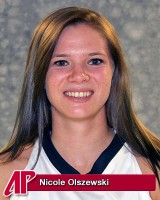 Austin Peay was ineffective at the offensive end of the court during the run, making just 4-of-21 from the floor and committing 12 turnovers. The situation proved dire enough for head coach Carrie Daniels to pull her entire starting five at the 17:05 mark of the second half.
Martinez was the only Austin Peay player to reach double-digit scoring territory. Three Lady Govs – junior Nicole Olszewski and seniors Meghan Bussabarger and Kaitlyn Hill, finished with eight points each.
UT Martin's Heather Butler led all scorers with 32 points, including 19 in the second half. Jasmine Newsome added 21points while Sydney Vanlandingham and Rickiesha Bryant had 10 points each.
Previous Meeting against Murray State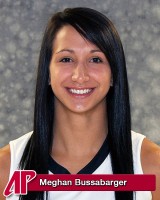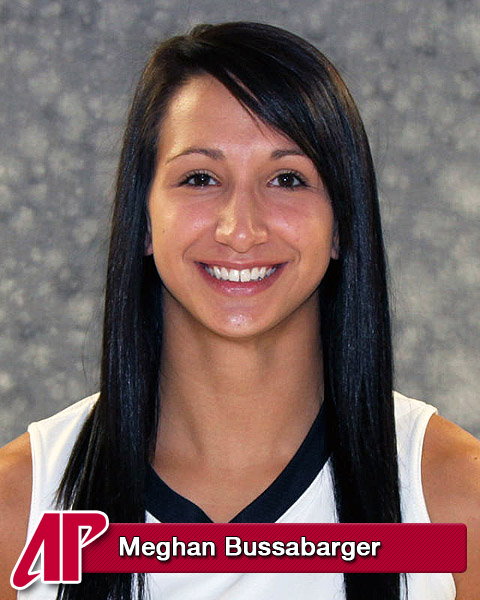 Nashville, TN – Junior forward Meghan Bussabarger scored a career-high 29 points but Austin Peay State University women's basketball team had few answers down the stretch in a 90-73 loss to Murray State, Thursday, in quarterfinal action of the Ohio Valley Conference Women's Basketball Championship at Municipal Auditorium.
Austin Peay (9-22) led nearly the entire first half. The Lady Govs stretched their lead to its maximum just past the period's halfway point. Bussabarger was a one-woman show scoring 11 consecutive APSU points over a three minute span to build the Austin Peay lead to 12 points, 36-24, with 5:15 remaining. Junior Leslie Martinez' basket 30 seconds later gave the Lady Govs a 14-point, 38-24, lead that would be its largest of the contest.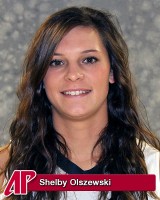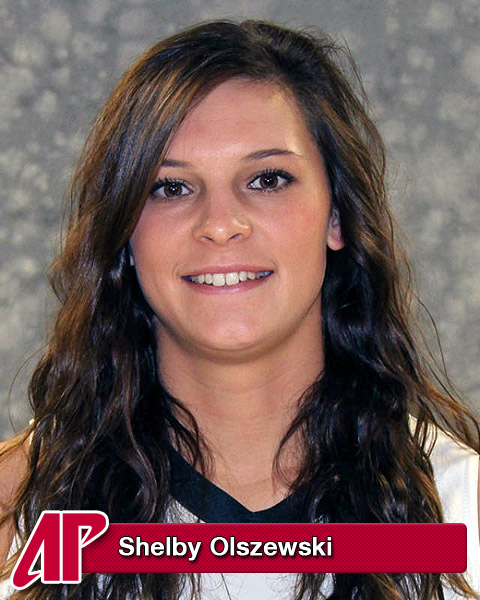 Murray State (13-17) closed the half with an 18-7 run over the final 4:07 as Kyra Watson sliced through the Austin Peay defense for eight points during the half-ending run. Mallory Schwab's three-pointer with 29 seconds left cut the deficit to one point, 43-42, at halftime.
The second half saw the two teams trade baskets over the opening 15-plus minutes with neither team enjoying more than a one-possession lead.
But Murray State changed the game's momentum on a Mariah Robinson three-pointer that was the first of 10 consecutive points that broke the game open. It was the beginning of an 18-2 game-ending run that gave the Racers the win. Austin Peay's cold shooting only got worse as the game wound down as it would miss its final seven shots.
Bussabarger's 29 points – she had 18 points in the first half – came on 11-of-13 shooting, including 2-fo-3 from three-point range, and a 5-of-6 effort from the free-throw line.
Freshman Shelby Olszewski added a 15-point, six-rebound performance. Senior Whitney Hanley, who scored 38 points in APSU's opening-round win, scored 10 points in Thursday's loss, making 3-of-13 from the floor. Martinez added 10 points and grabbed 11 rebounds.
Watson led Murray State with 23 points and Robinson added a 21-point outing. Schwab posted an 18-point, 11-rebound double-double effort.
Media Center
Radio: Governors Sports Network (David Loos, play-by-play and Van Stokes, analyst)
Live Stats: www.LetsGoPeay.com
Live Audio: www.LetsGoPeay.com
ipTV: www.OVCDigitalNetwork.com
Head Coaches
Austin Peay – Carrie Daniels (Austin Peay, 1996) is 77-125 (.381) in her seventh season as a head coach at Austin Peay.
Murray State – Rob Cross (Murray State, 1991) is 66-71 (.482) in his fifth season at the school and as a head coach.
Series
APSU leads, 39-36 (APSU leads 25-13 in Clarksville) | Streak: MUR, one win | Daniels vs. MUR: 9-6
Sections
Sports
Topics
APSU, APSU Athletics, APSU Basketball, APSU Dunn Center, APSU Sports, APSU Women's Basketball, Austin Peay State University, Carrie Daniels, Clarksville TN, David Loos, Elam Center, Erica Burgess, Heather Butler, Jasmine Newsome, Kaitln Hill, Kelsey Dirks, Kyra Watson, Lady Govs, Leslie Martinez, Mallory Schwab, Mariah Robinson, Meghan Bussabarger, Municipal Auditorium, Murray State, Nicole Olszewski, Ohio Valley Conference, OVC, OVC West Division, OVC Women's Basketball Championship, Racers, Rickiesha Bryant, Rob Cross, Shelby Olszewski, Skyhawks, Southeast Missouri, Sydney Vanlandingham, UT-Martin, Van Stokes, Whitney Hanley