Clarksville, TN – On January 15th, 2013, around 8:30pm, Clarksville Police responded to the area of 31 Lincoln Drive after 911 received a call that a man had been shot in the foot and robbed. According to the caller, he was headed to the APSU campus, flagged down by two men, and was then robbed.

The story quickly unraveled and the true story was revealed after officers arrived on scene and found a 33 year old man inside of his truck who had sustained a gunshot wound to his left foot.

It was determined the man had been drinking, at some point attempted to buy drugs, and was shot and robbed. The details of the robbery were sketchy and there were some inconsistencies found during the interviews with the man.

During the course of the investigation by Detective Chris Nolder, one of the robbers was identified as Mark Austin Ellis and an Aggravated Robbery Warrant was added to the long list of other warrants on file.

He already had warrants on file for:  Petition to Revoke x2, Aggravated Domestic Assault, General Session Capias x2, Criminal Court Capias, and Criminal Trespass. Three of warrants pending are Felonies.

The 33 year old man was transported to Gateway Medical Center with a non-life threatening injury.

Police are trying to locate Ellis. Anyone spotting Ellis should call 911 or anyone with information can anonymously call the TIPSLINE, 931.645.8477. He should be considered armed and dangerous.

The lead investigator is Detective Chris Nolder.
Mark Ellis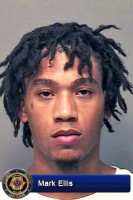 Name: Mark Austin Ellis
Race: B
Gender: M
DOB: 7/30/93
Wanted For: Aggravated Robbery Warrant
Other Warrants: Petition to Revoke x2, Aggravated Domestic Assault, General Session Capias x2, Criminal Court Capias, and Criminal Trespass
Sections
News
Topics
911 Call, Aggravated Domestic Assault, Aggravated Robbery, APSU, Austin Peay State University, Chris Nolder, Clarksville Police Department, Clarksville TN, CPD, Criminal Court Capias, Criminal Trespass, Drugs, General Session Capias, Gunshot, Gunshot Wound, Lincoln Drive, Mark Austin Ellis, Petition to Revoke, Wanted, Warrants