Nashville,  TN – The Nashville Predators open their strike shortened season tomorrow night in "Smashville," as the Columbus Blue Jackets invade the music city.  The Bridgestone Arena is sold out for the Predators first game of the year, and the atmosphere is expected to be "electric."

These teams last met on January 23rd, 2012 in the Music City – and before that exactly one year ago today in Columbus – with Nashville winning both. The Predators went 5-0-1 against the Jackets a season ago, which included a couple of dramatic comebacks.

The team that hits the ice for the Nashville Predators on January 19th will look strikingly similar to the one that played in May 2012 when we last saw them.

On December 22nd, 2011 the Predators scored the game winner with just nine seconds left in regulation in a 6-5 win over Columbus at Bridgestone Arena. Nashville trailed by scores of 4-1 and 5-2 in that contest, marking one of two three-goal comebacks it had in 2011-12 (January 31st, 2011 at Minnesota Wild).

Nashville recorded five two-goal comebacks a season ago, including December 8th against Columbus when  the Predators overcame two-goal deficits twice, the last coming when they scored two extra-attacker goals in the final 1:36 of regulation to force overtime – where the Predators topped the Jackets 4-3.

The team will only be implementing two players that weren't in the organization in 2011-12 – Chris Mason, who is now in his third stint with the club after spending time with Nashville and Milwaukee from 1998-2002 and 2003-08, and Scott Hannan, a 13-year NHL veteran defenseman who has played more games than any NHL blueliner over the last 10 seasons and knows the League well.

Nashville finished the 2011-12 regular season ranked in the Top 10 of each of the following categories: points, goals for, goals against, power play and penalty kill. The Presidents' Trophy-winning Vancouver Canucks were the only other team to do so.

The Predators posted the League's fifth-highest point total (104) and tied with Vancouver and Philadelphia for third in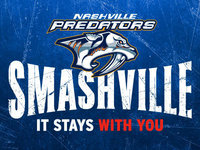 regulation/overtime victories (43)
Nashville ranked eighth in goals per game (2.83) and tied for eighth in goals against average (2.50) in 2011-12. Only Boston, Detroit and Vancouver ranked among the League's Top 10 in both goals for and goals against.
The past two seasons, the Predators have thrived despite being one of the League's youngest teams. They ended the 2010-11 season as the youngest team in the National Hockey League, and began the 2011-12 season as the third-youngest team at 26 years, 5 months. This season, the average age will be more than two years higher at 28 years, 7 months.
The addition of veterans Hal Gill and Paul Gaustad at last season's trade deadline have them fully incorporated into the team's culture and system, while putting Nashville in the middle of the pack in terms of average age.
An eventful summer of 2012 has the Predators' top players locked up long term. Captain Shea Weber – arguably the League's top defenseman and runner-up for the Norris Trophy each of the last two seasons – is under contract for the next 14 seasons, while goaltender Pekka Rinne – a back-to-back Vezina Trophy finalist – is locked down for the next seven seasons. Key core players like Colin Wilson, David Legwand, Martin Erat, Mike Fisher, Sergei Kostitsyn, Kevin Klein, Hal Gill and Paul Gaustad are all at least under contract for two more seasons.
Since the Predators last played, they had their second-ever NHL award winner. Center Mike Fisher was the recipient of the 2012 NHL Foundation Award which "recognizes an NHL player who applies the core values of hockey – commitment, perseverance and teamwork – to enrich the lives of people in his community." The NHL Foundation presented $25,000 to Room In The Inn, a full-service homeless facility located a few blocks from Bridgestone Arena, in honor of Fisher's award.
The Predators play Monday in Nashville at 5:00pm as the St. Louis Blues enter "Smashville."
For more information about The Nashville Predators, visit www.nashvillepredators.com
Sections
Sports
Topics
Bridgestone Arena, Chris Mason, Colin Wilson, Columbus Blue Jackets, David Legwand, hal gill, Kevin Klein, Martin Erat, Mike Fisher, Milwaukee Admirals, Minnesota, Music City, Nashville Predators, Nashville TN, National Hockey League, NHL, NHL Foundation Award, norris trophy, Paul Gaustad, Pekka Rinne, Penalty Kill, Philadelphia, Presidents Trophy, Room in the Inn, Scott Hannan, Sergei Kostitsyn, Shea Weber, Smashville, Vancouver Canucks, Vezina Trophy