Special Weather Statement In Effect ... [Click here for more information]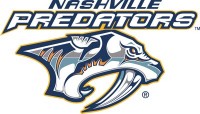 Nashville, TN – The Nashville Predators lost Saturday night at Bridgestone Arena in front of a sell out crowd of 17,113 to the Columbus Blue Jackets 3-2 in a shootout.
Derick Brassard was able beat Predators goaltender Pekka Rinne in the beginning of the sixth round of the shootout to give the Blue Jackets the win. Columbus goaltender Sergei Bobrovsky sealed the win by stopping Chris Smith's attempt.
The Predators got off to a fast start when Martin Erat put a wrist shot past Blue Jackets goaltender Sergei Bobrovsky just 39 seconds into the game. The fastest goal in Predators History to start a game was by David Legwand (0:11 on 04/05/07 vs. St. Louis Blues).
On scoring a quick goal to start the game, defenseman Shea Weber stated, "We were excited. The fans were going nuts and we came out flying and it should have been key for us to keep feeding off of, but we kind of let off especially in the second period."
"It got the crowd right into it, which is pretty great. They were fantastic as usual," said Predators head coach Barry Trotz. "It was a good start. You don't want to be chasing the game. The game was pretty even for the most part. Getting a good start, it's easier to be ahead than behind the play."
Columbus was able to tie the game on a power-play at 16:08 when Nick Foligno scored on a tip-in. The Predators came right back to take the lead on a power-play backhand score at 17:55 by defenseman Ryan Ellis.
Columbus' Artem Anisimov was able to tie the game in the second period when he got a backhand shot past Rinne at 12:05.
Shea Weber led all players in the period with 4 shots and 3 hits.
Sergei Kostitsyn has earned a point on both Preds goals so far – he had nine multi‐point games in 2011-12.
With an assist tonight, Martin Erat now has 51 points in 55 games against the Blue Jackets – the second highest point total by a Predator against a single team.
Columbus goaltender Sergei Bobrovsky got the victory and stopped 32 shots. Predators goaltender Pekka Rinne had 26 saves in the game.
Post Game Quotes
Head Coach, Barry Trotz
On being a little rough around the edges

There's going to be times where we look like we know what we are doing and there is going to be times where we don't look like we know what we are doing. So, we know we are doing that, we had a little bit of sloppiness, a little bit of rustiness, and way too many turnovers.

Real critical areas, the blue line through the neutral zone we turned the puck over way too many times we had some guys not really being up to game speed and it showed some guys were pretty decent but at the same time Pekka was really good I though obviously a great start. We scored early with Marty. Pekka, had a really great save.

There was a little rustiness; I mean when was the last time you saw four on one? … We had a very active D. We had a little more zone time just because we didn't have enough puck time and we turned it over. Second period I thought the first ten minutes we controlled it pretty strongly – the first ten and then they controlled it pretty strongly for ten.

I thought Shea Weber, our captain, was doing the right thing. Going against Jared Boll for an excessive hit against Smith then he stepped right in and that's what your captain does – he leads by example. Not a great trade‐off for us but at the same time, he did what you want your captain to do, step right in there.

We held them to 26 shots. There were lots of holes. As a coach you should be really critical. We need to clean up some of our breakouts and some of those turnovers in the critical areas, all through our zone and through the neutral zone it would be a lot better. We have got to crack down on that.

On being back playing games

That was the best part. Hockey is back. We have such a great sport. We see the energy in the building. We could see that people were excited being back. We would have obviously liked getting those two points in the shootout. Anything could happen.

It always feels like a loss when you lose a shootout at home. Every point is going to be critical. We tied the game, and lost the shootout. Just going quickly though their scoring chances, Columbus had 12 scoring chances. We will dissect it tonight and tomorrow. Four of them came on the power play. They didn't have that many scoring chances, but they sometimes had too much zone time. That's not what you want.
Defenseman Kevin Klein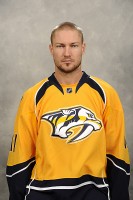 On the importance of getting one point in a compacted schedule
One point was [because] we did not play our best. We had a chance to win it a few times in the shootout which is always, in sports, up in the air. There are some positives and there are some things we need to learn. It's tough. Guys are working hard and making mistakes – just try not to make the same one twice.
On his chemistry with Scott Hannan
It was good. Lots of talk. He is very vocal. Makes it easy. He is very steady back there. I thought we gelled pretty easily but there are still some things we need to work on.
Goaltender Pekka Rinne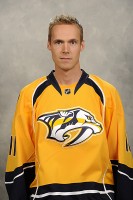 On the inability to focus heavily on the losses due to the shortened season
I think that's the best part of it. It's always so much fun when you have the chance to come back right away and that's the best part of the game. I still want to say it was really fun to play at home in front of the fans. It was amazing.
On the fact that getting a point still allows for a happy night
You can't deny that. Not too many guys are smiling after the game when you lose. I think right now when the puck is on the ice and you are playing and we still got a big point. You have to remember that. I think that still brings a smile on my face. Even though it's disappointing to lose in the shootout, I take those losses more personally than those in overtime or anything like that but I will get over it and get back on it Monday.
Defenseman Shea Weber
On what he saw during the beginning of the game
A lot of different things. A little unsystematic at times. There were a lot of turnovers, but it was kind of expected, and like I said before, there was a lot of room for improvement. We have got to get going here, especially if we've got a game every other night.
On improving his skills during a condensed schedule
We're working on things during practice, but it's not the same as a game. I think as the season goes on,
you get better period‐by‐period and game-by-game.
Next Game
The Predators are back on the ice Monday, January 21st, against the St. Louis Blues at Bridgestone Arena. The game starts at 5:00pm.
Box Score
Final SO
Blue Jackets 3 – 2 Predators
Saturday, January 19th, 2013
| | | | | | | |
| --- | --- | --- | --- | --- | --- | --- |
| FINAL SO | 1 | 2 | 3 | OT | SO | T |
| Columbus Blue Jackets | 1 | 1 | 0 | 0 | 0 (0-0) | 3 |
| Nashville Predators | 2 | 0 | 0 | 0 | 0 (0-0) | 2 |
Scoring Summary
1st Period
00:39
NSH
Martin Erat (1) Wrist Shot – Assists: S. Kostitsyn (1) & P. Rinne (1)
16:08
CBJ
PPG – Nick Foligno (1) Tip-In – Assists: F. Tyutin (1) & V. Prospal (1)
17:55
NSH
PPG – Ryan Ellis (1) Backhand – Assists: S. Kostitsyn (2) & P. Hornqvist (1)
2nd Period
12:05
CBJ
Artem Anisimov (1) Backhand – Assists: F. Tyutin (2) & N. Nikitin (1)
3rd Period
none
OT Period
none
Penalty Summary
1st Period
06:49
NSH
Brandon Yip : Roughing – 2 min
06:49
CBJ
Derek Dorsett : Roughing – 2 min
13:31
NSH
Scott Hannan : Fighting (maj) – 5 min
13:31
CBJ
Derek Dorsett : Fighting (maj) – 5 min
15:14
NSH
Martin Erat : Slashing – 2 min
16:22
CBJ
Brandon Dubinsky : Roughing – 2 min
2nd Period
09:53
NSH
Shea Weber : Fighting (maj) – 5 min
09:53
CBJ
Jared Boll : Fighting (maj) – 5 min
09:53
NSH
Shea Weber served by Patric Hornqvist : Roughing – 2 min
3rd Period
none
OT Period
05:00
NSH
David Legwand : Holding – 2 min
Shots on Goal
| | | | | | |
| --- | --- | --- | --- | --- | --- |
| | 1st | 2nd | 3rd | OT | T |
| Columbus Blue Jackets | 12 | 9 | 6 | 2 | 29 |
| Nashville Predators | 14 | 7 | 12 | 1 | 34 |
Saves
| | | | | | | | |
| --- | --- | --- | --- | --- | --- | --- | --- |
| | Goalies | EV | PP | SH | Total | Sv% | TOI |
| Columbus Blue Jackets | 72 S. Bobrovsky (W) | 31 – 32 | 1 – 2 | 0 – 0 | 32 – 34 | 0.941 | 65:00 |
| Nashville Predators | 35 P. Rinne (L) | 23 – 24 | 3 – 4 | 0 – 0 | 26 – 28 | 0.929 | 65:00 |
Sections
Sports
Topics
Artem Anisimov, Barry Trotz, Bridgestone Arena, Chris Smith, Columbus Blue Jackets, David Legwand, Derick Brassard, Jared Boll, Kevin Klein, Martin Erat, Nashville Predators, Nashville TN, Nick Foligno, Pekka Rinne, Predators, Ryan Ellis, Scott Hannan, Sergei Bobrovsky, Sergei Kostitsyn, Shea Weber, St. Louis Blues