Nashville Predators lose 4-3 in shootout against St. Louis Blues Monday night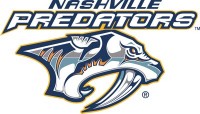 Nashville, TN – St. Louis goaltender Brian Elliott stopped the Nashville Predators twice in the shootout to give the Blues a 4-3 win Monday night in front of a sell out crowd at Bridgestone Arena.
Elliot stopped Nashville's Craig Smith and Martin Erat in the shootout while T.J. Oshie and Alex Steen scored shootout goals for the Blues.When asked his high level of play on the night, Brian Elliott replied, "Right now, we're trying to get that feeling back. In the past, I have worked hard, especially in practice. It translates into your games. Once you can start to make those saves in practice, they make their way into games. It's a lot of hard work. It's like that from our whole team. We work hard in practices to bring it out to the games. We don't have a lot of opportunities, but we have to go out there and earn everything."
St. Louis Blues coach Ken Hitchcock replaced goaltender Jaroslav Halak, who was pulled after allowing his third goal on only 11 shots, at 12:53 of the second period with Elliot. Elliot did not disappoint. He stopped  every shot, going 13 of 13 on the game.
"We haven't been beaten in a game," said Predators coach Barry Trotz. "We have been beaten in a little bit of a what you may say is a skills competition. At the same time, it's huge getting the extra points in the league right now, if you can get them in the shootout. I think tonight's game was a man's game, compared to Columbus I thought it was a shinny game. Tonight was a man's game you've got to put your big boy pants on and I thought we handled it pretty well."
Each team scored twice in the first period. Colin Wilson scored on a wrist shot to give the Predators an early 1-0 lead. The Blues came right back scoring goals from Vladimir Tarasenko and Andy McDonald. Nashville's Mike Fisher scored on a slap shot at 17:13 to tie that game 2-2.
Patric Hornqvist got a backhanded shot past Jaroslav Halak at 12:53 of the second period to give the Predators a 3-2 advantage.
Alex Pietrangelo, assisted by Tarasenko and Jaden Schwartz, hit a wrist shot at a tough angle past Pekka Rinne at 12:10 to tie the game 3-3.
After only one power-play opportunity on Saturday night, Nashville earned six chances against the Blues, scoring twice. The Predators are now 3 of 7 on the season with the man advantage (43%).
But the Predators felt they missed out on some goals converting only two of six powerplay opportunities. "We have to keep on getting a few goals for us. We had a couple of opportunities tonight. We have to continue to keep scoring," stated Predators forward Mike Fisher.
Scott Hannan finished the night with seven blocked shots – the same total as the entire St. Louis Blues lineup.
Nick Spaling was 10 of 15 in the faceoff circle.
Shea Weber again led the Predators in shots (5) and hits (4).
Seven Predators had at least 20 minutes of ice time, with Weber (28:54) leading all players in the game.
With Pekka Rinne stopping 36 shots, Nashville has not lost in regulation in over a season when the netminder makes 35 saves or more in a game (14-0-2 in 2011-12).
Post Game Quotes
Coach Barry Trotz
On the Blues
We had the power plays because we were doing the right things. The St. Louis Blues have their A-game if there is an A-game at this point in time. We forced them into a lot of penalties – that's cause you are doing good things. I thought our discipline was good. Their power play is obviously very dangerous. They are terrific at getting pucks to the net and creating a lot of havoc around your crease – that is a strength of the Blues. I thought, for the most part, we handled and traded punches with them. Am I totally happy with the way the game? No, I would've liked the two points.
We had some chances, especially in the second period; we rang some off the crossbar, a couple posts, and [has] a couple chances. They got it tied up seven or eight minutes left in the third. I really thought they gained momentum off that, but that next shift after that Sergei [Kostitsyn] had a chance to bury it there; it may have been a little tight to the net for him to get it up, but if he buries it there I am pretty sure we have all the momentum and we win that game. That's the type of game you are going to see between St. Louis and Nashville. You've got to bring it.
On getting closer to playing their A-game
We are closer today than we were after game one, I can tell you that. This is two games into it. What you are going to see is the speed increase and the execution increase and therefore this time, if we were at half our game the other night and 75 or 80 percent of our game tonight, you know everyone's probably at the same rate – but I think there are a couple teams that stand out, especially in the West. I think they're coming out of the gates and are closer to their A-game, I don't think anybody has their A‐game. St. Louis is one and Chicago is another one they are on top of their game right now.
Forward Patric Hornqvist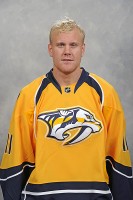 [4]On the fact that the Predators still have gotten two points from the last two games
Of course it's good you get points but you need to win every second. There are only 48 games this season so the points are important. We have to get going on the shootout but I thought overall we played a really good game. We did some good things but of course we can be better and we have to be better to get more points.
On the chemistry of the power play unit
We have been playing together all last year and the start of this year and we know each other pretty well. Weber has a great shot and Erat knows to handle the puck on the half‐wall and he is able to create space for the other guys. We have been clicking. We have to keep wanting to get better and keep scoring goals.
Defenseman Shea Weber
[5]On the fact that Brian Elliot looked sharper and posed a greater challenge for the Predators
I think we had a lot of great chances, we hit posts and we could not find a way to keep going on the power play. I think we generated a lot and that is all you could ask for.
On the cohesiveness of the team during the power play
I think our team is on the same page, with the exception of the last power play. We had some adjusting but all around, I think we were pretty good.
On what the Predators need to accomplish after two consecutive losses
I think we did good tonight. I know we fought hard. St. Louis is a really good team and if we keep playing like we did tonight and battling like we did tonight, we will be alright.
Next Game
The Predators begin a seven game road trip Tuesday, January 22nd at the Minnesota Wild. The game starts at 7:00pm.
Box Score
Final – Shoot Out
Monday, January 21st, 2013
Blues 4-3 Predators
| | | | | | | |
| --- | --- | --- | --- | --- | --- | --- |
| FINAL SO | 1 | 2 | 3 | OT | SO | T |
| St. Louis Blues | 2 | 0 | 1 | 0 | 1 (2-2) | 4 |
| Nashville Predators | 2 | 1 | 0 | 0 | 0 (0-2) | 3 |
Scoring Summary
1st Period
09:10
NSH
Colin Wilson [6] (1) Wrist Shot – Assists: P. Hornqvist [7] (2) & R. Ellis [8] (1)
10:28
STL
Vladimir Tarasenko (3) Wrist Shot – Assists: A. McDonald (2) & K. Shattenkirk (3)
15:04
STL
PPG – Andy McDonald (1) Wrist Shot – Assists: V. Tarasenko (1) & K. Shattenkirk (4)
17:13
NSH
PPG – Mike Fisher [9] (1) Snap Shot – Assists: M. Erat [10] (1) & P. Hornqvist [7] (3)
2nd Period
12:53
NSH
PPG – Patric Hornqvist [7] (1) Backhand – Assists: M. Erat [10] (2) & M. Fisher [9] (1)
3rd Period
12:10
STL
Alex Pietrangelo (1) Wrist Shot – Assists: V. Tarasenko (2) & J. Schwartz (1)
OT Period
none
Shootout
| | | |
| --- | --- | --- |
| Craig Smith [11] | Nashville | Save |
| T.J. Oshie | ST. Louis | Goal |
| Martin Erat [10] | Nashville | Save |
| Alexander Steen | St. Louis | Goal |
Penalty Summary
1st Period
04:55
NSH
Rich Clune [13] : Boarding – 2 min
04:55
STL
Kevin Shattenkirk : Roughing – 2 min
13:32
NSH
David Legwand [14] : Hooking – 2 min
16:54
STL
David Perron : Slashing – 2 min
17:37
NSH
Shea Weber [15] : Interference – 2 min
19:58
STL
Ryan Reaves : Roughing – 2 min
19:58
NSH
Hal Gill [16] : Roughing – 2 min
2nd Period
08:25
STL
T.J. Oshie : Hooking – 2 min
12:31
STL
Kevin Shattenkirk : Interference – 2 min
18:03
STL
Roman Polak : Interference – 2 min
3rd Period
06:04
STL
Alex Pietrangelo : Closing hand on puck – 2 min
12:58
STL
Jaden Schwartz : Delaying Game-Puck over glass – 2 min
OT Period
none
Shots on Goal
| | | | | | |
| --- | --- | --- | --- | --- | --- |
| | 1st | 2nd | 3rd | OT | T |
| St. Louis Blues | 14 | 9 | 10 | 6 | 39 |
| Nashville Predators | 6 | 8 | 10 | 0 | 24 |
Saves
| | | | | | | | |
| --- | --- | --- | --- | --- | --- | --- | --- |
| | Goalies | EV | PP | SH | Total | Sv% | TOI |
| St. Louis Blues | 41 J. Halak | 6-7 | 2-4 | 0-0 | 8-11 | 0.727 | 32:53 |
| St. Louis Blues | 1 B. Elliott (W) | 9-9 | 4-4 | 0-0 | 13-13 | 1.000 | 32:07 |
| Nashville Predators | 35 P. Rinne [17] (L) | 30-32 | 4-5 | 2-2 | 36-39 | 0.923 | 64:56 |
[7] P. Hornqvist: http://predators.nhl.com/club/player.htm?id=8471887
[8] R. Ellis: http://predators.nhl.com/club/player.htm?id=8475176
[10] M. Erat: http://predators.nhl.com/club/player.htm?id=8468064
[17] P. Rinne : http://predators.nhl.com/club/player.htm?id=8471469