APSU Sports: Austin Peay Men's Basketball

Jacksonville, AL – Despite shooting 55 percent from the floor and out-rebounding its first Ohio Valley Conference opponent this season, Austin Peay State University lost for the fourth straight time when the Govs fell to Jacksonville State, 81-74, Thursday night in Pete Mathews Coliseum.

The loss drops APSU to 5-16 overall and 1-6 in the OVC, remaining winless on the road. JSU, meanwhile, is 13-7 overall and 5-4 in the OVC.

The Govs finished the night 32 of 58 from the floor, including 21 of 33 (63.6 percent) in the second half. They also held a 32-21 edge on the boards.

But defensively APSU allowed JSU to shoot 54 percent, including 7 of 13 behind the arc. APSU also committed 17 turnovers, leading to 24 Gamecock points.

After a slow start in the game, which saw the Govs fall behind 23-9, APSU went on a 13-1 run, keyed by Anthony Campbell and Chris Freeman along with point guard AJ Lynch off the bench. When Campbell's jumper made it 24-22 with 6:07 left in the half, the Govs appeared to have the momentum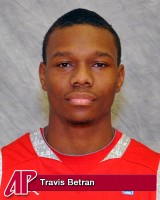 But Tarvin Gaines, who APSU failed to control all night, hit a layup and then Lynch picked up his second foul of the half, forcing him to leave the game. With Lynch absent, the Govs committed four turnovers in the final 4 ½ minutes, allowing JSU to expand the lead to 14, 37-23. Travis Betran's three pointer right before the first-half buzzer cut the Govs lead to 11 heading to intermission.
Jacksonville State expanded the lead back to 14 early in the second half and still led 47-34 with 14:40 left. The Govs then went on a 7-0 run that had the game within six once again. It was still an eight-point game when the Governors blew a fast-break opportunity, allowing JSU to again gain momentum. The Govs again fell behind by double digits.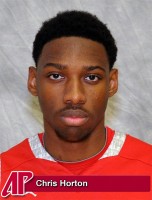 Austin Peay continued to battle as Will Triggs, Betran and Chris Horton, who had his season's best performance, scored 16 of APSU's 17 second-half buckets late into the half. But it was one of those offensive rebounds-a Govs problem all season-that seemed to seal their fate. With JSU up 61-53 and APSU gaining energy with 4:58 left, APSU's defense forced a long three-point attempt by Brian Williams, who missed. But Ronnie Boggs tipped in the miss, pushing the deficit out to 10.
Using their timeouts and the three-ball late, the Govs were able to cut the deficit to five with 53 seconds left, but JSU was able to convert free throws to stave off APSU's final rally.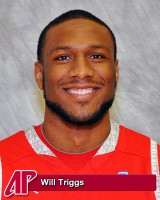 Betran and Horton led the Govs with 18 points apiece. It was the freshman Horton's first double-figure scoring performance since the consolation game of the Dr. Pepper Classic after Christmas. With 10 rebounds it was his first double-double since the Memphis game in mid-December.
Triggs, who was held scoreless in the first half, finished with 16 points on 8-of-12 shooting. Campbell added 13 points along with a career-high five assists.
Not only were the Govs turnovers an issue, so was the 6-of-13 free-throw shooting effort.
Gaines led all scorers with a season-high 28 points while Brian Williams added 17 points. Boggs, despite a wrist and hand wrap around his left hand-his shooting hand-finished with 16 points, including 6-of-6 at the line to go with four assists and seven steals.
Next Game
The Austin Peay Governors are on the road to Cookeville, TN, Saturday, January 26th to face the Tennessee Tech Golden Eagles. Tip off is at 7:30pm.
Box Score
Austin Peay vs Jacksonville State
1/24/19 7:00pm at Jacksonville, AL. (Pete Mathews Col.)
Austin Peay 74
Total
3-point
Rebounds
##
Player
p
fgm-fga
fgm-fga
ftm-fta
off-def
tot
pf
tp
a
to
blk
stl
min

04

BETRAN, Travis

*

8-14

2-5

0-0

0-2

2

4

18

0

4

2

2

39

05

HORTON, Chris

*

8-12

0-0

2-5

6-4

10

4

18

0

3

2

0

29

10

TRIGGS, Will

*

8-12

0-0

0-0

1-3

4

4

16

1

3

1

1

30

12

PURVIS, Jeremy

*

0-1

0-0

0-0

0-2

2

0

0

3

2

0

0

20

25

CAMPBELL, Anthony

*

5-8

2-4

1-2

1-1

2

0

13

5

0

0

0

29

11

GREER, Thomas

–

0-0

0-0

0-0

0-0

0

1

0

0

0

0

1

7

15

FREEMAN, Chris

–

3-4

0-0

0-0

2-1

3

1

6

0

1

1

0

7

20

ARENTSEN, Cory

–

0-1

0-1

2-2

0-0

0

1

2

3

1

0

2

9

21

HERRING, Preston

–

0-2

0-0

1-2

0-2

2

2

1

2

1

2

0

13

22

LAWRENCE, Herdie

–

0-0

0-0

0-2

0-1

1

2

0

0

2

0

0

3

23

LYNCH, AJ

–

0-4

0-1

0-0

0-1

1

2

0

1

0

0

0

14

TM

TEAM

–

–

–

–

3-2

5

–

–

–

–

–

–

–

Totals…………..

–

32-58

4-11

6-13

13-19

32

21

74

15

17

8

6

200

55.2%

36.4%

46.2%

Team summary:
FG
3FG
FT
1st Half:

11-25

3-7

1-4

44.0%

42.9%

25.0%

2nd Half:

21-33

1-4

5-9

63.6%

25.0%

55.6%
Jacksonville State 81
Total
3-point
Rebounds
##
Player
p
fgm-fga
fgm-fga
ftm-fta
off-def
tot
pf
tp
a
to
blk
stl
min

02

BOGGS, Ronnie

*

5-8

0-2

6-6

2-5

7

1

16

4

0

2

7

38

04

GAINES, Tarvin

*

11-18

1-2

5-5

0-4

4

3

28

0

5

1

1

36

05

LEGGETT, Mason

*

2-4

1-1

0-0

0-3

3

2

5

4

0

0

1

29

21

WILLIAMS, Brian

*

5-9

4-6

3-4

0-0

0

1

17

8

4

0

1

38

33

COOK, Nick

*

2-6

0-0

4-4

0-4

4

4

8

5

2

3

2

35

03

ANDERSON, Alex

–

0-0

0-0

0-0

0-0

0

0

0

0

0

0

0

2

13

DEANES, Chris

–

0-0

0-0

0-0

0-0

0

0

0

0

0

0

0

0+

14

MAFRA, Rinaldo

–

0-2

0-0

1-2

1-0

1

2

1

0

1

0

0

7

15

SANDERS, Rico

–

2-3

1-2

1-2

0-1

1

2

6

0

0

0

0

15

TM

TEAM

–

–

–

–

2-0

2

–

–

–

–

–

–

–

Totals…………..

–

27-50

7-13

20-23

5-17

22

15

81

21

12

6

12

200

54.0%

53.8%

87.0%

Team summary:
FG
3FG
FT
1st Half:

13-26

4-8

7-8

50.0%

50.0%

87.5%

2nd Half:

14-24

3-5

13-15

58.3%

60.0%

86.7%
| | | | | |
| --- | --- | --- | --- | --- |
| Score by Periods | 1st | 2nd | Total | |
| Austin Peay | 26 | 48 | 74 | Record: (5-16, 1-6 OVC) |
| Jacksonville State | 37 | 44 | 81 | Record: (13-7, 5-4 OVC) |
Officials: R-Kevin Mathis, U1-Archibald Whaley, U2-Brandon Pipkin
Technical fouls: Austin Peay-None. Jacksonville State-None.
Attendance: 1883
Sections
Sports
Topics
AJ Lynch, Anthony Campbell, APSU, APSU Athletics, APSU Basketball, APSU Men's Basketball, APSU Sports, Austin Peay State University, Brian Williams, Chris Freeman, Chris Horton, Christmas, cookeville TN, Dr Pepper Classic, Gamecocks, Golden Eagles, Governors, Govs, Jacksonville AL, Jacksonville State, JSU, Memphis, Ohio Valley Conference, OVC, Pete Mathews Coliseum, Ronnie Boggs, Tarvin Gaines, Tennessee Tech, Travis Betran, Will Triggs