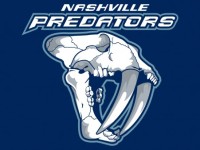 [1]Nashville, TN -  The Nashville Predators are hoping to shake off their lackluster performance against the St. Louis Blues on Thursday night, as they face the Anaheim Ducks on Saturday.
This marks the third stop of a franchise record tying seven-game road swing; the Predators also played seven straight on the road from October 30th-November 12th, 2002. The trip will last 15 days, and see the team go to Minnesota, St. Louis, Anaheim, Phoenix, Los Angeles, San Jose, then back to St. Louis to wrap things up on February 5th.  Nashville's next game in the Music City will be February 7th against the reigning Stanley Cup champion Los Angeles Kings.Their last time out, the Predators were shutout in the regular season for the first time since March 27th, 2012, when they fell by the same score in St. Louis. Mike Fisher and David Legwand both went 9-for-16 in the faceoff circle (56 percent), while Nick Spaling when 6-for-12 (50 percent). Scott Hannan notched three blocks on the night.  He now ranks second in the League with 12 blocked shots on the season.
Pekka Rinne faced a penalty shot for just the fourth time in his career. He has allowed two goals on those attempts. The Predators were held scoreless on the power play (0-4) for the first time this season. Nashville's 13 shots on goal were its lowest shot for total since October 17th, 2011 (12 shots at Edmonton).
Saturday night marks the first of three meetings between the Predators and Ducks – they will meet again on February 16th in Nashville and on February 27th at the Honda Center.  A season ago, Nashville claimed its first season sweep of Anaheim and extended its winning streak over the Ducks to six games dating back to January 5th, 2011.
To recap the 2011-12 season series:  On October 29th, 2011, Pekka Rinne stopped all 20 shots he faced for his 100th career victory and 22nd career shutout, setting a franchise record for career shutouts, in a 3-0 win at Bridgestone Arena.  On November 9th, 2011, Craig Smith notched his first career two-goal game and Martin Erat scored a shorthanded penalty shot goal in a 4-2 win at Honda Center.
On December 10th, 2011, Roman Josi scored his first career goal in a 3-2 win at Bridgestone Arena, and on March 18th, 2012, Nashville
scored three third-period goals to complete the season sweep with a 3-1 win at the Honda Center.
Patric Hornqvist led the Predators in scoring against the Ducks last season with five points (2g-3a) in four games.  In 15 career games against the Ducks, Hornqvist has 14 points (6g-8a).  Martin Erat (2g-2a, 4gp) and Colin Wilson (1g-3a, 3gp) followed close behind with four points each… Paul Gaustad has five points (1g-4a) in seven career games against Anaheim, while Sergei Kostitsyn has five points (3g-2a) in eight career games.
The Ducks are one of two teams (along with St. Louis) that Rinne has played at least 10 games against and has a goals-against average of less than 2.00. In 13 games, he has a 9-2-2 record with a 1.95 goals-against average and a .932 save percentage.
Jonathon Blum was the first California-born and raised player to be selected in the first round of the NHL Entry Draft. The Rancho Santa Margarita native grew up going to Ducks games.
The Predators claimed Brian McGrattan on waivers from Anaheim on October 11th, 2011.